Have you ever tried homemade Strawberry Honey Butter? Below you will find a simple whipped honey butter recipe that is strawberry flavored and only takes about 5 minutes to make!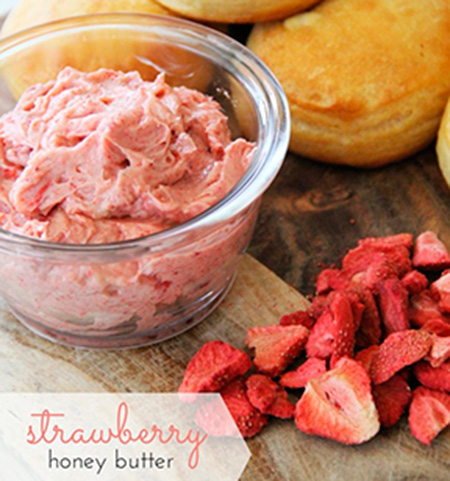 This strawberry honey butter would go great on biscuits, toast or even a bagel. This recipe uses Crunchies which are made with just one ingredient – fresh fruit. These can add amazing flavor to homemade frosting, pancakes, graham cracker crust and more.
Strawberry Honey Butter
Ingredients
Instructions
Whip softened butter in a mixer until smooth. Be sure no lumps remain.
Add honey and vanilla and mix until combined.
Add Crunchies Strawberries ¼ cup at a time and mix until butter is fluffy and pink.
Refrigerate butter until firm.
Spread the butter on your favorite bread and enjoy!