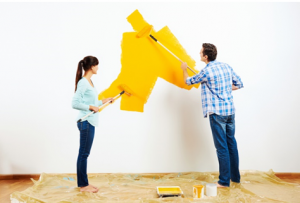 While it can be exciting to go through a major renovation in your home, often you just won't have the time or the money to do so. Happily though, there are many ways that you can update the look of your house without having to undertake major work.
From painting a feature wall, buying some new bed linen, adding a striking modern area rug, or retiling kitchen splashbacks, there are plenty of things that will add pizzazz yet not break the bank. Read on for some quick and easy decorating ideas you can implement over a weekend this summer.
Splash on Some Paint
A simple yet effective technique that can be completed in a day or two is to add flair with paint. Rather than worrying about repainting an entire house or room, you can choose to paint a feature wall in your lounge room, bedroom, office or other area that needs brightening. This can jazz up a tired-looking room very quickly.
Opt for a contrasting shade to the main color in a room, or a darker variation of the hue on the other walls if you want a more subtle effect. Alternatively, paint the ceiling of the room in a lighter version of the color on the walls for a change in the room's eye appeal.
Other options to lift a room's vibe with paint are to add a rectangle of color (in a contrasting tone to that already on the wall) over your sofa and then use this as a space to hang photos and artwork. This "gallery" effect can be completed very quickly but will instantly add a striking look and feel to your living area.
You can also consider painting the insides of bookshelves in a bright color to add impact and create more wow for a display of your prized trinkets, books and photographs. If it's your kitchen you want to update, look at painting old kitchen cabinets for an instant lift.
Dress up a Room with Area Rugs
Rugs can make a huge difference to the feel of a room and don't require any back breaking work. A well-chosen rug can pull a room's decor together in a flash, or even act as the key focal point of an area. There is a wide range of choices when it comes to buying rugs, with options covering every style including bright geometrics, classic Orientals, plush shag, modern area rugs, and everything in between.
Make Your Bedroom an Oasis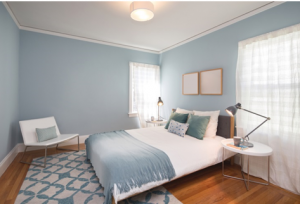 Another fun and easy way to dress up your home in a hurry is to turn your bedroom into a blissful oasis with beautiful bed linen. The bedroom is the most personal room in the home and should be somewhere you retreat to for good sleep and relaxation whenever you need it.
To cozy up your space, pay attention to the linen you use on your bed. From sheets and duvet covers to blankets, throws and pillows, there are plenty of items to consider. Apart from looking for good quality items that are lovely to touch and to sleep on each night, the style is also important.
Depending on your personal taste, you can treat yourself to impossibly-soft organic cotton or bamboo sheets; purchase a lovingly-handmade and embroidered blanket from a local or international artisan; or shop for the latest matching linen sets from your favorite designer. There are often great deals to be found either online or in your local stores during stocktake sales, so keep an eye out for these.
You can also pile on a bunch of matching or complementary pillows to add extra luxury to your bed, or install some inexpensive netting around your mattress to give the feeling of an airy canopy and a romantic touch.
Re-tile Kitchen Splashbacks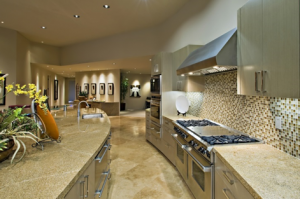 For a little more work, you can make a big impact in your kitchen with some new tiles on the splashback area. These regions generally only need a few square feet of tile, so the project doesn't have to be particularly expensive, especially if you're able to do the tiling job yourself.
Bright colors, classy marble, or striking hand-painted Moroccan tiles, mosaics, or other accented pieces placed on the splashback can really draw the eye and make this important room of the house look great.
If you want to go the extra mile while you're at it, you can also purchase some new knobs or handles for your kitchen cabinets. This is an inexpensive and time-efficient project that really does change the look of the room more than you might first expect.