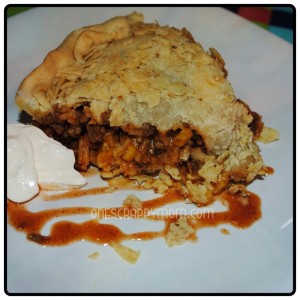 In the mood for a yummy Mexican dish? Below you will find the recipe for some yummy Taco Pie.
Taco Pie Recipe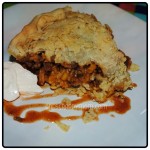 2 cups shredded taco cheese blend
1 pound hamburger
1 package of taco seasoning
1 package of taco or mexican rice
1 can (8oz Mexicorn)
1 can black olives (optional)
1 cup crushed corn tortilla chips or cheese (or taco flavored doritos)
1 box pie crusts
1 8-9 ″ pie tin
Preheat the oven to 350* F. Cook the taco meat using the hamburger and taco seasoning as directed on the package. While that's browning and cooking start your rice. I make the rice is a taller pot (so in the end when you need to mix things you have a bigger pot to do that). While everything is cooking lay your pie crust into your pie pan. Make sure you push it down in the corners and everything so that you have no air between the pan and the crust. I use a glass pyrex pan, but any pie tin will do. I've even made this is a square dish before (your crust won't completely cover, but it still works).
Once your hamburger is browned and you have mixed in the taco seasoning, you will mix that in the pan with your rice (make sure that's fully cooked first). I find that both take about 7-10 minutes so they are done at about the same time. Mix the rice and hamburger together. Add in the Mexicorn and the 2 cups of cheese. Mix until you have it all mixed together well. Put your mixture in your pie crust. Cover with the 2nd pie crust and twist your edges to seal it. Make a few slits in the top to allow the heat to escape.
Top the crust with your crushed tortilla chips or doritos. It just gives it a little extra crunch that you miss without the hard taco shell. Bake this at 350* F for about 30 minutes (or until your crust is golden brown). Serve.