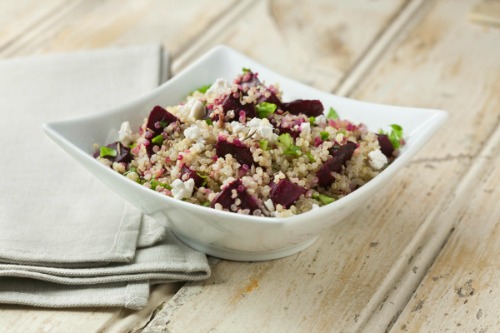 Are you one that enjoys recipes with quinoa? Be sure to try Alter Eco's Quinoa and Roasted Beet Salad. In this recipe, Alter Eco Royal Pearl Quinoa ties the warm, earthy beets together with the decadent goat cheese; It's perfect for curling up and savoring on cool fall day.
Quinoa and Roasted Beet Salad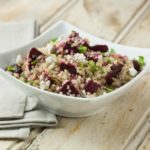 4 cups cooked Alter Eco Royal Pearl Quinoa
1 bunch of beets (3 large, 4 medium or 5 small, roasted)
3/4 to 1 pound beet greens (the greens from 1 generous bunch)
Salt to taste
1 to 2 tablespoons extra virgin olive oil (to taste)
2 garlic cloves (minced)
2 teaspoons caraway seeds (lightly crushed)
2 ounces goat cheese (crumbled or diced (1/2 cup))
Scrub and roast the beets. Once they are cooled, remove the skins and cut into 1/4-inch dice. Set aside.
Blanch the greens in a large pot of generously salted water or steam them above an inch of boiling water until wilted, one to two minutes. Refresh with cold water, squeeze dry and chop.
Heat the olive oil over medium heat in a large, heavy skillet. Add the garlic. Cook, stirring, until fragrant, 30 seconds to a minute. Add the caraway, beet greens, and salt and pepper to taste. Stir over medium heat for 30 seconds to a minute until the greens are nicely infused with the garlic and oil. Add the beets and quinoa. Toss together until the ingredients are well combined and the quinoa is heated through and colored with beet juice. Taste and adjust salt and pepper. Transfer to a wide serving bowl or platter, and sprinkle the goat cheese over the top.