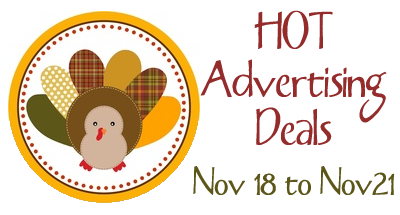 In celebration of Thanksgiving, I wanted to have an advertising special to show my appreciation of those that advertise on my network of websites. Below you will find advertising specials that are 50%+ off the regular price.  This sale starts Sunday November 18, 2012 and will end on Wednesday 21, 2012.
The ad spots are limited! If you see something you like, buy it now as some of these options will be removed when the ad slots fill up.
All ads that are purchased MUST be made for sites that are family friendly. I reserve the right to refund any purchases made for sites that I think are not a good fit for Mommy Enterprises.
If you have any questions about any of these ad specials, please send an email to [email protected] and I will return your email as soon as I can.