Parents and kids alike have allowed technology, such as smartphones, to rule their lives; the unfortunate outcome is an epidemic of obesity, as well as other adverse health effects. Fortunately, the best way to get your kids, and you, playing outside in nature is a family camping trip.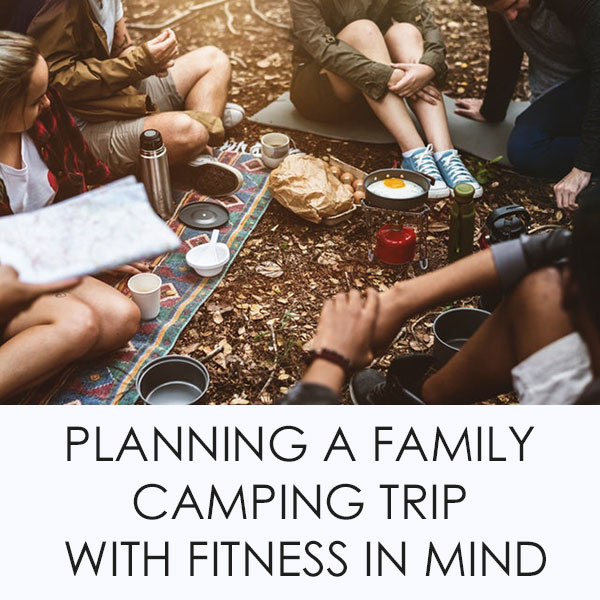 However, a family camping trip does need some planning. Be sure to involve the kids in the planning, that way, they'll be sure to enjoy this change of pace even more. 
Below are a few tips for planning a camping trip with fitness in mind:
Types of Camping
There are a lot of different ways to go camping. The first step is to decide what type of camping is right for you and your family. The most popular types include:
Tent camping

RV camping

Boat camping

Renting a cabin
Setting up your camp will give you and the kids a good work out. From setting up the tent to collecting firewood, camping is fun, but not as easy as city life.
Choosing Your Destination
The next step is choosing a location to go camping; for your first few trips, stay within a two-hour drive of home. Long road trips with small children can be a challenge. Likewise, if you're camping with kids, you'll want to choose a location with a restroom; at the very least, a water spigot and a vault toilet.
Activities
You also need to consider the activities different destinations offer; you can camp near a lake or river to go kayaking or fishing, or in the mountains to go hiking.
Likewise, the desert offers a lot of opportunities for off-road adventures. While driving an ATV may not seem like exercise, handling an off-road vehicle can be surprisingly strenuous. If off-roading interests you, you can get a small kids quad for the youngsters. Quads can allow your family to reach very out of the way places, deep into nature. Likewise, the youngsters will feel very special with their very own kids quad, and a quad will also teach them valuable lessons in responsibility.
Make Reservations
You'll want to make a reservation at the campground, to ensure you'll have space. This is especially true on holiday weekends; in fact, you may need to reserve spot months in advance at popular campgrounds during the summer. Holiday weekends such as the 4th of July and Memorial Day can fill up fast.
Plan Your Meals
You may want to cook a few meals at home, so you just need to warm them up on the trip. Also bring along some easy things to cook over the campfire, like hotdogs and marshmallows. Keep in mind, depending on the type of camping you're doing, you may not have a refrigerator. Also, keep in mind, you may not have unlimited water for cleaning up.
Packing
Packing for your camping trip may be the toughest part; you need to take along everything you need, while still traveling light. Here are a few things you'll want to pack when camping with kids:
Bug repellent

Baby wipes

Sunscreen

Citronella candles

Flashlights

Trash bags

Toys and bikes
Teaching Responsibility
A family camping trip is also a good way to teach the kids about the camping credos: "Pack it in, pack it out" and "Take only pictures, leave only footsteps". Never leave trash around at your campsite.
Camping is not only a good way to get your children exercising outside, but also to respect for nature.