Have you been dreaming about building the kitchen of your dreams and have been waiting to get started on your big remodel and now the time has come to make your dream a reality? Before you jump in with your remodel take a peek at these tips below that will show you how to get the most out of your kitchen remodel and ensure that your finished project is everything you have dreamed of!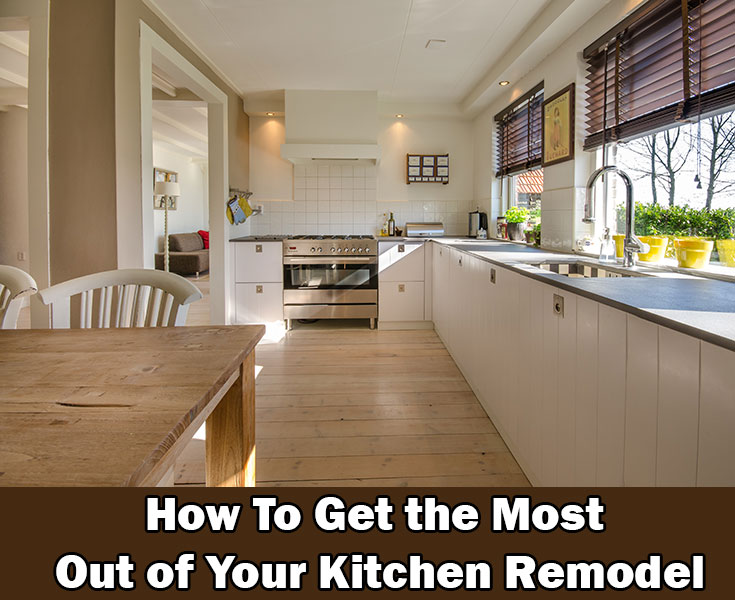 Tip #1 – Plan, Plan, Plan
Before you jump into your project, you should have a solid plan of what you want to accomplish. You should know the scale of your project, a general timeline for completion, an outline of how you want your finished kitchen to look, and what your overall budget entails to bring your remodel to completion. It may take a little research on your part, but you'll be glad you put some thought into developing a plan before you break ground on your project.
Tip #2 – Invest in Quality Cabinets
If you're looking for a wow factor, stunning cabinetry can be the centerpiece of an incredible kitchen remodel. Invest in quality cabinets that will stand the test of time and catch people's eye when they come into the room. Whether you opt for traditional closed cabinetry or want to mix it up with some open shelving to display beautiful pieces, your cabinets are a great long-term investment that can really turn your kitchen into a showpiece.
Tip #3 – Lighten Up
Adding the right lighting to your kitchen can draw attention to beautiful backsplashes, set the right mood, and provide ample lighting for cooking. With so many options available in kitchen lighting, you should have no problems finding something that will fit your unique needs and style.
Tip #4 – Find Appliance Deals
If you want your remodel to include new appliances, you can add nice, quality pieces at a fraction of a cost if you know where to look. Ask local retailers about discounted floor pieces or if there are older models that they'd be willing to discount. Sometimes, you can snag a stellar deal on a beautiful kitchen appliance at massive discounts.
Tip #5 – Find Counter Alternatives
Countertops can really add to your overall remodel costs, especially if you want to invest in high-quality materials such as granite or marble. However, if you're interested in getting a high-end look without the expensive price tag, consider alternative countertop materials such as tile, concrete, and laminate, which come in a variety of styles for all tastes.
Tip #6 Remodel in Stages
If the thought of completing a whole kitchen remodel is intimidating, consider completing your remodel in stages, which can really help your budget while allowing you to create the kitchen you want without cutting corners. Start with simpler projects, such as refinishing your floors and painting your walls, then move on to the more costly portion of the remodel, such as adding new appliances, when you have more money in your budget.
Tip #7 – Make a Splash
Finding the right backsplash can really tie the room together and show off your personal style. It's a small added touch that can make a big difference in how the room looks. You can find a variety of styles and materials to make your room pop at many different price points, giving you the flexibility to really customize your overall look.
Taking on a large project like a kitchen remodel doesn't have to be a daunting task like you might think.  Follow the tips above and make sure you do your research before you buy anything you are unsure of.