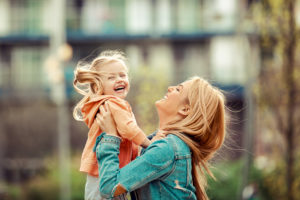 Women are fierce, stylish beings, and that doesn't change after becoming a mom. Being a mother is a beautiful choice, and it doesn't mean you have to give up your sense of style or passion for fashion. Women's apparel was the number one selling item on the internet as of August 2017. This goes for women and moms alike. Here are five fashion items that every mom needs to have in their wardrobe
The Perfect Pair of Jeans
The pair of jeans to end all jeans, that's what you need in your closet. Every mom deserves to feel like a fashionista without having to put in a ton of effort. The perfect pair of jeans should be one that is versatile. You can wear it with a t-shirt for a more casual day, or pair it with a button up for a dressier occasion. Dark wash jeans are the best way to go.
It's Blazer Time
Whether this item is a part of a 3 piece suit, or a member all its own, every mom should have a rockin' blazer. Blazers come in at the perfect point of the waist, making them very flattering pieces. This item is also very versatile, pairing great with your perfect pair of jeans and a tee or with your work attire to look classy at the office.
Don't Forget About Shoes
Fashion isn't just clothes. Shoes are what tie any perfect outfit together. Moms are typically on the go, so the shoe for you is a stylish flat. They are dressier than a pair of old sneakers, but more casual than dress shoes. Not only do they look great, they are super comfortable too.
Leggings, Leggings, Leggings!
For any weather, leggings are great. They allow you to be super flexible so you can chase after your kids, comfortably grocery shop, and even have a quick workout at the gym. Fleeced-lined leggings are a great choice for the colder weather. Leggings are both comfortable and stylish, coming in all sorts of colors and patterns. You can pair them with any tee, blouse, or dress for every occasion.
You Need Support, Mama
Last but not least, every mom should have some supportive undergarments in their closet. These items will help you look good and feel good. Not only will you have a killer shape in that tight dress, you will help your body fight the effects of the natural pull of gravity at the same time.
There you have it, the five fashion items that every mom should have in her wardrobe. No matter the season or occasion, every mom deserves to look and feel her best all the time.