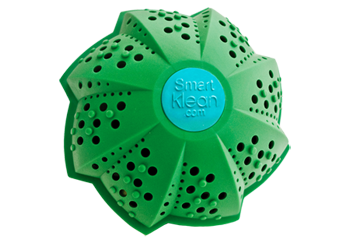 I don't know about you, but I always seems to have piles of laundry. I wish I sometimes had a laundry fairy to help me wash all these darn clothes. When you have children, your laundry chores can sometimes seem never ending. I also go through a TON of laundry soap each week just to clean all of our clothes. I was recently asked to review the SmartKlean Laundry Ball and since I am mom with loads of laundry, I agreed to give it a try.
The SmartKlean Laundry Ball is an eco-friendly laundry gadget that helps your wash machine wash our clothes with NO detergent. This ball is non-toxic and made from a safe and recyclable thermoplastic that contains NO PVC that lasts for 1 year of laundry use. What is also neat about this product is that the ceramics in the inside are fully bio-degradable at the end of its use.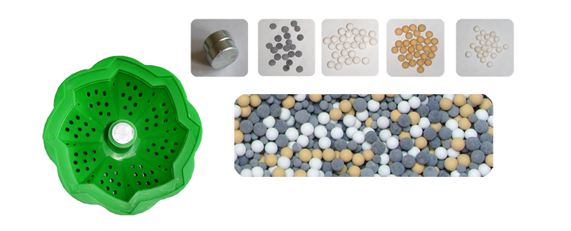 So how does it work?
The laundry ball is simply placed among the laundry in the washing machine. It may be left in the machine for the next load. All that is required is a monthly sun bath for 1-2 hours to regenerate the ceramic beads in order to keep it working at full force! The laundry ball is filled with many ceramic beads, each comprising a combination of different minerals. When these ceramic beads come in contact with water, they form oxygenated water. The water molecules are fragmented into smaller sizes, increasing the water's dissolution power and enabling better penetration into the fabric's pores, therefore releasing dirt, grime and odors. This is similar to the effect of detergents on water, but at a molecular scale without harsh chemicals. The natural ceramics are formulated to leave no residues behind on clothes, or the environment. No residue means it produces a 100% safe and worry-free wash for the whole family as well as an extended lifespan for your clothing in comparison to any laundry soap or detergent. Fine or heavy fabrics, colors or whites, the laundry is fresh, safe and clean!
I think that this product is pretty neat! I have been using it for my loads that I don't think would need a whole lot of soap. Since I have been using soap to wash my clothes for as long as I can remember, it is hard to just stop using it cold turkey. For those with a large family and lots of laundry, this definitely might be a way to save $$$.
Take a peek at the video for more info:
You can find out more about the SmartKlean Laundry Ball by visiting: http://www.smartklean.com
Disclosure – I received the product mentioned above for review purposes only. This post is not a paid post and the opinions stated herein are 100% my own.