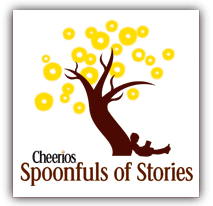 I have been eating cheerios for YEARS. As a child, my Nana would always have Cheerios in her pantry. She also had a container of sugar next to the coffee pot that I used to grab to add some in my bowl. One thing that I remember about Cheerios as a child was the neat surprises that I would sometimes find in the box. What kid doesn't like finding a surprise in their cereal box? What I think is awesome is the FREE books that you can find in specially marked boxes of Cheerios. Thanks to MyBlogSpark, I received a Cheerios Prize Pack that included all these free books so that I could share them with my children.
My family is one that likes books. I am lucky that so far, my children have took a liking for books like I have. I remember ever since I was young, always collecting books and wanting to own my own bookstore. I LOVE these books that come in the Cheerios because they are PERFECT for my daughter Hannah. She is in first grade and we have to have her read at least 15 minutes per night. These short little stories come in handy for her reading homework assignments.
Cheerios is once again trying to encourage our children to read by inviting them to start their day off with a bowl of nutritious cereal and a new book. Cheerios has an ongoing commitment to nurturing young bodies and minds and helping families connect by fostering a shared love of reading. With that said,  Cheerios will be providing more than six million children's books, FREE inside specially marked boxes of Cheerios, through their Spoonfuls of Stories program. It is amazing to find out that over the past nine years, Cheerios has distributed almost 50 million children's books in their cereal boxes.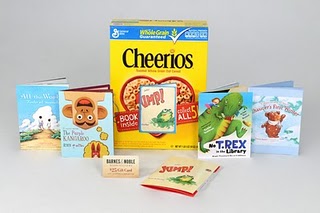 This year you will find the following books in these specially marked boxes of Cheerios (both in English and Spanish):
All the World, by Liz Garton Scanlon and illustrated by Marla Frazee, which discusses the many wonderful things a child can encounter in the world as well as the commonalities all the world shares.
Chaucer's First Winter, by Stephen Krensky and illustrated by Henry Cole, follows a bear named Chaucer, who knows he is supposed to sleep through the winter but feels it's much more fun to stay up and play.
Jump!, by Scott M. Fischer, chronicles the adventures of a bug, a frog, a cat, a hound, a crocodile, a shark, and a whale, who all love to jump!
No T. Rex in the Library, by Toni Buzzeo and illustrated by Sachiko Yoshikawa, is a story about a little girl named Tess and her adventures in the library with a boisterous T-Rex.
The Purple Kangaroo, by comedian Michael Ian Black and illustrated by Peter Brown, which is a vivid and humor-filled story that tricks the reader into thinking about a purple kangaroo.
You can learn more about the Cheerios Spoonfuls of Stories program by visiting www.spoonfulsofstories.com.
Guess What Readers? The very nice people over at MyBlogSpark are offering one of my LUCKY readers a Cheerios Prize Pack that is pictured above in this post like I received that includes. a box of Cheerios, the 5 spoonfuls of Cheerios books and a $25.00 Gift Card for Barnes & Noble.
1) To enter this giveaway, please leave me a comment below telling me what your child's favorite book is or tell me how often you read with your child.

Extra Entries:
2 ) Subscribe to this blog and leave a comment that you are a subscriber.
3 ) Follow me on Twitter – leave your user name in your comment.
4 ) Send a Tweet with Twitter @mommye – leave a link to your Tweet. This can be done once daily!
5 ) Blog about this giveaway – Leave link to your post (3 extra entries – leave comment for each)
6 ) Become a fan of Mommy Enterprises on Facebook.
7) Become a fan of This Mom Can Cook on Facebook.
8 ) Join/Follow Mom's Blog On Google Friend Connect (See right sidebar)
9 ) Add my button to your website or blog (see sidebar) – leave link
10 ) Comment on any NON-GIVEAWAY post – Maximum of 5 extra entries – LEAVE A COMMENT FOR EACH EXTRA ENTRY
This giveaway will end on December 19, 2010 at 11:59 PM PST. The winner will be chosen using Random.org from all valid entries and submitted. The winner will be notified via email and will have 48 hours to contact me with their mailing information before another winner is chosen. This giveaway is open to U.S. residents only ages 18 years or older.
I received the Cheerios Prize Pack  through MyBlogSpark to provide you with this review. I was not paid any monetary compensation to publish this review. This review is my personal opinion only and receiving the sample has no impact on my opinion of the product.