Take a huge sigh of relief because you've already taken care of the hardest parts of planning your destination wedding. You have the venue set, your guest list confirmed, and decorations picked out. You have all the makings of a great day planned out so that all you have to do on the wedding day is show up and get showered in love by everyone in attendance.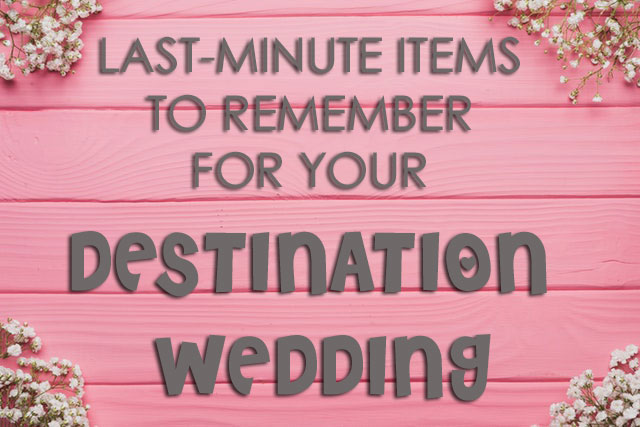 So, you're done, right? Not so fast, lovebirds!
When it comes to making the most memorable and awe-inspiring destination wedding for you and your guests, it can help to address some of the proverbial "devils in the details" before you find yourself picking up speed during take-off on the tarmac.
We have compiled a list of last-minute items to remember now so that the days before your wedding are filled with all the happy butterflies of a well-planned destination wedding.
Make a list of native foods and/or drinks
This can be a really important step to making sure all your guests are safe and enjoy their time at your wedding. For example, if researching for a destination wedding in Bali, you might hear about a native drink called "arak." After some further Google snooping, you'll find that most travel sites advised against drinking it, as it was common to contain traces of methanol, a liquid that is deadly to consume.
Just taking some time to send out a general rundown of various offerings of the destination you're going to can help your guests decide how "outgoing" they plan to be during your special trip.
We all know that weddings can be fun but the next day can be hell if there's been too much to drink. Brownie points for any bride and groom that provide hangover supplements for wedding guests. Give them the gift of ensuring that they won't remember your wedding for the way they felt the next day.
Provide some information on the destination
I know, I know, you already have enough on your mind trying to plan the ceremony and reception, but your guests will feel that much more appreciated if you take a little time to provide them with some information about the destination. If you're traveling to a country that speaks a different language, how do you say the essentials like hello, thank you, beer, bathroom, and any other pertinent phrases your guests may use?
When tourists attempt to use words in the native language, they tend to be treated better and with more compassion. Helping your guests by providing them with a list of some common phrases can help them to feel more comfortable, but also a little more adventurous. This tends to ensure a better experience for all involved and make your wedding more memorable for everyone.
Plug Adapters
Different countries have different electrical outlets. It doesn't hurt to make sure you're covered, especially if you're planning on using a blow dryer for your up-do!
Create a brief list of points of interest
This one is not only for your guests but also for yourselves! Your guests are obviously traveling to see your big day but giving them (and yourself) some points of interest to check out on off days can help you and your guests make the trip more well-rounded!
Download a messaging app that runs off Wi-Fi
In foreign countries, cell service can be spotty, if not non-existent. My wife and I found that our phones didn't work in Bali but that most of the Balinese used Whatsapp as their communication staple. We didn't end up having to buy a sim card because Wi-Fi was so prevalent so Whatsapp was a godsend!
So there it is, a list of things that you may have overlooked during your planning for the best day of your life. It all goes to show that it's the little things that count!