Longtail bikes have become a popular mode of transportation all around the globe, especially for families with a child or children. Parents love the convenience, eco-friendliness, and bonding opportunities that adding a long tail bicycle to their family offers. This article explores the benefits of owning long tail cargo bikes, types of longtail bikes, comfort and safety, and tips for choosing the perfect long tail bicycle for your family.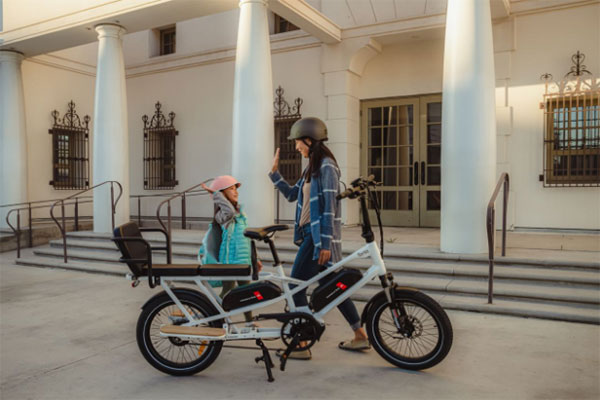 Benefits of Long Tail Cargo Bikes
Long tail cargo bikes are two-wheeled bicycles with an extended frame and rear rack, built to carry heavy loads or extra passengers. Electric models will include a rechargeable, battery-powered motor that allows riders to go long distances or up steep inclines with assistance. For parents with kids, longtail bikes are an efficient way to transport a child and everything they need from place to place. Here are some of the benefits for parents using a long tail bicycle to commute with children:  
Cost Saving:

One substantial benefit of a long tail cargo bike is that after the initial purchase, a longtail bike is inexpensive to maintain and will save families on travel expenses like fuel and parking fees. Parents can also ditch those gym fees and start getting a good workout while they cycle from place to place. 

Eco-Friendly:

With concerns about the environment becoming more dire each day, long tail cargo bikes offer parents an eco-friendly way to take kids everywhere they need or want to go while reducing carbon footprints. 

Increases Quality Time with Children:

Parents and kids can bond not only at the destination but during the entire ride. Playing fun games along the way creates lasting memories for a child and their parents to cherish their entire lives. 

Saves Time:

Using an electric long tail bicycle will help parents avoid time-consuming traffic, and stops for fuel, and allows them to bypass busy areas with bike trails or paths. Cycling times are more consistent than going by car, allowing for easier planning and time management. 

Quick and Convenient:

Longtail bikes may not be as fast as motor vehicles, but they get families where they need to go quickly and easily. It doesn't matter if it's dropping off or picking up kids from school, picnics, errands, or visits to the local park; long tail cargo bikes make sharing outings with their children a wonderful experience.

Fun and Exciting:

Children love traveling on long tail cargo bikes, so it doesn't matter where they go; they are excited about the journey. 
Types of Longtail Bicycles
There are two primary types of longtail bikes to consider when deciding which type is suitable for a family: electric and conventional. Conventional models require pedaling the entire ride. Electric long tail cargo bikes will include a battery-powered motor to assist on longer outings or rougher terrain. The electric model is likely the better choice for families who plan to travel long distances or with heavy loads and multiple passengers. Some electric longtail bikes have multiple batteries to run the motor so they can go further on a single charge. Since a long tail bicycle has a longer frame and is designed for carrying heavier loads, it may be easier to manage a long trip with electric assistance. 
Staying Safe and Comfortable on Longtail Bicycles
Safety and comfort are top priorities for parents with children, and longtail bicycles offer both. An older kid can sit on comfortable seats attached to the back rack, while younger kids need safety seat attachments. Safety recommendations are like riding a traditional bicycle, including wearing helmets and pads, utilizing safety lights reflective or bright clothing, and following the rules of the road. Parents should practice riding the bike in a safe area alone, without cargo or passengers, until they learn how to handle the bike. Then, they can add small amounts of weight until they build up to the desired added cargo limit. 
Tips for Choosing Longtail Bikes
Choosing the perfect long tail bike will depend on a variety of factors, including the type of terrain the family plans to ride on, how many children they will transport, how far they plan to travel at a time, and more. Parents who plan on transporting multiple kids on daily errands and destinations will probably search for the most powerful electric bike available. Some prominent features to consider when choosing a long tail bicycle are battery capacity, size and load capability, budget constraints, and comfort features for their kid. 
Adding a Long Tail Bike to the Family
Long tail cargo bikes have revolutionized the ways that parents commute with their children. With their combined benefits of cycling, convenience, increased cargo space, and simplicity of use, longtail bikes are the perfect, eco-friendly option for daily errands and outings. These bicycles are an ideal mix of practicality and fun, making the most monotonous trip an enjoyable family bonding experience. Whether electric or conventional, there's a longtail bike out there that's perfect for every parent's needs.