When you are a busy mother, your day is a never-ending parade in your head of sticky notes and to-do lists, and you still forget something. The answer is Google Sheets. Here, you can put every different colored post-it note or sharpie color on your Google Sheet, and label it away to your heart's content. Then, the only thing you have to do every day is refer to your family spreadsheet.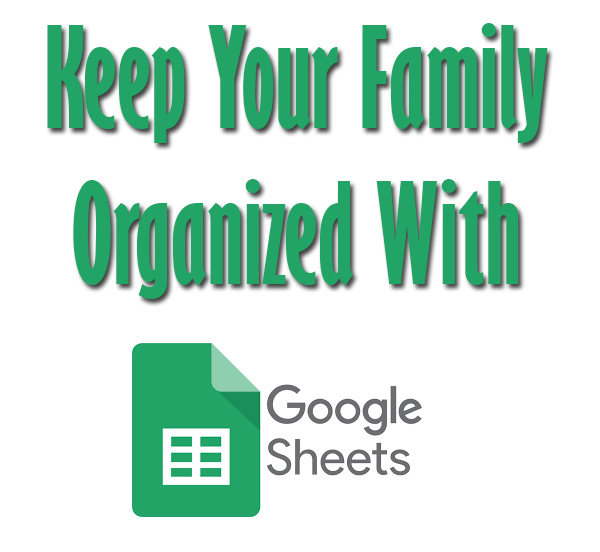 Goodbye, parade of mental to-do lists. Hello, organized lifestyle. With Google Sheets, learn budget techniques, plan chores, and set up your driving schedule for every person in the home. You'll breathe easier the second you have it set up. Use these tips as you plan to keep your family organized with Google Sheets.
Budget With Google Sheets
With Google Sheets you can quickly learn how to use sumifs in order to keep your dollars more organized. Divide your Google Sheets into sections with chores, driving, sports, dance lessons (or insert extracurricular activity here), homework, and budget.
You don't need to re-create your budget; you just need to write it all down. Sumifs in Google Sheets will help you to organize your date ranges alongside specific criteria. It would only take you a few minutes to learn how to use sumifs to organize your sports lessons budget with one child, or calculate it with all 3, using ranges of cells and criteria. You could also use sumifs to calculate the sum of electric bills in the summer and compare them with winter date ranges.
Google Sheets is an ideal location to put everything you need for your family in one place, and the budget will be the first set of criteria that you want to crunch.
Organize Your Child's Life With Tabs
Homework and chores are the next big things in your day when you are organizing your child or children's life. This is what tabs in Google Sheets are for. Use the Tabs function so that you can organize by the child or the activity.
These can be edited any time. If you are new to Google Sheets, you may not organize your family as precisely as the final product will be. In fact, you may keep organizing your organizer.
At the bottom of your sheet, click or tap on the plus sign. You can add tabs to groups, and have a homework group, for example, that includes a sheet for each child. These can also be color-coded.
Use Pivot Tables to Give Schedules a Third Dimension
Pivot tables take your two-dimensional table and add a layer of depth to it, by aggregating information to answer questions or solve problems. These are good tables to use if you have an element of your lifestyle that is always fluctuating. Say, driving schedules, for example.
A pivot table is very easy to make. In your Google Sheets, go to Data in the top menu, and use Pivot Table. Google is Google and might offer you recommended suggestions here. You might find an analysis here that already answers the question you are asking, or you could make your own pivot table. Find "Rows and Columns" and click or tap on "Add."
Select the information in your sheet that you want to analyze. Find "Values" and again, click on "Add." You can then use the Filters function to organize your driving schedule, allowance budgets, meal plans, grocery budgets, or whatever it is that you want to manage using your pivot table.
Get Your Family Organized With Google Sheets
Whether you are getting hooked on learning how to use sumifs, or creating your first pivot table, you'll soon become addicted to your new lifestyle planner. Google Sheets is more than just a set of columns and rows for your family's to-do lists. It will help you stay organized in every area of your family life that you want to write down. Start today, and let us know how easy it is.