It's been a tough year for teachers and students alike. The coronavirus pandemic has created a different reality — and now, it's time for kids everywhere to head back to school. With a few different strategies, you can support your children's schools. There's never been a better opportunity to give back to those who need a little help.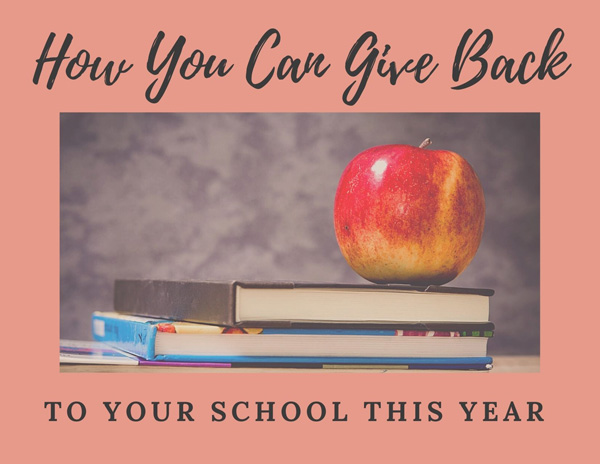 Here are a few ways to help teachers and students thrive. 
1. Donate Books and Other Supplies
All schools need supplies. It's often up to teachers to purchase pencils, notebooks and other materials for their classrooms. In fact, 94% report that they spend their own money without reimbursement from their schools. This year, your children's teachers may not be able to set aside as much cash. The current situation has lead to financial struggles for people worldwide.
In general, it's important for classrooms to have tissues, markers, paper, staplers, glue and other supplies. You can compile those items if you don't want to be overly specific. But you could also ask your kids' teachers for a list. For example, they may need certain books for a literature unit. Your supplies will make a difference even if your school district moves classes online.
2. Clean and Beautify Outside Areas
It's essential for kids to play outside. Your schools likely have playgrounds and parks they like to frequent. You can ensure they have a fun and safe time if you spruce up these spaces. You can work with administrators and parents to create a beneficial area for mental and physical activity. These locations need to be suitable for all children. You need to account for those with mobility issues.
Plus, you'll be able to add plants and flowers for a more attractive area. A few small touches can make an old space come to life. If your schools don't have a budget for new projects, it's still helpful to donate mulch for a garden or materials for a fence. This beautification effort will make a difference either way. Chat with your kids so that they can tell you what they'd like to see.
3. Volunteer Time for Certain Tasks
Your children's teachers may need volunteers to help with different tasks. It's often a bit tricky for them to manage on their own. That's especially true when they have to handle 20 small children at once. You can offer to donate your time whenever your kids' teachers need assistance. They may want someone to decorate for a party or help with an activity. You can assist!
Send an email to your children's teachers so that you can make yourself available. Be warned that these tasks may take a little more time and effort due to new rules and regulations for coronavirus. For example, you may be asked to help virtually instead. That said, you'll be able to positively impact your kids' classrooms with your commitment. Every bit makes a difference.
4. Create a Class Vegetable Garden
Are you an experienced gardener? A garden can help students learn more about nature. Plus, you can foster a community connection. There's no better way to bond than around a common goal. Talk to your school district to see if there's land for a few small garden patches. It's best to work with your kids' teachers so that you can plant appropriate herbs and vegetables for children.
This endeavor can serve as an educational class project. Each student will discover how to properly care for a plant. That's a handy life lesson. Once your garden has fully grown, you can donate your produce to a local food pantry. You could also use your produce to create healthier school lunches for everyone. Either way, you can give back to your schools and community with a garden.
5. Talk About Various Career Paths
There are many questions children have about their futures. Your life experiences could serve as a significant asset to students. After all, it's hard enough for middle and high schoolers to navigate life as a young person. An adult who talks about their job could be a huge help. It's always beneficial for teachers to teach lessons on different career paths. That said, you can't beat a presentation from a real-life banker or artist.
You can organize a time with your children's teachers to chat about your expertise. Be sure to pack props so that you can provide even more insight. A younger class will love to see your toolkit if you work on cars, for example. You may have to share your experience on a virtual platform if your schools have decided to move online. In any case, you'll still be able to share your skills.
Use These Suggestions to Help Teachers and Students Thrive
This year may present a few issues for schools worldwide. They need to have community support throughout their struggles. Use these tips and tricks to show your kids' schools a little love.