Pizza night is usually synonymous with junk food, delivery and an hour or two in front of the television. However, if you the pizza place around the corner knows your order by heart, and you're tired of watching Frozen, it may be time to enhance this weekly ritual.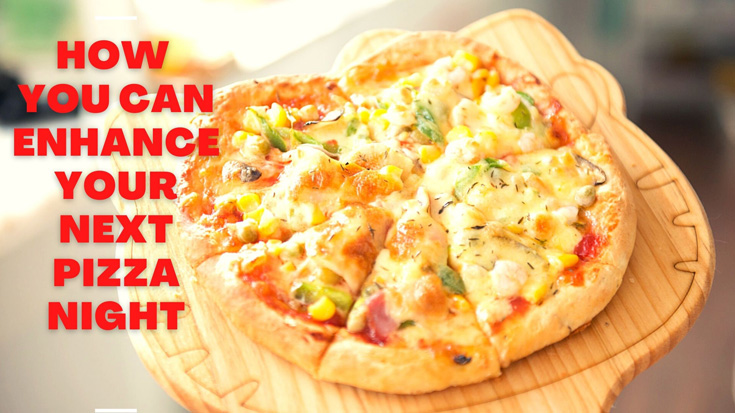 Here are a few ways to do just that — and make some memories along the way. 
1. Start With an Appetizer
One of the simplest ways to spice up pizza night is to start the evening with an appetizer. Take some inspiration from Italy itself and serve some beef spiedini or go with a tossed salad and Italian dressing. You might even serve these tasty bites as side dishes to keep your tastebuds guessing throughout the entire meal.
2. Use a Real Pizza Oven
Instead of ordering delivery or baking your pizza in the stove, why not use a real pizza oven to make your pie. For a few hundred bucks, you can purchase your very own, set it up in the backyard and put it to good use every Friday night. Some models reach 900 degrees Fahrenheit or more and the hottest ones can cook a pizza in as little as 60 seconds. 
3. Stock up on Pizza Tools
If a pizza oven isn't in the budget, consider stocking up on a few essential pizza tools to streamline the pie-making process. Bake or broil your pizza in an electric pizza maker or on a handy pizza stone in the oven. You might also invest in a pizza dough roller, pizza peel and an epicurean pizza cutter to make prep easier.
4. Make It Cheesier
Everyone loves a big heaping pile of melty mozzarella on their pizza. Yet, there are quite a few other cheeses worth your time — and tongue. Gorgonzola, ricotta, goat cheese, aged havarti, provolone and even cheddar all complement pizza well. Plus, some of them melt into a creamy consistency, making for a unique eating experience full of new flavors. 
5. Get Creative With Toppings
Put down that greasy bag of pepperoni and pick up a jar of pickles. That's right. Pickles, macaroni and even strawberries can be pizza toppings as long as you use the right combination. Let the kids use their creativity to top their own mini pizzas. You might even turn the night into a cooking contest and taste each one to pick a winner. 
6. Try New Sauces 
Making your own sauce is another relatively simple way to elevate your typical pizza night. However, if you don't feel like putting in the work, you can always pick an alternative to red sauce. Try using alfredo sauce, pesto, olive oil, buffalo sauce or barbeque sauce. The flavor combinations are practically limitless. 
7. Roll Your Own Dough 
Of course, if you do have the time, you should definitely try making your own pizza dough. A handmade crust has that touch of love that takeout and frozen pizzas simply never could. Plus, the activity provides a bit of fun and entertainment for the kids. Use bread flour for a crispier crust and a substitute for a chewier version. Additionally, you should set aside a good two hours to allow for prep — and maybe a small flour war.
8. Stuff the Crust 
Stuffed crust pizza is a huge perk of ordering out. You can't make that stuff at home, right? Think again. All you have to do is fold the edges of the crust around some string cheese, top, bake and dig in! Even your spouse will find your kitchen skills impressive. 
9. Take Pizza Night Outdoors 
Admit it, after grabbing your pizza, the whole family heads into the den and plops down in front of the tube. However, watching TV while eating can cause some people to eat one slice too many — and that too-full feeling is not enjoyable. Prevent upset stomachs and overindulgence by taking pizza night outdoors. Enjoy your pie in the backyard or at the local park and soak in the company and conversation.
10. Pair With an Adult Beverage
You're about to watch Moana for the umpteenth time, so grab a glass of wine and unwind. Beer, champagne and a variety of cocktails also pair nicely with pizza, so branch out and try a new combination. That bottle of rosé might just surprise you. 
Making Pizza Night Count
The average family doesn't even get 40 minutes of quality time together on weekdays. Between long work hours and complex school schedules, there isn't much time left over for you to bond with your kids. If you want to build a strong relationship with your children, you must make that weekly pizza night count. Make your own pizza, have a flour war and make some memories. Years from now, you'll be glad you didn't settle for takeout every time.