There's no doubt that tie-dye has had quite the resurgence, and it's a smart option for kids and adults. If you're planning on hiring a screen printing service to screen print tie-dye blank clothing for your business, learning some tips and tricks can help ensure the process goes smoothly. Keep reading for suggestions to boost the chances of screen printing success.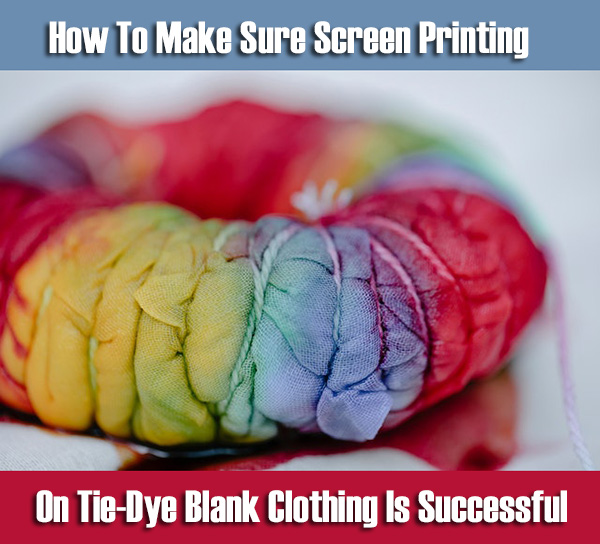 Don't order without asking questions
If you're new to having your designs put on blank clothing by a screen printing business, you have at least a few questions about how the process works or how you can ensure your finished products come out the right way. There's no reason you should feel uncomfortable asking the business these questions, especially if you've done your research and still aren't quite sure of the answers.  
Any business that's high-quality and values its customers is going to have no problem taking the time to make sure you get the clarification you need. So before you place an order to have your designs put on the tie-dye clothing, it's crucial that you understand the entirety of the printing and ordering processes and that you have no more questions.
Choose clothing that complements your designs
Although many opt for having their designs screen printed on t-shirts, tank tops, and sweatshirts, those aren't the only clothing pieces you can put your designs on. For example, consider screen printing on shorts and denim jeans. If you have a plan that doesn't work on one particular type of clothing, that doesn't mean it wouldn't happen on another. 
You have a heart design that could look better on a hoodie. Consider putting it on the back of a jacket instead. Your design and the clothing pieces should balance each other out without the design looking like it would be better on another item. Take your time with the process; wait until you find the type of clothing for your designs. 
Make sure your design fits within the clothing
The design you want to have screen printed on the tie-dye blank clothing should fit appropriately within its edges. For example, if putting a custom graphic in the center of a t-shirt, the design shouldn't be slight to the left or right when you send it to the screen printers, nor should it be hanging over the edge of the fabric. 
To ensure it fits within the edges of the product, you may have to alter the size of your design and play around with the placement. Chances are how you send your design to the screen printers is how they will do it, so it needs to be perfect before it leaves your computer. 
Avoid designs with colors that clash with the tie-dye
You want your screen printed design to stand out from the clothing, not blend into the tie-dye. Therefore, if you're opting to use a blue and white tie-dye top, like the Bella + Canvas unisex tie-dye pullover sweatshirt, it may not be a great idea to use white lettering; consider a darker hue that can boldly stand out. 
Limit the colors
The screen printing process typically only allows for a few colors in the designs that go on clothing, so (preferably) before you start making your creation and definitely before you place an order with a screen printing business, ask how many colors the printing company allows. You don't want any unpleasant surprises that may result in you having to redo your design, especially not at the last minute when you're in a rush.
Leave out the small details
Just like the color palette is simple with the screen printing process, the design you want to put on the tie-dye clothing too. Flashy, complicated designs are usually better for screen printing, so keep that in mind when creating your designs. The simpler you keep the style, the higher the chances of it looking the way you anticipated. 
Don't place your designs over lumps and bumps
Your screen printed designs may look better if they're not over anything that could disrupt it, such as zippers or pockets. For example, if your tie-dye t-shirt has a small pocket on the upper right, try and adjust your design, so it doesn't go over it, such as by moving the design to the same place on the opposite side from the pocket. Another option is choosing a t-shirt that doesn't have any pockets at all.
Choose a quality tie-dye print
A tie dye print that doesn't look great isn't going to do your screen printed design any favors; there needs to be harmony between the design, the clothing item, and the tie-dye pattern. If any of those needs to be corrected, it likely won't result in a cohesive piece. As mentioned above, choose clothing that best complements your design, but make sure you do the same for the tie-dye print. 
There are so many tie-dye versions available in two or more hues, such as ones that feature more of a single solid color than white and those that consist of a rainbow of colors. Take your time sifting through the available options until you find them with certainty.
One thing to remember is that it's a good idea to wait to place an order with screen printers until you're optimistic about everything from the colors in your design to the number of items you choose. The screen printing process isn't on-demand; the turnaround time can be much longer and vary from one business to the next, but it also depends on your specific order. For example, suppose you get the tie-dye clothing items and realize you made a mistake along the way, and they didn't come out the way you anticipated. Then, it's not only going to cost you money, but you'll have to wait even longer to receive the new items, so make sure your initial order is perfect beforehand.