There are so many benefits to reading. From the more practical benefits such as comprehension, concentration, and wider vocabulary to the more nuanced benefits of empathy, creativity, and understanding, people of all ages can improve themselves by reading often.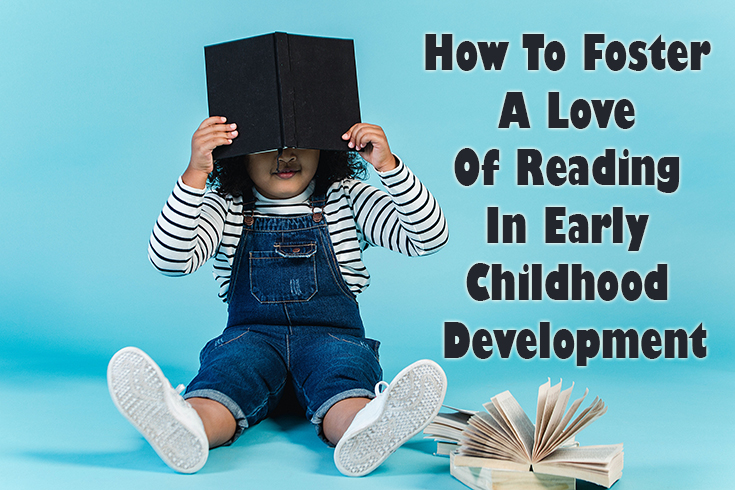 When it comes to building good habits around reading, there's no better time to start than early childhood. As soon as children are willing to sit still long enough for a story, bust out the books. Make it a part of your routine, and make it fun! Soon, they will be asking if it's time to read yet. 
To foster a love of reading in early childhood development, there is much that parents, teachers, and caregivers can do. Here are eight tips to help you get started and keep the ball rolling:
Choose Age-Appropriate Material
Listen, they don't need to start with Animal Farm, okay? You may love the classics, but children probably aren't going to understand the parallels to Communist Soviet Russia. This is a hyperbolic example, but the point stands. If you try to push a child too far too fast, they're going to get bored.
Do some research to find age-appropriate reading materials and pick up popular books for that age category. The more fun the experience is, the more motivated they will be to continue the habit.
Don't Force them to Finish a Book They Don't Like
Nothing kills the spirit like slogging through a book you don't like. Yes, it's important to challenge children to try new things and grow their skills. Even so, if they hate it, let it go. 
At most, try to finish the book they're having a hard time with (to make sure that they didn't just get bored for a one- or two-chapter stretch). If they get all the way through it and still don't like it, stay away from books like that for a bit.
Allowing a child to choose their own reading materials is a healthy way to build confidence and help them explore their tastes. They can exercise their decision-making abilities in a calm, low-stress setting. And if they can't decide on just one book, take them both! (This is where library cards come in handy.)
When a child chooses a book, be mindful of your reaction. They watch you for social cues. If you don't have a positive reaction, it may make them feel less confident in their decision. So try to have an encouraging and open-minded demeanor, even if they choose a book that they've already read 10 times. 
Read Out Loud or Try Audiobooks
Reading out loud encourages kids to read more. Whether you are the reader or you are listening to audiobooks together, it is a fun way to change things up while still enjoying books. 
For those who are more creative and outgoing, use different voices for each character to make it fun for children. If that's not really your thing, that's okay. They pay professionals to do that! Listen to the audiobook together instead. You can even follow along in the physical copy for increased comprehension.
By now, it's a commonly known fact that children mimic their peers, parents, and caregivers. If they often see you reading, they will do the same. If you act like reading is a chore, they willtake that attitude, too.
One of the best ways to encourage a  child to develop a passion for reading is to express your own passion. Go to a bookstore and buy a book for each of you. Spend time reading quietly together. In doing so, you act as a role model.
Create a Cozy Reading Space
Whether you're reading in the living room, tucked in before bed, or by a sunny window in the afternoon, a cozy reading space is essential. Feeling comfortable and relaxed helps children sit still longer without getting distracted.
Grab some warm blankets, a favorite stuffed animal or two, and a fluffy pillow to complete your reading space. If you're feeling adventurous, a blanket fort is always a good idea.
Visit the Library Regularly
Many of us don't have the budget (or shelf space) to buy books as quickly as kids can read them. Libraries are the ultimate fix in these situations. Not only do they have a wide selection of books for free, but they may also have a really cool kids area that makes it feel like a special treat when you visit.
Stop in once a week or every two weeks and grab a stack of books. If the child doesn't like one of them, no harm done and no money lost.
Read about Their Experiences
We don't always have the words to help children cope with new experiences and changes in their lives. By finding books that feature these experiences, they can see themselves on the pages and better understand their own emotions and reactions.
This doesn't always have to be about the new experiences they encounter, it can also be about their own diversity. Children of color, differently abled children, or children who belong to minority groups can seriously benefit from seeing themselves represented in print. It can help them feel less "weird," and help them understand why their differences should be treasured.
Reading is a great way to engage in a child's interests, foster creativity, expand their mind, and teach important life lessons. Whether the books are silly and funny or convey an important message, all of them have a place in a child's library.
If you are a parent, teacher, or caregiver to a young child, start building good habits with them today. The sooner they start reading, the better.