Homeowners dive into renovating their homes without knowing what to expect. Home renovation has many benefits like improving your home's functionality, enhancing your home's value, and bringing your old house back to life. However, the cost of renovating a house can quickly go up whether working with small or big budgets.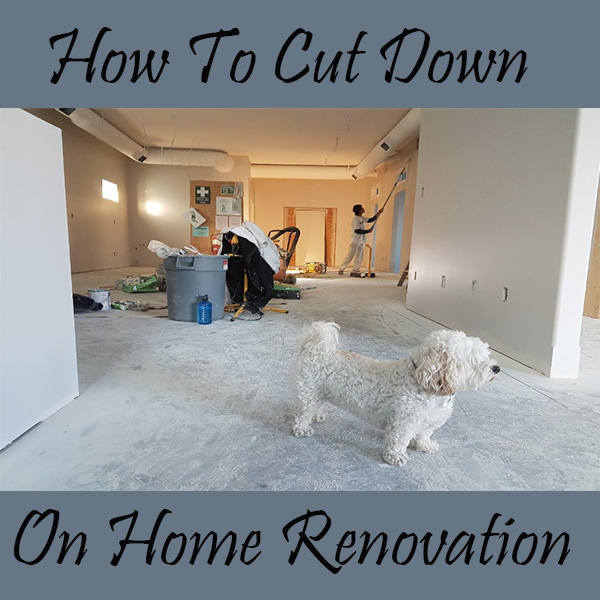 Nearly half of home renovation projects are estimated to exceed the initial budget. Some budgets go over and beyond because homeowners want more than what they can afford or because they are never keen on every detail that makes a renovation project successful. While planning on renovations, ensure that you remain realistic with your budgets. Here are tips to help you cut down on home renovation. 
Create and Stick to Your Budget
Creating a budget for your home renovation project can help you meet your goals, give you control over processes, and helps you make effective decisions. When you create a budget for the project, you can tell to which extent the project will cost, identify things that you'd rather do later, or remove them from your activity list to lower project costs.
When you create and stick to the budget, you can save yourself from dealing with unnecessary costs. Remember your budget will highly determine how long your project will take and the resources you need for the project to be complete. Make sure that you get the correct estimates. Poor estimates and a lack of proper oversight could lead to the collapse of the entire endeavor.
Obtain At Least Three Quotes
Before you ask for quotes from potential service providers, you need to acquire a set of drawings to help you get accurate costs—the purpose is to get at least three quotes for comparison and better decision-making. Quotations vary from one service provider to the other. So, take time to read through them carefully, understand every bit included in the quote, and don't hesitate to ask questions when you need clarity.
Oversee the Project Renovation Yourself
While hiring a project manager can help take the pressure off, the downside is that it comes at a cost. Overseeing a home renovation project by yourself can help save 10 to 20 percent of your overall project costs. While overseeing the project yourself, you'll also cut the prices of the contractor's mark-up on labor and materials.
However, you must do your homework first to ensure that every part of the project is well catered for. Make sure that you put aside a decent contingency fund, about 10 to 15 percent of the project cost, to cover extra costs that may arise.
Work with a reputable warranty company to acquire a good warranty plan to safeguard you from unexpected expenses. Choosing the right plan will also save you from the stress of malfunctioning heating appliances, especially in winter, for more details read here to save on home warranty costs and helping to keep your household warm during the colder months, in the case of emergencies and appliance performance issues.
Reuse Materials
Recycling materials can save up to 25% of material costs. Reusing cabinetry and some appliances during renovation can save you transportation money and conserve unused materials. However, suppose you cannot reuse anything you already have in your yard. In that case, you can cut renovation costs by buying materials and fixtures from salvage yards or building material auction centers. 
You can also look up on the internet as people often sell appliances in their perfect shapes, especially when moving and need to dispose of some items.
Wait for Discounts on Big Purchases
There will always be better times to buy building materials. Waiting for a discount on pricey items such as furniture and lawn care can save a substantial amount of the overall home renovation cost. Be on the lookout for American holidays to buy appliances, black Fridays to buy power tools or electronics, and end of summer sales for lawn care items and outdoor furniture. There are also some construction tools that you can just rent or hire instead of purchasing it at full price such as a youngman board hire.
Research the best time to purchase each item on your checklist. The good thing about the internet is that you can always find the information you want. So don't let impatience make you miss out on grabbing the best deals.
Assessing the Cost of Your Home Renovation Project
When planning to undertake a home renovation project, ensure that you determine whether the said project will add value to your property or not. This is important, especially if you plan to profit on a quick property resale.
Consult real estate agents in your area to understand what buyers are looking for and whether your renovation will meet their needs. If possible, engage an architect to see if you can make some improvements to the layout without interfering with square footage.