Isn't it great that technology has come so far that you can purchase things you want and need with a few clicks? No more hopping from store to store, fighting your way through the crowds, or waiting in long lines. All you need is an internet connection, and internet-capable device, and a few minutes and you can have just about anything you want to be shipped right to your door.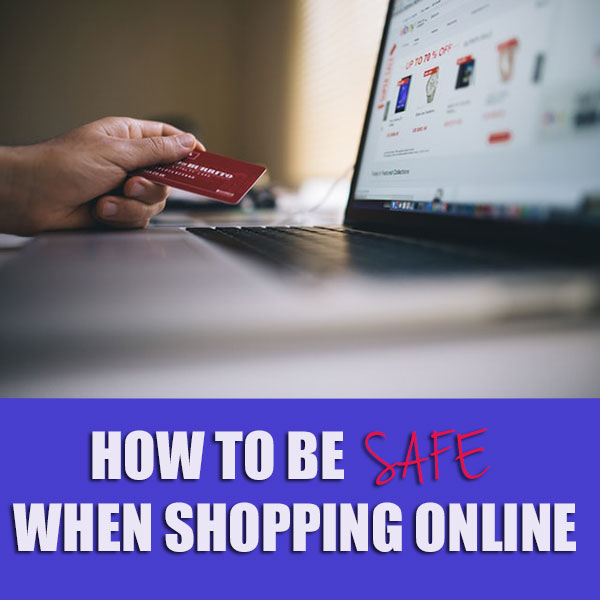 As convenient and easy as shopping online can be, however, it's not the safest form of shopping. There are predators like fake businesses, hackers, and thieves that will steal your information and/or your merchandise. Trying to untangle all the mess they cause can take time and even cost you more money. That's why it's important to shop safely. Below, are a few tips to use when shopping online to avoid running into problems. 
Only Shop on Safe Websites
There are a lot of cybercriminals out there just dying to take your money and never send you a product in return. They're so advanced that tracking them down to report the crime can even be difficult. That's why it is important to check the safety of a website before making a purchase. A reliable site should have privacy policies, safety certificates, few pop-ups, and clear contact information. You can also do a quick online search to see if there are any complaints from previous consumers about a particular site before deciding to shop with them. 
Never Shop on Public Wi-Fi
Getting free access to the internet is great when you consider how much data plans can cost these days. However, be mindful of where you shop. Establishments that offer free wi-fi services have public servers that are open to anyone in the facility. If you're shopping on this connection and someone else happens to hack into it, they can easily access your personal information including your address and credit card or bank accounts. It is best to wait until you're home on a safe internet connection before making a purchase. 
Use Your Credit Card
Credit cards have a lot more liability protection than debit cards and other methods of payment. When shopping online, it is best to use a credit card. This way, if there is a dispute, your products never arrive, or you're charged more than you should be, the credit card company will work with you to fight the charges and bring your account back current. 
Create Strong Passwords
There are some sites that allow you to set up an account to make checking out easier. Though these are convenient, it is imperative that you secure your accounts. This means creating a creative password that will keep others out of your account. It shouldn't be anything too easy to remember to the average person and should include other characters like numbers and symbols to make it more difficult to crack. As another added protection, be sure to sign out of your accounts after making a transaction. 
Package Theft Prevention
As sad as it is, there are people that drive around neighborhoods looking for packages to steal. Imagine waiting all that time for an item to arrive only to have it taken from your property? Though you can't control everything there are package theft prevention steps you could take. You can make sure you're home when packages are to be delivered, ask a relative, friend, or neighbor to retrieve the package for you, have the packages shipped to the post office or closest store, or, if you live in a community where there are parcel lockers, you could ask how to apply for one. 
Check Your Statements
After placing an order online it is good practice to check your bank statements. You want to be sure that you've been charged the appropriate amount and that the charge came from a legitimate source. If you see an unknown name or company on your statement or you've been charged more than you should, contact your bank or credit card company to file a dispute. 
Online shopping really is the best. It's a great way to save money, time, and energy. As convenient as it is, however, there are so risks involved that you want to be aware of. Unfortunately, illegitimate businesses, hackers, and thieves can make your online shopping experience a nightmare. The best way to reduce the likelihood of this happening is to utilize the tips above to be a safe and savvy online shopper.