Online shopping has opened up new doors for you to purchase any product you might desire and find the lowest price while you're at it. Convenience and access to lower prices have made online shopping the preferred way to shop for over half of all Americans. There are some things to keep in mind as you scour the internet for all the best deals to make sure you are a shopping smart. Take a look at the tips we've compiled below and you'll be on your way to being a smart online shopper.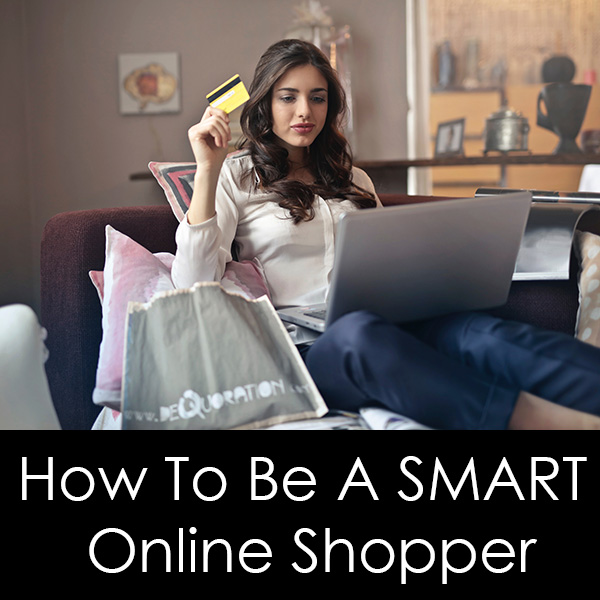 Stick to Your Budget
It's almost impossible to find an informative article about smart online shopping that doesn't mention the importance of a budget and there is a reason! Budgets are an effective way to manage personal finances and can go a long in curbing any unnecessary spending online. Shopping over the internet puts anything you want at your fingertips, but you still have to be able to afford it. The best way to start is to find the best credit card for your shopping needs, and then dedicated it as your online card.
The presence of scams is a major area of concern with online shopping. As you look for a product on the Internet, you have to stay alert for any fakes, duplicates or scams that are trying to dupe you into making the wrong purchase or giving out your confidential information. When you first look at the website, it can be hard to tell because scam sites mimic the website design of legitimate sites. That's why you need to look for other types of red flags.
One clear sign you are on a scam website is a missing https or SSL. Also look that complete, accurate contact information is provided. If the site belongs to a legitimate company, then they will give you a few ways to get in touch with them. You can also look to see if there are any customer reviews to determine the reliability of a website.
Avoiding scams is as easy as shopping from one of your trusted online retail stores. For most things, you'll find that a small retail store provides the type of security, as well as affordability, that you are looking for from online shopping. Be smart and stick to small, trusted retailers that offer the same brand names you love.
Compare Products Before You Buy
Outside of convenience, the ability to compare products is one of the major reasons people shop online. The entire Internet is open to you so make sure you find the best deal that takes into account price, quality, shipping and warranty. Pay special attention to return policies in case you have to send back the item for any reason. When you consider all of these variables, going for the lowest price all the time might not be your best bet. Sometimes paying a little extra for an item means you get a better overall value. If you want to get an expert opinion on a product you are considering, then turn to a non-profit such as Consumer Reports to better understand the advantages and disadvantages.
Read Customer Reviews
Carefully considering customer reviews can inform you about the quality of a product that you can't tell by looking online. The first thing you'll notice is the extremely positive and negative reviews which can tell you about the quality right away. It's important that you read through a variety of reviews when they're mixed to get a good picture of the pros and cons. Go beyond the product listings on retailers websites and consider reviews on third-party websites.
Say Yes to the Warranty
Start thinking of everything you buy as an investment if you want to be smart about shopping. When you spend a lot of money on something, you should have some peace of mind and know that it is protected from any damage. That's why a guaranteed warranty is always a good idea.
You want to take advantage of any warranties that are offered and they may vary greatly from company to company that offer similar products. Review the length of the warranty, what incidents the warranty covers and the extent of the coverage. Double check all the fine print to make sure the warranty is guaranteed. Have too many warranties to track? Try a free tracking app like Warranty Tracker to view all your pertinent warranty information in one place.
Double Check the Shipping Policy
Take a moment to look over the shipping policy before you complete your order. Online shopping is convenient because products you need arrive at your doorstep with a few clicks of a mouse, but you need to make sure it gets to you in one piece. This is especially true if you just bought something that is particularly fragile or costly. There is no use spending your hard earned money on something that shows up broken. Depending on the shipping policy you could be out of luck and money for any damaged items.