Finding reasons why your brick-and-mortar business should have an online presence is easy, as it's sound advice for the digital age. In fact, over 60 percent of the world's population now have access to the internet, and most users are doing their shopping on it. Putting your products or services where they can be seen by the most people is a tactic that makes a lot of sense from a marketing perspective.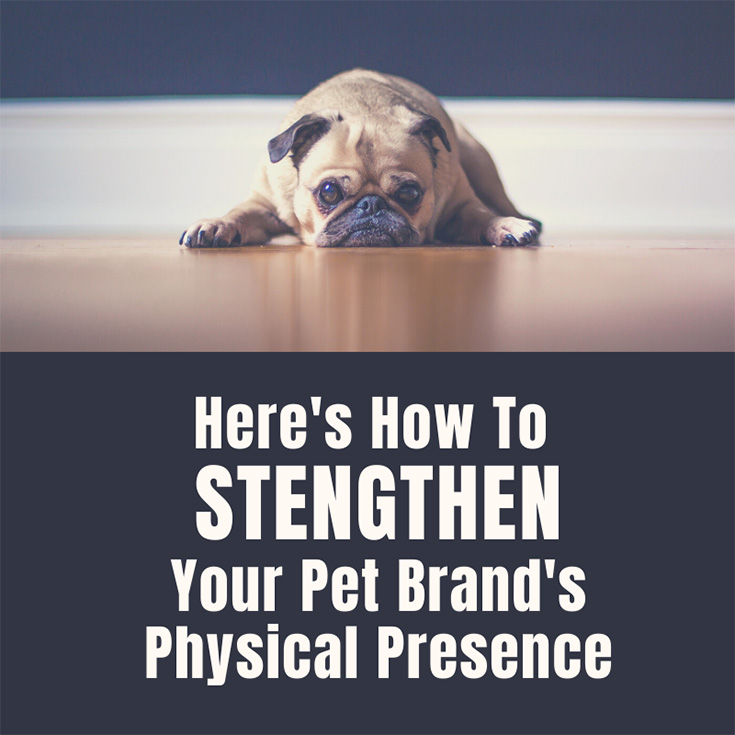 There isn't much coverage on the inverse, though. This is far from surprising; most entrepreneurs whose businesses are already flourishing online may see the concept of creating a physical presence for their brand as a step backward. The potential costs of doing so can also deter some business owners.
Fortunately, there are several ways to create a strong physical presence for your pet brand, and not all of them require a significant financial investment. It's worth looking into these methods to increase awareness for your business on a local level while fostering trust and building meaningful relationships within the community. Additionally, experts assert that the key to retail success in 2021 is in taking full advantage of multiple marketing channels, both digital and physical. With this in mind, you can boost your pet brand's physical presence today with these tips:
Create Your Own Custom Pet Products
Does your pet-related business involve providing a service, such as boarding, grooming, sitting, training, or walking? You can increase its physical visibility by expanding into custom pet products that you can either sell or give away as freebies. You can start with small functional products, such as branded collars or leashes, before moving on to larger items such as dog toys and clothing. Contrary to what you might think, having custom pet products made isn't at all that expensive. You can save a lot of money by looking for retailers that offer wholesale dog toys, for instance, and buying in bulk.
Distributing branded pet products can help get your business' name out in the immediate area, which can be especially helpful for service-focused ventures. You'll be able to find more customers who live or work nearby and be able to offer them a more conveniently located option than the one they usually patronize.
Open a Pop-Up
If you already sell pet-related products online, one of the easier ways to reach out to more customers locally is to open a pop-up store. Pop-up retail has grown in popularity in recent years due to its ability to drum up interest in a product or service while engaging customers in an exciting, interactive environment. Opening a pop-up shop is also less expensive because you'll only have to rent the venue for a short amount of time. In some cases, it may not even be necessary to find an empty location; you can partner with an existing establishment and rent out a bit of their space instead.
Alternatively, you can look into setting up a booth at a community market or a similar event happening in your area. This can be even cheaper than renting out a brick-and-mortar retail space. The less formal environment of a community market can also encourage more personal interactions between you and your potential customers.
Hold or Sponsor a Local Event
Business owners who may not yet be ready to invest in a physical location can still cultivate a physical presence in the community through pet events. Holding an event or becoming a sponsor for one is not only a great way to advertise your business, but also a great way to create organic marketing and selling opportunities that can complement your efforts online.
You can employ a wide variety of strategies to maximize engagement and make the most out of your time at these local events. Inviting influencers who are known animal lovers or have famous pets of their own can be incredibly effective at drawing a crowd and bumping up attendance. Throwing your sponsorship behind a worthy cause demonstrates your company's values and creates positive associations with your brand as well.
Don't think that you have to limit your sponsorship to pet and pet-adjacent events only, either. Consider becoming part of beloved home-grown events, even if they don't have anything to do with animals. Doing so shows that your brand is committed to being part of the community and will endear you to the locals.
Whether you choose to run an event or participate as a sponsor, you should make sure that the activity aligns with the culture and message that your brand wants to project.
You may already be quite satisfied with how well your business is doing using only online marketing strategies. However, cultivating a physical presence for it also has clear benefits. Doing so helps you create and maintain stronger, more meaningful, and more profitable relationships with customers. A physical presence also adds a tangible air to your brand that can make it more relatable. Give these tips a try and see the difference for yourself.