A lot of things come with the holidays. The weather changes, you get gifts, family comes in town, and, most importantly, people throw parties. If you plan to host one of these parties, it can be stressful. You have to plan a party for many people all by yourself. You may not know where to start or what you need to pull it off. After reading this, you will.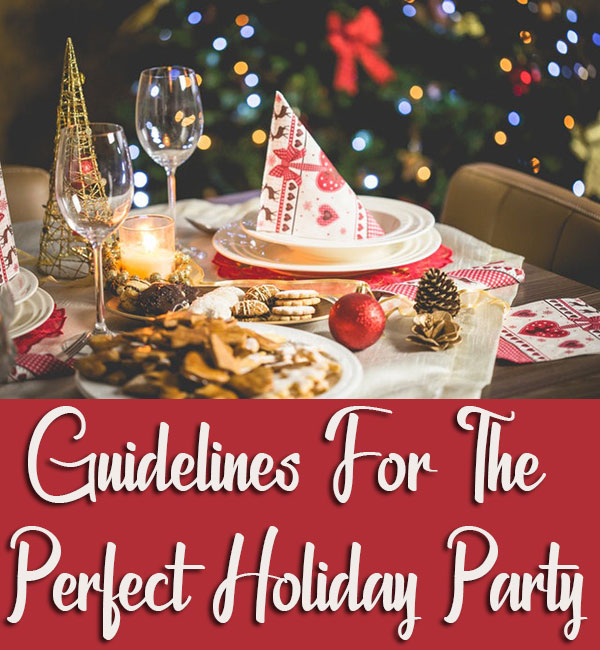 Drinks
It may seem like a small thing when you are planning your party, but it is really important. Certain drinks make you feel like it's that time of year. Your guests, whether they are kids or adults, will be expecting these kinds of drinks. Drinks like eggnog and hot chocolate are a tradition around holiday time. Some people don't want to feel like they drink the same drinks every year. There are recipes you can look up with some traditional ingredients and new ones. You can mix sugar free syrup and some eggnog and create your drink. Having your drink list prepared for your party will save you a lot of rushing the day of the party. 
Food
Just like drinks, there are certain foods that people expect to eat when they go to holiday parties. The food and drinks will help set the tone of your party. It will give it that holiday feel and put your guest in the spirit. Also, people get hungry at parties. When you are dancing and having a good time, you will want something to eat. Themed food isn't just for your guests to eat. It also serves as decorations. Colorful foods like Christmas tree cookies or decorated cakes bring out your decorations even more. The decorations and food put together will catch the eyes of your guests.
Decorate
The holidays are the time of the year to go crazy with the decorations. Even the simplest decorations can make your house look incredible. Your guest will be looking for these decorations because it is tradition. It is also fun to see. Decorations are lovely, but they aren't easy to put up. It will take you some time and work getting these decorations. Knowing this, you should do this a day or two before your party. The decorations will bring your holiday theme to life. It will make your guests feel like they are at a holiday party rather than a regular get together.
Prep
When you are planning a party, prepping could mean many different things. It could mean pre-making drinks. It could mean prepping your food so all you have to do is put it in the oven. Prepping will save you a lot of time and make getting ready for your party easier. You will be able to get food and drinks done before you even start getting ready for the party.
Make a List
Making a list will help you stay organized and stress-free while preparing for the party. This list should contain all of the things you need to do for the party and a time they need to be done. Your list can even start the day before. If you need to, clean your house and rearrange it for your guests. It would be smart to do it that way. Your list will ensure that you get everything done promptly. Before you know it, you will be done with your list and ready for your party.
Throw An Amazing Party
You should have just as much fun preparing and getting ready for your party as you will during the party. The only way to do this is to plan. If you are stressed out and unorganized while you are getting ready, you will be anxious and all over the place during the party. You won't be able to have fun and enjoy your guests. The ideas listed above are sure to have you confident and ready for your guests when they arrive. Don't make things hard on yourself because you have a big task. Take the easy way out and use these tips. You will be glad you planned ahead.