It is a dream for many people to open their own bar and it is easy to see why. Running a bar can be highly enjoyable work and potentially very profitable, yet it is also difficult to succeed and hard to stand out in a competitive marketplace. Many people open drinking establishments only to have to close them shortly after and this is because they repeat the same mistakes when setting up. If you are willing to put the hard work in and give it a little time, there is no reason why your bar won't succeed as there will always be a need for high-quality drinking establishments as these are spaces that people go to relax, socialize and let their hair down. Here are a few tips.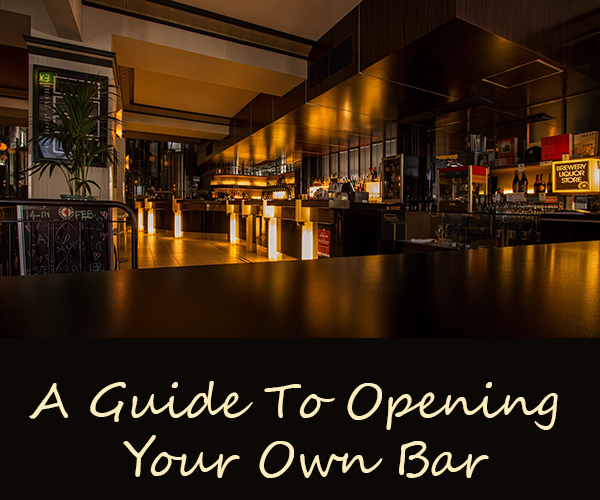 Location
Location is everything when it comes to bars. Ideally, you will find somewhere that is centrally located and easy to access so that you get a lot of people passing by and on all days of the week. Having a location in town is preferable particularly if you want to attract crowds Friday and Saturday night.
Market Research
Market research is crucial if you are a bar because you need to determine who your competitors are in the area and the type of people that pass by. This should help you to determine who your target audience is, and it will allow you to identify the strengths and weaknesses of your competitors.
Branding
As with any type of business, having a strong brand identity is vital. You should come up with a name for the bar that is catchy and easy to remember, and you will also need to pick a style and personality for the bar – it could be a classy cocktail bar, a traditional pub, sports bar or any other type. This will dictate what sort of clientele that you attract and when the bar will be busiest.
Storytelling is an important element of creating and maintaining a strong brand. Customers respond best to stories that create an emotional connection to a company or product, as it encourages loyalty by establishing a deeper relationship based on shared values. By weaving emotive narratives throughout campaigns or new product introductions, companies can capture their audience's attention and hold it longer than if they were to only rely on facts. By participating in a storytelling workshop for leaders, business owners and marketing managers are able to produce engaging content that drives leads and increases brand awareness for the long run.
Licenses & Permits
It is also essential that you register your business, obtain an employer identification number and obtain any necessary permits and licenses. This will include a liquor license which can be an expense but is, of course, essential, so you will need to factor this into your budget.
Layout
The importance of the layout should not be overlooked as this will determine the atmosphere of the bar. You need to make sure that it is easy for people to walk around and get to the bar and that there is space for people to queue. There also needs to be space for both large and small tables as well as an area outside for smokers.
Funding
Getting a bar set up can be a huge cost which means that it is likely that you will need some form of funding. This may require using a credit card to cover the various fees, and the BMO cashback card is a good choice as it will allow you to get money back on all purchases that you make.
Style
You will need to adopt some form of style and identity depending on what type of establishment that you open. This will include furniture that is both stylish and comfortable, a large bar and decor in the form of artwork, plant life, and lighting. You may also want to consider aspects such as a jukebox and pool table depending on the establishment that you want to run. Many bars now offer live entertainment such as live music or stand-up comedy as a way to appeal to more people and to stand out from the crowd.
Drinks & Food
The key component of a bar is, of course, the drinks on offer. What you offer will depend on the style of bar that you want to open, but you need to make sure that you have a wide variety on offer and do not forget about non-alcoholic beverages. It is a good idea to serve food as this can attract a lot more people, but you need to make sure that you use fresh ingredients and have the staff to pull this off (more on this to come).
Online Presence
As with any type of business, it is essential that you have a strong online presence in order to raise awareness about your establishment. This will involve having a high-quality website which reflects your personality and being active across social media channels. You may also want to use internet marketing to create a strong online presence and increase your visibility online.
Staff
Every great bar is powered by dedicated, skilled and friendly bar staff. Be careful with your recruitment as you will need to find bar staff that are experienced and will fit in with the particular style that you have chosen. You will also need experienced kitchen staff if you decide to serve food.
Marketing
You will want to raise awareness about your bar in order to get people through the door once you open. This can be done through online marketing, but it is also important to advertise the company offline too. This can involve newspaper adverts, radio adverts and getting involved in the local community. You may also want to consider some kind of launch party where drinks are cheaper than normal. Although it can be costly if you are able to raise awareness and develop a positive relationship it will help you to find popularity. Drinking establishments find success through word of mouth marketing and reputation more than other types of business, so this needs to be a key area that you focus on.
There is always a need for a good bar yet running one can take a lot of hard work and commitment. It can also be highly rewarding work particularly once you have developed a strong reputation and become an important establishment in the local community as this will be somewhere that people come to relax and enjoy themselves. These are the main steps that you will need to take when setting up and they should enable you to find success and stability from the get-go.