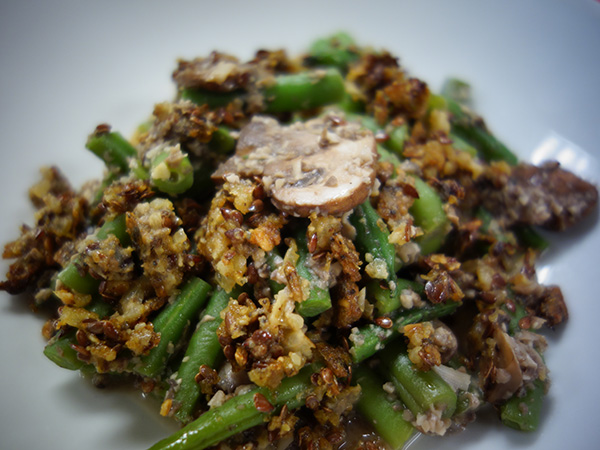 Ingredients:
1 1/2 lbs. fresh green beans, cut into small pieces
Pinch of sea salt
12 oz. mushrooms
3/4 cup vegetable broth
1 Tbsp. white wine (optional)
3 cloves garlic, minced
Fresh ground black pepper to taste
3/4 cup almond milk, unsweetened
1 small yellow onion, thinly sliced
2 Tbsp. olive oil
2 Tbsp. ground flax seed
1 Tbsp. crushed walnuts
1 Tbsp. nutritional yeast (if desired)
Preparation:
Preheat oven to 425 degrees Fahrenheit.
Bring a pot of water to a boil. Place beans into boiling water, cover and allow to cook for about 6 minutes.
Remove from heat and drain. Rinse with cold water to stop the cooking process. Pat dry and set to one side.
In a skillet, saute mushrooms and garlic in 1 tbsp. of olive oil (season with black pepper if desired).
Once the mushrooms have cooked down, stir in the vegetable broth, white wine and almond milk. Cook on low for about 5 minutes until heated through.
Use a ladle to transfer about half of this mixture into a food processor. Puree lightly to get a thicker sauce. Add the thickened sauce from the food processor back into the pot and continue to simmer for another 5 minutes stirring occasionally to thoroughly combine. Stir in the beans.
In a small skillet sprayed with fat-free cooking spray, saute the onions until lightly browned.
Remove the onions from heat and place in a food processor with ground flax seed, olive oil, walnuts, Super Seed Crackers and nutritional yeast (optional). Pulse until a crumbly consistency is achieved.
Spray a baking dish with fat-free cooking spray. Pour the bean and sauce mixture into the dish.
Spread the onion topping mixture from the food processor evenly over the top of the beans and sauce.
Place the baking dish in the oven and bake at 425 for about 15 minutes or until the topping has crisped up.
Remove your casserole from the oven and serve!