With the current situation making it necessary to spend more time at home than ever before, people everywhere are on the hunt for ways to entertain themselves. Heavy on the nostalgia, our favorite indoor activity is a good, old-fashioned movie night.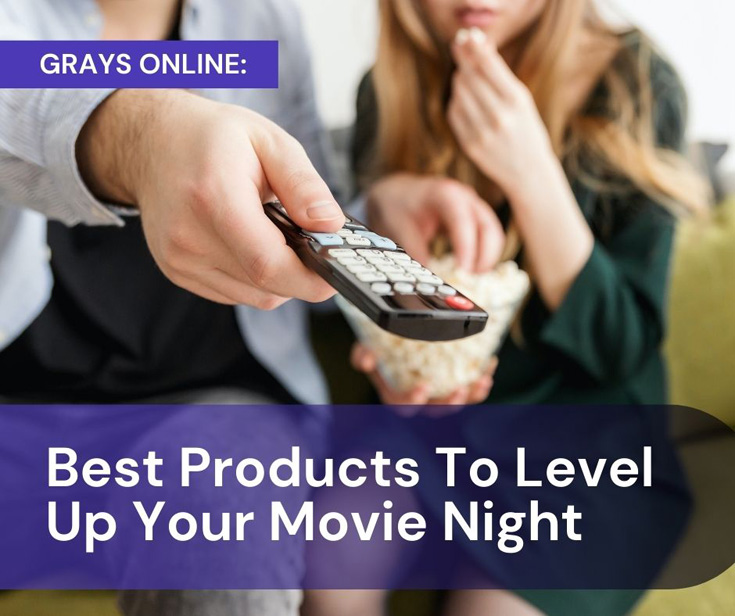 Everyone has a memory of a meaningful night spent in a cinema: the first movie you ever saw, the blockbuster you and your friends just had to see at the midnight premiere or maybe it was even the setting for your very first kiss. 
While we may not be able to go to the cinema right now, there are plenty of ways to bring the cinema to you. In 2020, we've got more streaming options available to us than ever before and (unfortunately) we've got nothing but time to spend indoors in front of the TV. 
To make the most of this situation, it might be time to invest in some extra gadgets to level up your movie night. These great products are just the ticket (pun intended) if you're looking to take your movie night from regular night-in to a major, blockbuster event.
Whether you go all in for rom-coms, crime thrillers or if you just can't go past the latest superhero flick we can all agree that any movie is made better with popcorn. While you can have microwave popcorn or pop it yourself in a saucepan – there's something better about movie theatre popcorn.
Get yourself a popcorn maker! Most small at-home airpoppers are actually healthier than traditionally oil-popped popcorn which means you can compensate by adding a lot of butter or even popcorn seasoning! If you're interested in making your own popcorn seasoning – check out these simple recipes. 
Gone are the days of the video store and, whilst we miss them, we're so happy to have streaming in its place. Invest in subscriptions to a couple of streaming services with unlimited screens and split the cost between a group of friends. From old reliables like Netflix and Stan and the slightly newer PrimeVideo and Disney+ there are many options available that you can subscribe to.
If you're not interested in paying for streaming, remember that many free to air channels offering their own streaming services running repeats of their programs as well as many films. With great original programming and shows direct from the US and UK, ABC's iView and SBS On Demand are great options for Aussies. 
Projectors and Surround Sound Speakers
We may be glued to our phones these days but, there's no denying, you can't beat the big screen. Luckily there are more home projectors on the market than ever before. Once you've purchased a projector, all you'll need to make a convincing at home theatre is a blank wall or ceiling or even a well hung bedsheet and voila you've brought the cinematic experience to you. Check out this online marketplace to purchase all the electronic goods you'll need, including projectors and surround sound speakers available in Australia. 
One benefit of being at your own home rather than a cinema is the fact that you can set up any lounging arrangement that you desire! Whether you invest in some killer bean bag chairs to turn your living room into a gold class cinema experience or if you just go all out and drag your mattress into the living room and create the ultimate mattress fort – it's your own home and you can do whatever you like!
A Little Something To Drink
You're already in your own home meaning you don't have to worry about the drive home so get yourself something to drink! If you're over 18, making at home cocktails is a great way to kill time and treat yourself. Here are some simple cocktail recipes you may be able to make with ingredients you already have in your pantry or, if you're more of a wine connoisseur then start your collection with some wines from this online marketplace.