No Breadcrumbs? No Problem! Use Granola to coat your chicken breast for a delicious new twist. Viki's Granola is nutritious, delicious & made with 100% ALL NATURAL ingredients, gluten-free, minimal added sugar, and baked with love!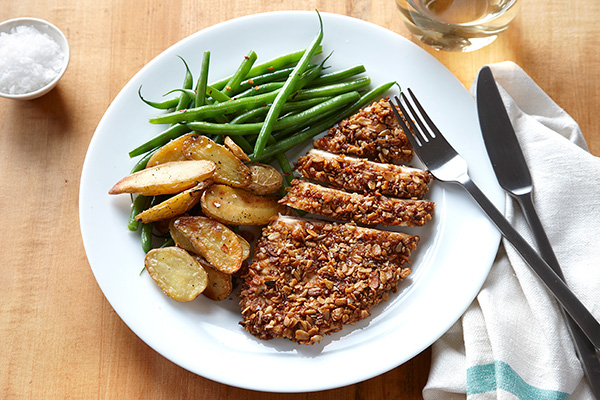 Below is a delicious recipe for chicken breaded with some granola and panko crumbs that you will want to try.
Granola Crusted Chicken Recipe
Ingredients:
2 eggs beaten
1 cup panko crumbs
½ cup Viki's Original Granola
½ cup of flour
1¼ pounds chicken cutlets
Safflower, canola or vegetable oil for frying
Salt and Pepper
Directions:
Place eggs into a shallow dish.
In a food processor pulse panko crumbs and granola. Place the breadcrumb mixture into another shallow dish.
Place flour into a third shallow dish.
Season the chicken cutlets with salt and pepper.
Set heat to medium and add ⅛ inch of oil in a large frying skillet.
While the oil heats, dip the cutlets one by one first into the flour (shake off excess) then into eggs and finally into the granola panko mixture.
When the oil is hot, place the chicken cutlet onto the skillet.
When the bottom is golden brown, in about 3 minutes, flip and brown the other side.