The holiday season is fast approaching, and it's time to deck the halls and make your home merry and bright. One of the most enjoyable aspects of this time of year is choosing and adorning your space with beautiful Christmas decorations. If you're asking yourself where to buy Christmas decorations that will suit your style and budget. In this blog post, we'll explore a variety of options, from local stores to online retailers, where you can find the perfect ornaments, lights, and all things Christmas.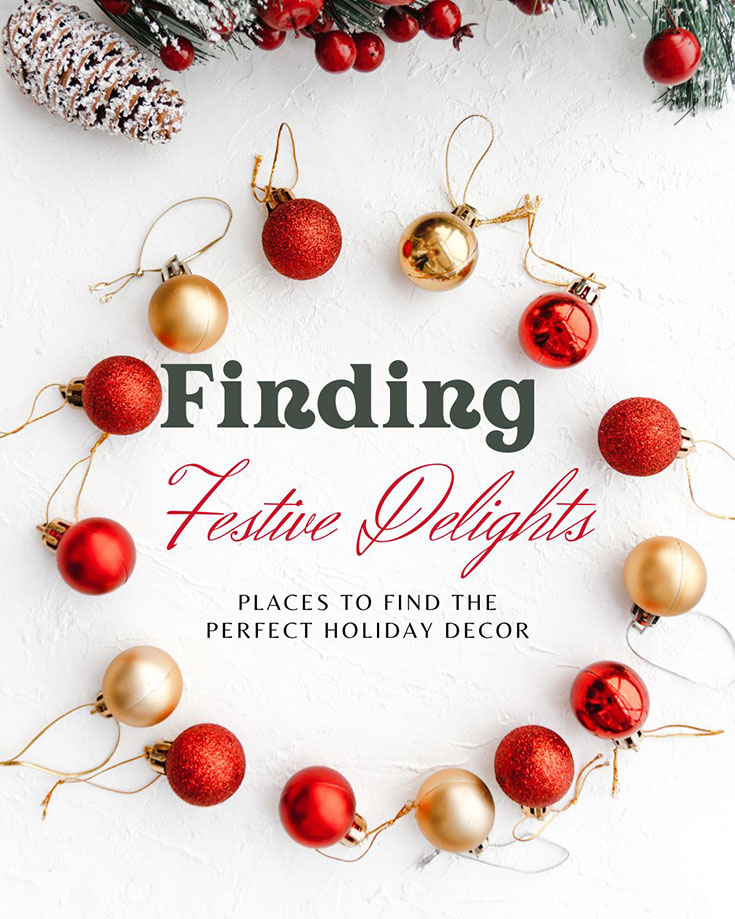 Local Department Stores
If you're a fan of the in-person shopping experience, your local department store is an excellent place to start. Stores like Macy's, Nordstrom, and Target offer a wide array of Christmas decorations, ranging from classic to trendy. You can walk through their festive displays and get a hands-on feel for the items before making your selection. Many department stores also have dedicated sections for holiday décor, making it easy to find exactly what you need. Additionally, you can take advantage of in-store sales and discounts, adding a little extra holiday cheer to your budget. 
Christmas Specialty Shops
For a unique and personalized touch to your holiday decorations, consider visiting Christmas specialty shops. These stores typically open up during the holiday season and are filled with an abundance of handcrafted ornaments, wreaths, and other festive items. You'll often find one-of-a-kind pieces that you won't see anywhere else. These shops are perfect for those who want to create a holiday atmosphere that's truly their own.
Craft Stores
If you have a creative streak and enjoy making your own decorations, craft stores like Michael's and Joann's offer a wide selection of crafting materials. You can buy ribbons, artificial flowers, and various other items to design your unique decorations. Crafting your own ornaments and decorations can be a fun and budget-friendly way to add a personal touch to your holiday decor. Plus, it's a great way to involve the whole family in the decorating process.
Thrift Stores and Antique Shops
For those who love vintage and retro Christmas decorations, thrift stores and antique shops can be treasure troves. You can discover charming old ornaments, vintage tinsel, and classic decorations that evoke the nostalgia of Christmas past. Not only are these options environmentally friendly, but they also offer a chance to find unique, timeless pieces that will make your Christmas decor stand out.
Garden Centers and Christmas Tree Farms
Your local garden center or Christmas tree farm can be a surprising source for holiday decorations. In addition to a wide variety of fresh greenery, many of these places sell festive ornaments, garlands, and wreaths. Buying decorations from a garden center can also guarantee that your décor is fresh, seasonal, and unique to your local area.
Online Retailers
In the digital age, online shopping is becoming increasingly popular, and it's no different for Christmas decorations. There are numerous online retailers that cater to holiday shoppers, making it incredibly convenient to browse, compare, and order your favorite decorations from the comfort of your own home. Websites like Amazon, Etsy, and Wayfair offer a vast selection of Christmas decor items, with a wide range of styles, price points, and delivery options.
Christmas Markets and Fairs
During the holiday season, many cities and towns host Christmas markets and fairs. These events often feature local artisans and crafters selling handmade Christmas decorations. Attending a Christmas market is not only a great way to support local businesses but also a wonderful experience to get into the holiday spirit. You can find unique and beautifully crafted ornaments, wreaths, and other decorations at these markets.
Discount Stores
If you're looking to save money while still finding stylish Christmas decorations, consider checking out discount stores like Dollar Tree, Walmart, or Dollar General. While the prices may be lower, you can still find a variety of ornaments, lights, and other festive items that will make your home feel like a winter wonderland without breaking the bank.
Estate Sales and Auctions
For collectors and those seeking vintage Christmas decorations, estate sales and auctions can be excellent places to find hidden gems. People often sell their holiday collections, and you can bid on items or purchase them directly at estate sales. Keep an eye out for estate sale listings in your area to uncover rare and unique Christmas decor pieces.
DIY and Handmade Online Marketplaces
If you're a fan of homemade and DIY decorations, consider exploring online marketplaces like Etsy and Handmade at Amazon. These platforms are home to talented artisans who create a wide range of unique, handcrafted Christmas decorations. By shopping on these platforms, you can support small businesses and find decorations that are made with love and attention to detail.
A Festive Surprise
During the holiday season, many cities and shopping centers host seasonal pop-up shops dedicated exclusively to Christmas decorations and festive accessories. These shops are a treasure trove of holiday delights, offering a diverse range of items to suit various decorating styles. They often feature the latest trends, making it a great place to discover what's in vogue this Christmas. Keep an eye out for these temporary stores, as they can add a touch of magic to your holiday shopping experience.
Home and Garden Stores
Home and garden stores like Home Depot and Lowe's are not just for home improvement projects. They also offer an extensive selection of Christmas decorations. From pre-lit artificial Christmas trees to outdoor lights and inflatable holiday characters, these stores have it all. Shopping for your decorations at these stores allows you to conveniently pick up everything you need to transform your home into a festive wonderland while taking care of any other home-related needs at the same time.
Holiday Craft Fairs
For those who appreciate the art of crafting and handmade goods, holiday craft fairs are an excellent destination to discover unique Christmas decorations. These events often feature local artists and crafters who put their heart and soul into creating one-of-a-kind ornaments, wreaths, and decor items. You'll find decorations that showcase a level of creativity and craftsmanship you won't find in mass-produced items. By shopping at these fairs, you not only acquire distinctive pieces but also support local artisans.
Wholesale Clubs
If you're hosting a large holiday gathering or simply looking to stock up on Christmas decorations, consider visiting wholesale clubs like Costco or Sam's Club. These retailers offer a wide array of holiday decor items in bulk, allowing you to purchase multiple items at a discounted price. This is an excellent option for families or businesses that need a substantial quantity of decorations to create a festive atmosphere without overspending.
Conclusion
Finding the perfect Christmas decorations for your home is an exciting part of the holiday season. With so many options available, you can cater to your unique style, budget, and preferences. Whether you choose to visit local stores, explore online retailers, or venture into specialty shops, the choices are endless. Embrace the joy of decorating and have fun transforming your space into a winter wonderland that will spread holiday cheer to all who visit. Happy decorating and happy holidays!