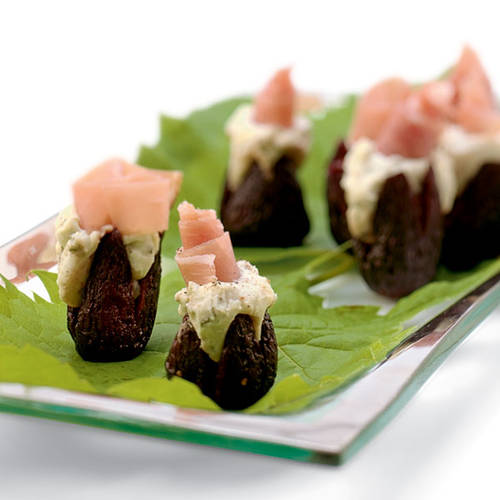 Want to try something different. Below is a recipe for Figs with Gorgonzola for those looking to try something new.
Figs Stuffed With Gorgonzola Recipe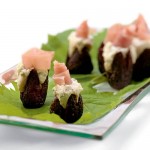 16 medium figs (dried – about 8 ounces)
1/2 cup port
1 tablespoon vinegar (balsamic)
1/4 cup cheese (crumbled Gorgonzola – 2 ounces)
1/4 cup cream cheese (reduced-fat – softened)
1 teaspoon rosemary (fresh – chopped)
2 ounces prosciutto – sliced and trimmed of fat
pepper (black, coarsely ground – to taste)
Snip the stem off each fig and make a crisscross cut two-thirds of the way down to partially open the fig. Trim the base of each fig so it will sit upright when finished.
Place the figs, port and vinegar in a small saucepan; cook, uncovered, over low heat, shaking the pan occasionally, until the figs are plumped and softened and most of the liquid is reduced, 10 to 15 minutes. Set aside until cool enough to handle.
Meanwhile, combine Gorgonzola, cream cheese and rosemary in a small bowl; blend with a fork.
Cover and refrigerate until the figs are cooled
Cut prosciutto into 1/4-inch-wide ribbons.
Using a teaspoon, melon baller or small spoon, place a dollop of cheese mixture in the opening of each fig.
Garnish each appetizer with a ribbon of prosciutto. Dust with a grinding of pepper.
This recipe is courtesy of BetterEats.com!