Retirement is a fun and exciting time for many seniors as they stop working and start a new chapter in their lives. As they prepare for retirement, many seniors declutter their homes and sell assets that aren't useful to them anymore. By taking the steps, they get better organization and reduce common stressors.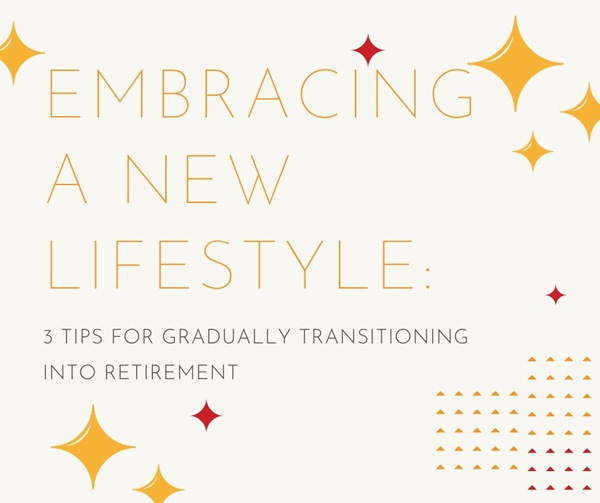 Below you will find  3 tips for transitioning to retirement helps the senior get a great start.
Move Into a Retirement Community 
The first step for a senior who is preparing to retire is to review local retirement communities that offer all the services they will want. The communities provide affordable housing for seniors and reduce their expenses significantly. Many seniors downsize when retiring and sell their homes to find more affordable housing opportunities. They choose these communities because the units are spacious and provide them with enough room for their belongings and give them the privacy they need. Seniors can learn more about local Retirement Communities by setting up a tour right now.
Discover an Alternative Outlet or Hobby
Seniors who are transitioning to retirement often look for a new outlet to keep them busy such as a new hobby or volunteering at a local charity. The opportunities keep them business and may provide them with a small wage for their services. If they choose a hobby, the senior can meet more people and find better ways to spend their time.
Hobbies are a great way to learn about new activities and participate in gatherings with like-minded individuals that share the same interests. They can choose from anything from art to hobby cars. The opportunities are listed on community boards and give seniors a great way to fill their days and fight boredom.
Local arts and crafts festivals may introduce them to new and fun activities that others are involved in. Maybe they love to cook and want to learn how to create different cuisines, and they can find cooking classes within the community or in nearby areas that are easy to find.
Find New Ways to Make Friends
Cultivating new friendships is vital during retirement and helps seniors develop more of social life. It is important to have a support system when retiring since the kids may not visit as often as they used to, and for people that don't have families, the new friendships allow them to develop their own families.
Local communities offer social gatherings that are great for seniors and allow them an outlet to meet new people and start friendships. Some retirement communities have weekly socials that are great for the residents and help them get over shyness and meet others in their area.
Seniors that can't drive may find themselves at a disadvantage if they don't live in retirement communities. If they choose to move into the area, they have better access to people closer to their age that understand their stories and have shared some of their life experiences. By finding new friends, the seniors won't become lonely during their retirement.
When retiring, people must follow steps for making life easier by assessing certain aspects of their lives. Many people downsize and move into retirement communities. These steps make it simpler to prepare for retirement and get a whole new lease on life. Retirement doesn't have to be complex or difficult with the right plan.