Are you planning a trip to Tennessee and wondering what to do? Tennessee is full of natural beauty, rich history, and vibrant culture. Whether you're looking for outdoor adventures or urban attractions, the 'Volunteer State' has something for everyone.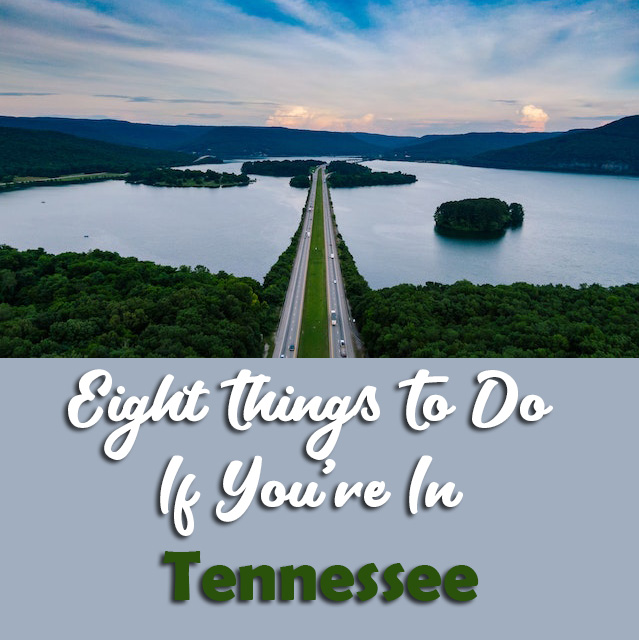 From the Great Smoky Mountains to the music scene in Nashville, there's no shortage of things to do and places to explore.
So, are you ready to take in the Tennessee experience? Read on to learn more.  
Stay in a Cozy Cabin
Tennessee is a state steeped in natural beauty, from the rolling hills of the Great Smoky Mountains to the stunning waterfalls of Ruby Falls. With so much to see and explore, it's no wonder it is a popular destination for travelers worldwide. 
Imagine waking up to the sight of rolling hills and lush forests or enjoying a cup of coffee on your cabin's porch while taking in the breathtaking scenery.
If you are visiting Tennessee, why not stay in a cozy cabin for an unforgettable experience? With Luxury Cabin Rentals, you can choose from various cabins perfect for couples, families, or groups. 
These cabins offer stunning views of the surrounding landscape and modern amenities that make your stay comfortable and convenient.
So whether you're looking to escape into the natural world or enjoy a peaceful retreat, Tennessee cabins are an excellent option. A word of advice; we suggest booking your cabin two weeks in advance, as they sell out rather quickly. 
Explore the Great Smoky Mountains National Park
If you're a nature lover, exploring the Great Smoky Mountains National Park is a must-do when visiting Tennessee. This expansive park spans over 800 square miles and is home to diverse wildlife, including black bears, elk, and deer. 
With over 800 miles of hiking trails, there's no shortage of outdoor adventures. You can hike to waterfalls, explore historic cabins, or stroll through the forest.
The park's streams and rivers provide many fish species for anglers. The park has backcountry and RV campsites for campers.
One of the best ways to admire the park's stunning scenery is by driving the Cades Cove Loop Road. The mountains and valleys along this route are beautiful, and plenty of places to pull over and take it all in.
Visit Nashville
Nashville, also known as Music City, is a vibrant and lively destination that should be on every traveler's list. As the capital of Tennessee, it has much to offer visitors, from learning about the state's rich musical history to trying some delicious Southern food.
Nashville is home to the Country Music Hall of Fame and Museum, the Grand Ole Opry, and several world-class music venues. The city is more than music. Germantown and East Nashville are historic areas with boutiques, art galleries, and eateries.
Speaking of food, Nashville is a food lovers' paradise, with a thriving culinary scene that offers everything from classic Southern dishes to innovative fusion cuisine. Be sure to try the hot chicken, a Nashville specialty that's spicy and delicious.
Take a Riverboat Cruise
The General Jackson Showboat, a majestic riverboat, offers visitors the chance to enjoy a scenic cruise on the Mississippi River while taking in the stunning views of the Nashville skyline and the surrounding countryside.
The riverboat cruise includes dinner shows and live entertainment, making it a fun and unique experience for visitors of all ages. As you cruise along the river, you can enjoy delicious Southern cuisine, watch live performances, and take in the beauty of Tennessee.
A Riverboat cruise is a great way to relax after a day of exploring the state or spend a romantic evening with a loved one. The gentle river and warm breeze create a magical experience you won't forget.
Visit Dollywood
Jointly owned by the legendary Dolly Parton, this popular theme park offers visitors a unique blend of entertainment, dining, and shopping.
At Dollywood, you'll find a variety of thrilling rides and attractions, including water rides, roller coasters, and family-friendly rides. You can also catch live music performances from country to gospel and explore the park's unique shops and restaurants.
For fans of Dolly Parton, visiting her childhood home is a must-do. You can learn about her life and career and see memorabilia from her iconic music career.
Discover Civil War History
For history buffs, Tennessee offers a unique opportunity to explore the rich history of the American Civil War. Visitors can discover various historic sites and battlefields that played a significant role in the conflict.
The Battle of Franklin Trust offers an immersive experience of Civil War history, with tours of the Carnton plantation and the Carter House. Both sites were used as field hospitals during the Battle of Franklin, and visitors can learn about their role in the conflict.
By visiting these locations, tourists can better grasp the Civil War's influence on Tennessee and the United States.
Visit Graceland
For fans of Elvis Presley, a visit to Graceland in Memphis, Tennessee, is a pilgrimage that shouldn't be missed. This iconic mansion was the former home of the legendary musician and offered visitors a glimpse into his personal life.
During the tour, visitors can explore the mansion and see Elvis's personal belongings, from his collection of cars and motorcycles to his famous jumpsuits. The property features a museum dedicated to his life and work. Guests can also dine at one of the establishments.
Explore Ruby Falls
This underground waterfall in Chattanooga allows visitors to explore the state's stunning natural beauty.
During the guided tour, visitors can walk through the cave system and witness the breathtaking Ruby Falls, a 145-foot waterfall that cascades underground. The tour also includes a light and sound show that highlights the cave's natural beauty and adds to the sense of wonder and amazement.
Ruby Falls is a true hidden gem of Tennessee. It is perfect for anyone looking to escape the natural world and experience something special.
Conclusion
In conclusion, Tennessee is a state that's full of natural beauty and fascinating history. Whether exploring the Great Smoky Mountains or spending time with your family in a cozy cabin, there's something for everyone in this beautiful state. 
So start planning for Tennessee today and see all the wonders this state has to offer.