Summer is the perfect time to bond with your family! With the kids out of school, they may be looking for things to do. For some inspiration, here are 10 fun family activities you should try this summer.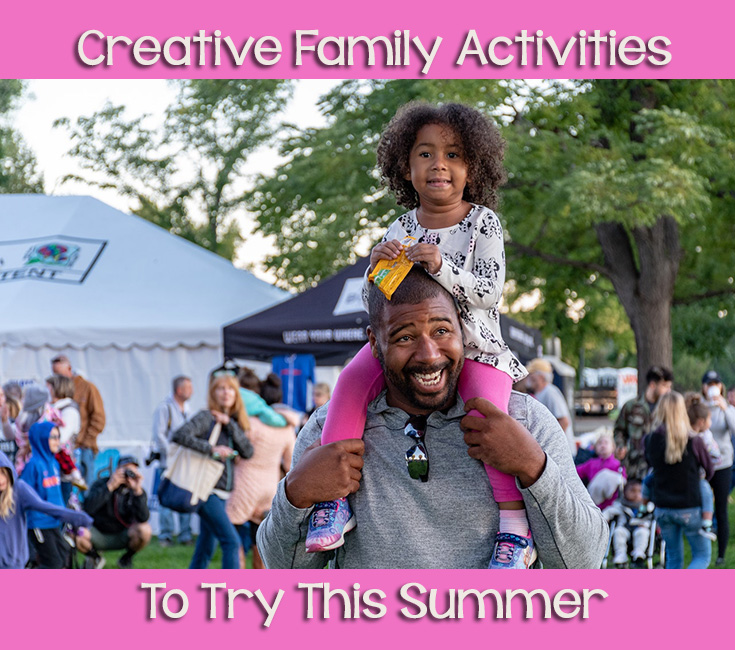 1. Go Bird-Watching
This is a great way to get your kids outside and help them learn about nature. Getting outside is good for your physical and mental health. Being outdoors keeps your children active. It also has other health benefits, such as: 
Allows you to soak up Vitamin D

Lessens your anxiety

Improves your sleep

Enhances your focus 

Improves your immune system
While bird-watching, consider taking pictures and tracking your sightings. You may even want to use an app or guidebook to help you identify the different types of birds. 
2.  Create a Herb Garden 
Gardening can help to reduce stress and build up your self-esteem. It also has physical benefits, such as improving your hand strength. Planting herbs is an excellent long-term project to keep your kids occupied. Having your kids take care of the plants teaches them responsibility.  
Consider using old coffee cans or mason jars for containers. Finding old items inside your house saves you money. Keep your garden on your porch or a windowsill. It can be a good decoration piece while providing your family with fresh produce. 
3. Build a Fort
This is a great activity for those rainy summer days. Set up pillows and blankets in the living room or cardboard boxes out in the yard. Getting everyone involved in the building process is a great way to bond. Once the fort is ready, you can cozy up inside and enjoy some quality family time! Consider watching a movie or playing card games. 
4.  Make a Time Capsule 
Time capsules allow you to relive certain experiences. Have each family member place a special item, with sentimental value, inside the box. You could also write a letter to your future self. 
Here are some other ideas of personal things to add to the capsule:
Ribbons or certificates from school accomplishments

Favorite stuffed animal or toy 

Art projects

Family photos

Ticket stubs 
Then store the container away in a designated area, such as your backyard. You can open it in either a few months or years. It may be fun to revisit the time capsule during a special occasion, such as your child's high school graduation. 
5.  Make Origami 
Create fun shapes and animals using colorful paper. This activity allows your kids to be creative. It's also an art project containing less mess since you just need paper. Consider giving the origami to your extended family members as gifts. They can also be good decorations for your child's bedroom. 
6.  Go to a Local Fair
A fair has something for everyone, whether you want to go on rides or win a giant stuffed animal. There is also plenty of sugary food, like cotton candy, to satisfy your taste buds. With so much to do, you can end up spending most of the day here. By the time you get home, your kids will be worn out, and you can enjoy some peace and quiet. 
7. Go to a Garage Sale 
This activity is a fun way to discover hidden treasures at low prices. You can even test your negotiation skills to get good deals. When looking through the items, you might find affordable gifts for your family and friends. Garage sales aren't just about shopping but also allow you to get to know your neighbors better. 
8.  Take a Road Trip to a Nearby City 
Summer is the perfect time to explore somewhere new. You don't need to hop onto a plane; instead, consider staying local. Find a nearby city and spend the day sightseeing. You can shop, dine out, or visit local tourist attractions. Remember to take lots of pictures to capture all those precious memories! 
To get to your destination in style, consider renting out a sports car for the day. This can make the trip more memorable and give your vehicle a rest. To enhance your rental experience, you may even want to add accessories to the car. 
9. Collect and Paint Rocks
Painting can bring out your kid's creative side and allows them to use their imagination. Art projects can benefit your kids in additional ways, such as:
Helping them develop fine motor skills

Enhancing their self-esteem 

Building up their self-expression

Increasing their patience and focus 

Improving their visual processing and memory skills 
When painting the rocks, consider using other crafts supplies, like glitter or buttons. Once the paint dries, the stones can be good lawn decorations or gifts for family members. 
10. Build a Slip N' Slide 
This is the perfect way to get your kids outside on a warm summer day. Being outdoors allows them to take a break from their electronics and soak up the sun. Since the slip n' slide is right in your backyard, you save the cost of a trip to the pool. 
Building the slide can seem like work, but here are some simple steps to follow: 
Pick the location for your slip n' slide

Fold the plastic covering in half lengthwise

Use landscape anchor pins to hold the sheeting in place

Turn on the hose and wet the slide and then add soap for extra bubbles

Have fun!
How to Bond With Your Family this Summer 
Spending quality family time can be tough when everyone is so busy. Summer is the perfect opportunity to make lasting memories! Consider adding these creative summer activities to the top of your bucket list.