In the past decade, average reading proficiency scores have steadily declined within the United States, leaving millions of kids without the necessary skills to learn and succeed. While medical and environmental factors may play a large part in low literacy levels, some kids simply don't have a desire to pick up a book and read. As parents, it's your job to inspire them, to show them that reading can be exciting and enjoyable. Easier said than done, right?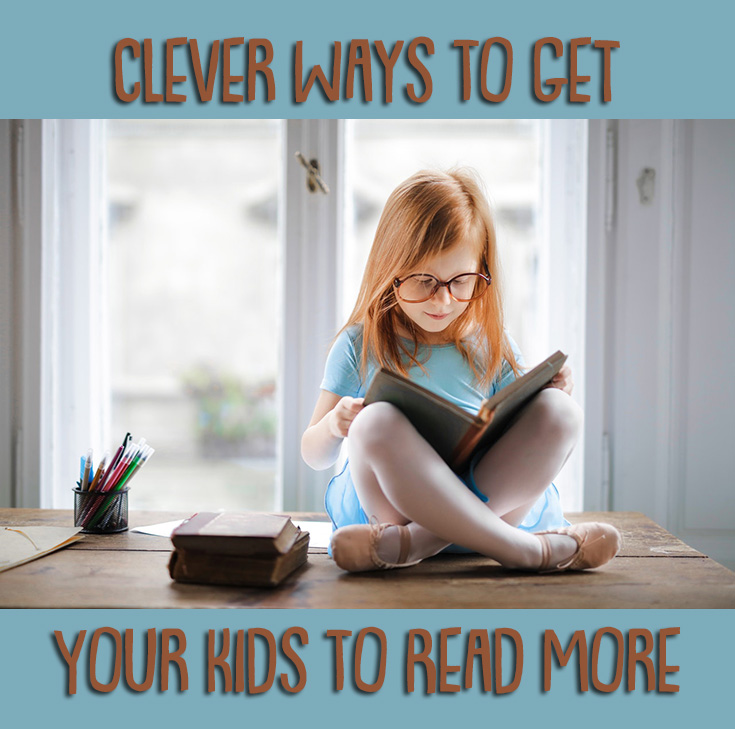 Luckily, there are myriad clever ways to get your kids to read more. Here are just a few. 
1. Schedule Reading Time
Your current schedule may include everything from sports practice to doing laundry, so where does reading fit in? If you have yet to dedicate an hour — or even a few minutes — to this essential activity, now's the time to do it.  
Make picking up a book a priority by adding it to your calendar. Try to establish a routine reading time to help your kids cultivate a good habit and minimize tantrums when you tell everyone to go grab their favorite novel. 
2. Visit the Library 
If you already have a reading routine but the kids are beginning to complain of boredom, a change of scenery might help. Escape the house and head to your local library for an afternoon between the bookshelves. 
Peruse their selection of children's books and let your little ones choose a few on their own. Then, settle in with your stack or check them out and head home for some quiet time. Ask your librarian about upcoming events like book signings and storytimes to get more involved and inspire even more reading. 
3. Create a Cozy Nook 
Sometimes, a quiet space is all your kids need to lose themselves in a good book. In this case, a reading nook might be in order. 
Transform a closet, attic, loft or corner of the playroom into a mini library, complete with backrest pillows, blankets and bookshelves. Hang string lights, tapestries and other whimsical decorations inside their nook to make it feel like a secret hideaway and encourage your kids to spend more time inside it. 
4. Try Using an App 
While most parents are focused on reducing screen time, technology can be a huge motivator in getting kids to read. Now, when your kid asks if you have any games on your phone you can hand them an ebook instead. 
Simply download a few children's books onto your Kindle and start swiping to read. There are also a number of learn-to-read apps that can help younger kids learn letters, numbers, phonics and more. 
5. Listen to Audiobooks
Sure, listening to audiobooks doesn't technically count as reading. However, doing so can inspire your kids to read more, especially if you choose engaging, age-appropriate ones. 
Download a few titles before a long car ride or listen to a chapter or two every time you take a trip to school or the grocery store. Looking for an extra engaging experience? Practice letter-sound association by having your kids follow along in their own books as the narrator reads aloud. 
6. Start a Book Club 
Social butterflies know that reading is better with friends. Make the activity a shared experience by helping your kids start their own book club. 
Invite friends from school and read a chapter a week. Then, meet up and discuss each one as a group. Allowing your kids the opportunity to talk about the characters, plot and outline will improve comprehension and memory, which can help them academically. 
7. Establish a Rewards System
Kids that require a bit more convincing might find more motivation in a rewards program. Whether it's candy, a trip to the zoo or a late bedtime, figure out what kinds of awards will incentivize reading. Then, explain how the system works and set them free to read and win at their own pace. 
For instance, families with lots of kids might organize a raffle where each book is worth one entry. Then, at the end of each month, everyone has a chance to win a prize. Meanwhile, families with older kids might use reading time to determine how much screen time they'll allow each day. 
8. Make Them Your Helper 
Your kids don't have to sit down with a book for an hour to work on their reading and comprehension skills. Simply reading small words and phrases can do them a world of good, especially if they do so multiple times a day. 
Make your little ones helpers by having them read recipes, street signs, shopping lists and more. You can also read one of the above while your child works to follow the instructions or guess your next move. This exercise will enhance their listening and comprehension skills, which will ultimately help them become better readers.
Being a Reading Role Model 
The best way to get your kids to read more is to be a good role model yourself. Stock your bookshelves with good reads and let your children see you reading, even if for just a few minutes each day. Share what you're learning and get excited about the written word. Whether you're into poetry, mystery novels or nonfiction, your kids are bound to take after you. Monkey see, monkey do, right?