Like coffee and cake? Below you will find a chocolate cake coffee recipe that you will want to try that is called the French Roast Chocolate Pudding Cakes recipe from Community Coffee Company that features 100% select Arabica coffee beans.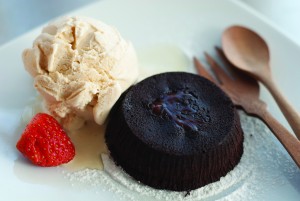 This is the perfect treat for those that enjoy their cakes flavored with a little coffee! A great breakfast idea or even an idea for dessert. You might also want to create your own frosting that is coffee infused as well!
Chocolate Cake Coffee Recipe
Ingredients
2 ½ cups all-purpose flour
1 ¼ cups cocoa, unsweetened, Dutch process
3 tsps baking powder
1 tsp Kosher salt
1 cup sugar
1 ¼ cups dark brown sugar, tightly packed and separated
1 ¼ cups Community coffee French Roast or Dark Roast, brewed
1 ½ cups whole milk
3 large eggs
1 ½ sticks butter, melted and slightly cooled
1 ½ tbsps vanilla extract
Optional: vanilla ice cream as side garnish
Directions
Preheat oven to 350 degrees. Place paper muffin cups in two 12-cup muffin pans. In a medium bowl, combine flour, 1 cup of cocoa, baking powder and salt. Whisk to remove lumps.
In a separate bowl, combine sugar, 1 cup of brown sugar, brewed coffee (cooled), milk, eggs, butter and vanilla extract. Mix until smooth (some lumps will remain).
Combine the wet and dry mixtures, mixing well.
Transfer batter to the cupcake pans, filling them ¾ full. In a small bowl, mix ¼ cup of cocoa and ¼ cup of brown sugar together.
Sprinkle a tablespoon over each cake and place pans in the oven to bake them for 20 minutes. The cake's edges should be crisp, but the middle should be very soft – similar to pudding. Cool for 5 minutes before serving.
Serve with vanilla ice cream as a side garnish.