Have you ever looked at those moms that always seem so put together and stylish and found yourself wondering how they do it? It's quite normal to reach a point in your life when you look at your wardrobe and realize it's no longer fashionable, it doesn't work for your lifestyle, nor is it flattering to your body.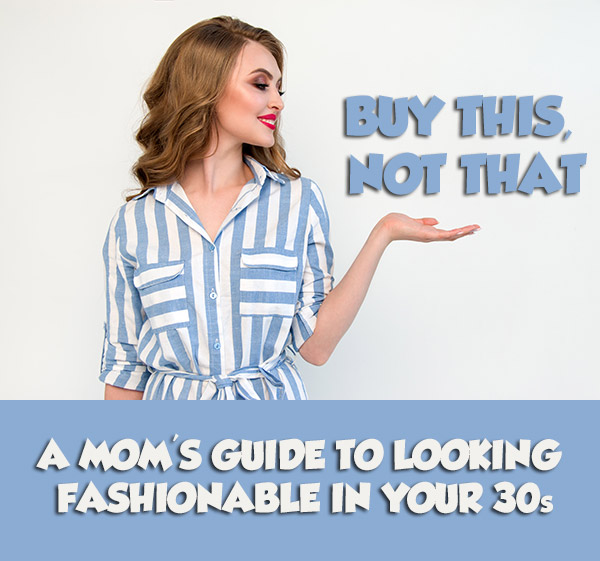 Women tend to go through different phases in life where fashion is concerned, which requires them to stop, take stock of what they've got, and look for ways to revamp and reinvent themselves in a way. Typically these phases are tied to milestones in your life such as becoming a mom, starting a new job or getting that big promotion, suddenly finding yourself single again, or celebrating a big birthday. Here we'll take a look at two of those milestones that have likely affected your fashion sense – entering your 30s as a mom.
So, before you head out to the stores be sure to take a look at this list of "buy this, not that" items that can act as a helpful guide for you.
Buy Designer Sneakers, Not Mass-Marketed Sneakers
Here's a tip that will not only have you looking fashionable and trendy, but your feet will also thank you for it. Rather than purchasing the mass-market sneakers that everyone owns, invest in a pair of designer sneakers that will act as a true fashion statement.
With designer sneakers, it also goes deeper than the fashion aspect, there is also the fact they feature superior construction and materials, making them more comfortable and durable. If you've ever complained of sore feet, a sore back and hips, and just a feeling of stiffness, it could be about the shoes you're wearing.
As for which designer sneakers to go with, Gucci sneakers are always a great option. This is an iconic design house that is known for creating trends rather than following them. The SSENSE site is a great place to find all the latest designs and styles of Gucci sneakers, as well as other fabulous designs from Gucci. You'll find classic and casual sneaker designs such as the popular skater-style of shoe, as well as chunkier more substantial sneakers that are a bit more high-fashion.
Buy Blouses, Not Shirts
Another tip is to start buying blouses, not shirts. What's the difference you may ask? A shirt is something basic, such as a t-shirt or tank top. While these still have a place in your wardrobe, if you're truly looking to amp up your style game it's time to look a little more refined and sophisticated.
Blouses are available in a number of prints, patterns, colors, and fabrics, which mean you've got a whole lot of variety. And don't forget, they aren't just meant for dressy occasions. That lovely silk blouse can easily be worn with a pair of your favorite denim jeans and a great pair of boots.
Buy High-Waisted Denim, Not Low Rise
Denim is one of those items that pretty much everyone owns no matter their age or stage in life. For many, it is their most-loved item in their entire wardrobe – and versatile as well. In your 20s, it's quite normal to be shopping all the younger women trends, one of which is low-rise jeans. And while that may have worked then, once you're in your 30s and you're living the mom life, it isn't usually practical or flattering.
Now is the time to ditch your low rise denim and shop around for high-waisted jeans instead. Now you don't have to go overboard and get something too high, as long as it hits your belly button or above, you're good. This will create a more flattering and stylish silhouette, and they tend to be more comfortable since you don't have to worry about "wardrobe malfunctions" when bending over and moving around.
Buy a Trench Coat, Not a Windbreaker
You can also take a look at your outerwear and look for ways to elevate your style there. If you've been relying on a windbreaker for those rainy, cool days, then it's time to swap it for a trench coat. Think something classic like the Burberry trench coat, which is responsible for starting the trend. Throwing a trench over any outfit is a great way to add sophistication and elegance.
If you don't really think the full-length trench is something you'd like, you can always look for shorter designs that fall to the knee, or just below the waist.
It's All About Elevating Your Personal Style
These tips are meant to act as a handy guide so that you can elevate your personal style and really take it to the next level in your 30s. At this point in your life, it's about knowing what flatters you, what works for your lifestyle, and what is going to create that look of sophistication and style that you're after.