When you have children, life can get pretty complicated. You're not only responsible for your own wellbeing and survival, but that of your children. There's tending to the needs of your kids, maintaining a healthy household, and somehow trying to navigate your own life. While it comes with the territory of being a parent, life can be chaotic if you don't have a plan in place.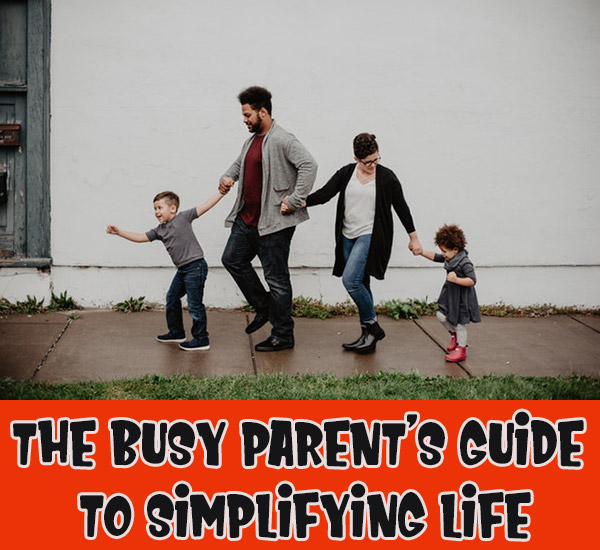 Raising children will never be easy, but you can simplify your life to make things easier for the entire family. Below, are a few suggestions on how to accomplish this:
Clean and Declutter Your Home
A house in disarray only adds to the chaos and frustration you may be experiencing. Finding things you need is nearly impossible, which causes confusion and wastes time. Not to mention, a cluttered or unkempt home can have a negative impact on your emotional wellbeing. To simplify your life, start by cleaning and decluttering your home. When you're able to find everything you need and can come home to a space that is clean and inviting, things are a lot less stressful. Choose a weekend and remove all other tasks for the day. Spend the day cleaning the house from top to bottom getting rid of things you don't need and reorganizing the things you do.
Develop Routines
Are your mornings insane? Perhaps you're constantly late for work or getting the kids to school because everyone is scrambling to get ready. Or maybe it takes forever for you to get the children to do their homework or go to bed? Whatever the case may be, having a routine in place can help you manage your time more efficiently. Routines also provide children with structure which is essential to their development.
Create family routines to simplify your life. Start with your mornings. Decide what time the kids need to be up each morning to brush their teeth, wash their faces, get dressed, eat breakfast, and get to school on time. Create a list of things to do for each child and give them designated times to complete things. So, for instance, giving your children each a certain amount of time in the bathroom each morning helps to keep things flowing. Continue this process for afterschool and bedtime. It may take some time for everyone to get used to the routines so feel free to use task reminders and alarms.
Online Doctors
It's recommended that everyone see their doctors at least once a year to sustain their health. When you have children, however, a trip to the doctor's office tends to come more frequently. You spend hours in a waiting room filling out paperwork, then even more time in the patient room waiting for the doctor to come in. Your kids are cranky, and your day is pretty much over.
You can simplify your life as a parent by utilizing healthcare resources like an online doctor. You can schedule appointments, see your doctor virtually, and get online prescriptions approved and sent to your local pharmacy for pick up without ever having to leave the house.
Meal Delivery Services
Dinner time can be especially stressful for parents. You're just getting in from work, trying to get the kids to do their homework, which leaves very little time for you to prepare a nutritious meal. Rather than drive yourself crazy trying to get it all done or resorting to unhealthy solutions for dinner, you can simplify your life with meal delivery services. These services allow you to choose healthy meals and have the ingredients shipped to your door. Doing this even a few days out of the week means dinner can be prepared in just a few short minutes eliminating the trip to the grocery store or the frustration of trying to come up with an idea in the heat of the moment.
A parent's job is never done. Even with a committed co-parent or spouse, getting everything done in a day can be difficult. When your life is out of order, disorganized, and stressful, it makes caring for your children that much more challenging. The best thing you can do is look for solutions such as those described above to simplify your life. In doing so you reduce the stress, save time for more important things, and accomplish more for you and your kids.