I love a good dip and this is the Best Hot Artichoke Dip Recipe yet! These kind of recipes are the ones that you want to make and share with your family and friends so that they give you compliments asking you for the recipe!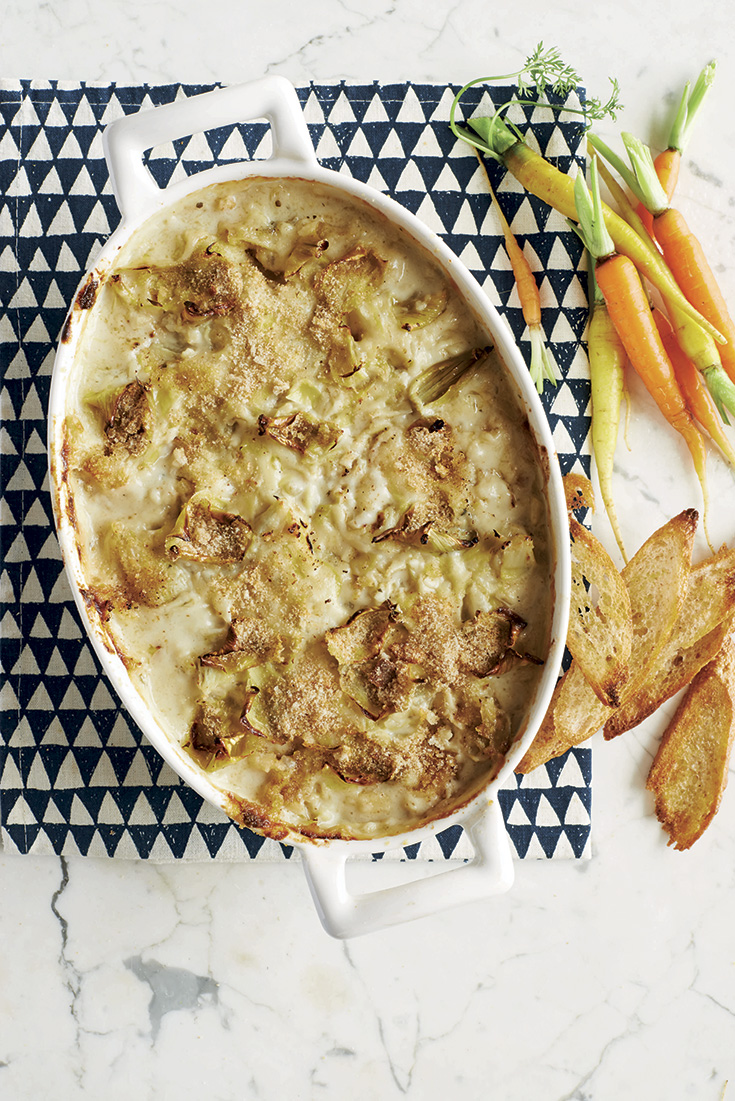 The Best Hot Artichoke Dip Recipe To Try
This baked artichoke dip has a combination of canned artichoke hearts with a combination of cheeses including Parmigiano-Reggiano and Pecorino. You will also find a little garlic, lemon and scallion to make this hot artichoke cheese dip have even more flavor! I just LOVE this Martha Stewart Artichoke Dip!
Save some of the artichoke leaves for the top; they'll turn golden and crisp during baking. Serve with toasted bread and crunchy vegetables.
Best Hot Artichoke Dip Recipe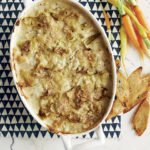 3 cans (14 ounces each <a href="https://amzn.to/1NyDcfJ">artichoke hearts</a> in water)
6 tablespoons unsalted butter
¼ cup all-purpose fl our
2 cups whole milk (warmed)
? teaspoon <a href="https://amzn.to/1JCJcJu">cayenne pepper</a>
Coarse salt and freshly ground black pepper
1 cup finely grated Parmigiano-Reggiano cheese
1 cup finely grated Pecorino cheese
1 large onion (finely chopped)
1 tablespoon fresh thyme leaves (chopped)
3 garlic cloves (minced)
1½ teaspoons finely grated lemon zest
¼ cup fresh coarse breadcrumbs
Assorted accompaniments (such as carrots or other crudités, and toasted bread, for serving)
Remove leaves from 1 artichoke heart; pat dry, and reserve. Thinly slice remaining artichokes; pat dry.
Preheat oven to 400°F. Melt 4 tablespoons butter in a saucepan over medium heat. Add fl our, and cook, stirring constantly, 2 minutes. Gradually whisk in milk, and bring to a boil. Add cayenne and season with salt and black pepper. Reduce to a simmer and cook, stirring, until thickened, about 2 minutes. Remove from heat, and stir in cheeses.
Melt remaining 2 tablespoons butter in a skillet over medium-high heat. Add onion, and cook 3 minutes. Add thyme, garlic, and sliced artichokes, and cook, stirring frequently, 3 minutes. Add to cheese mixture along with lemon zest. Transfer to a 2-quart baking dish.
Top with reserved artichoke leaves and sprinkle with breadcrumbs. Bake until golden and bubbling, about 15 minutes. Serve warm, with accompaniments.
Martha Stewart Artichoke Dip
This easy artichoke dip recipe is one of many delicious recipes that you can find in Martha Stewart's Appetizers: 200 Recipes for Dips, Spreads, Snacks, Small Plates, and Other Delicious Hors d'Oeuvres, Plus 30 Cocktails.