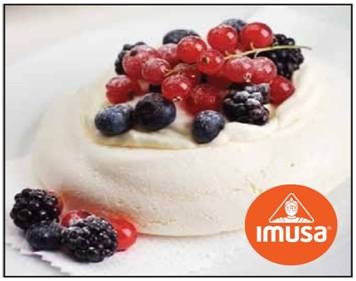 Did you know that April is Autism Awareness Month,. Below is a delicious Gluten-Free recipe courtesy of the IMUSA Celebrity Chef Team. IMUSA is the first cookware company to sponsor Autism Speaks and has partnered with Sedano's Supermarkets to generate awareness and raise funds for the nation's largest autism research and advocacy organization.
Very Berry Mini Pavlovas courtesy of IMUSA (Serves 4)
Ingredients:
3 large egg whites
½ teaspoon cream of tartar
6 tablespoons of sugar (for meringues)
½ cup Welch's Grape Jam (gluten-free)
2 cups fresh mixed berries (blueberries, raspberries, blackberries)
1 ½ cup heavy whipping cream
½ cup sugar (for cream)
1 teaspoon of vanilla
4 mint leaves for garnish
Directions:
Heat oven to 300F and line baking sheet with parchment paper. Set aside.
Beat egg whites and cream of tartar in small bowl at high speed until foamy (1-2 minutes). Continue beating, gradually adding sugar, until glossy and stiff peaks form (2-4 minutes).
Spoon 8 (3-inch) meringue circles onto parchment paper-lined baking sheet. Build up the sides of each meringue to form a bowl shape on each circle. Bake for 30-35 minutes or until meringues are golden.
Turn oven off. Leave meringues in oven for at least 1 hour and up to 4. Remove from oven. Cool completely.
 Meanwhile, whip heavy cream on high for 3-4 minutes until creamy but not overly stiff. Add sugar and vanilla extract and beat for an additional minute. Refrigerate at least 1 hour.
In a small bowl, combine berries and jam and stir until fully incorporated taking care not to break apart the berries.
 To serve, top each meringue shell with ¼ of the whipped cream. Layer ¼ of the berry mixture atop the whipped cream. Garnish with mint leaf if desires. Serve immediately.
Buen Provecho!