You've heard the buzz about how owning an air fryer is a healthy alternative for consuming fried food! But is it worth it? Is it just a trend or is it here to stay? I'm going to share some considerations before you buy as well as my top picks.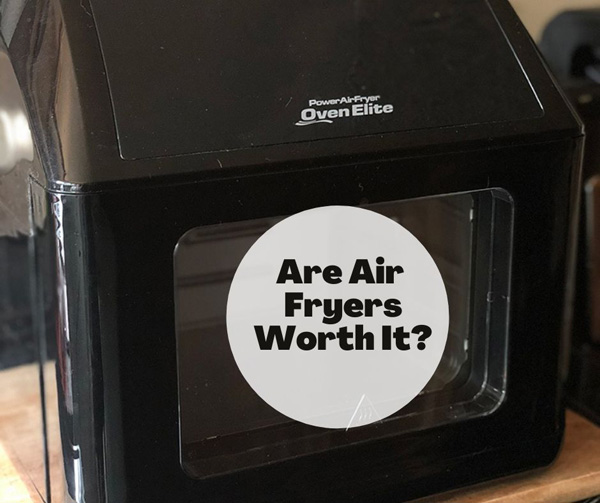 What is it?
An air fryer is a counter-top appliance that uses the circulation of hot air and a little bit of oil to "deep fry" your food. As you've gathered, it doesn't actually get deep fried, but the results are pretty similar with significantly less oil!  
You might be wondering how this is different from an oven. Air fryers use "rapid air technology". There's a heating element above the food that radiates on top of it. In addition to this, the hot air flows around and below the food, then moves upwards through the open bottom of the basket. This concentrated amount of direct heat mimics a deep fryer, which is why the results are so similar. The tech is pretty interesting! You can even make a cake in an air fryer.
The pros and benefits
Less (or no) Oil.

If you're looking to monitor and minimize your intake of trans fats, this appliance is a great, healthy solution. You usually insert from as little as 1-2 tablespoons of oil. 
Despite how little oil is used, the results are similar to deep frying. You get a nice, crisp exterior and a juicy interior without submerging your food into oil.
Easy to Clean up.

Many of them have non-stick baskets and drawers that collect the drippings, both of which are very easy to clean. Many models contain dishwasher-safe parts. Plus, you won't have to figure out what to do with your leftover oil.

Easy to use

. You pretty much plug it in, drop your food in, and you're cooking with minimal effort while achieving great results.

Fast Cooking

. Pre-heat time and cook time are faster than alternatives, cut down by as much as half the usual time (or even more) depending on the recipe and the model.
The cons and weaknesses
Bulky

. They range in size but even the smallest are at least the size of a toaster. You'll need to make sure it's worth your counter or storage space.

Small Capacity.

Despite taking up space on your counter, the amount of space within the cooking baskets vary from a pound to 3 pounds of food. If you're feeding a crowd, you may need to cook in batches which can be inconvenient.

Price Concern

. Prices vary, but you'll need to invest anywhere from $50 to $400 to buy one. Lower cost options are generally not as durable as the pricier options.
Product Recommendations
If you've decided that this machine is for you, here are three of my top choices that fulfill various needs.
The Fully Loaded Option –

Philips Digital Twin TurboStar Airfryer XXL 
Philips created the original product! They've made some significant upgrades since then. Now they offer this XXL option which can cook up to three pounds of food in a single batch. It's one of the largest on the market. They claim it pre-heats within seconds and cooks four times faster than conventional ovens. The parts are dishwasher safe, so clean up is a breeze.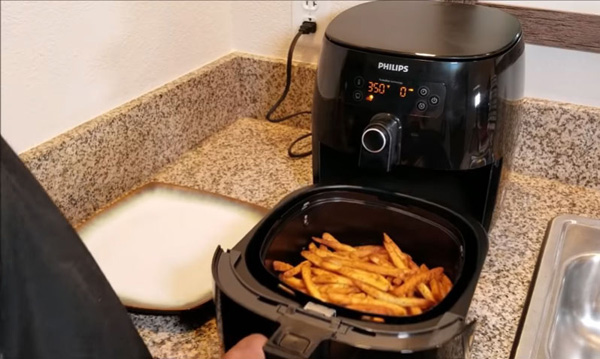 This is a winner if your budget allows and if you want an option that can feed a crowd.
The Budget Option –

GoWISE USA Electric Air Fryer, 3.7 QT 
GoWISE is one of the most affordable options on the market. It is temperature-adjustable with a range from 170 to 400 degrees Fahrenheit. There are pre-sets which make it easy to use. The unit lasts longer if parts are hand-washed rather than machine-washed.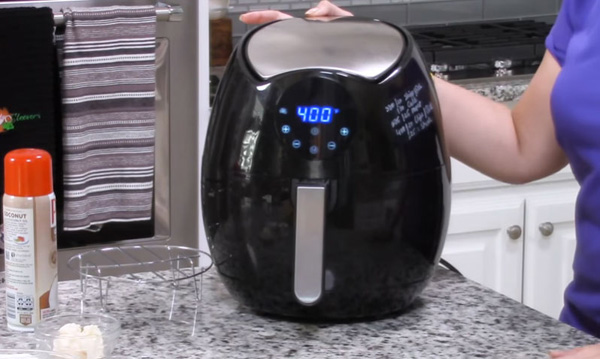 It's a great option if you're on a budget.
High-Rated, Middle of the Road Option –

Ninja Air Fryer
Ninja's model can fit four quarts or up to two pounds. It's a little bigger than average. It takes three minutes to pre-heat but offers great temperature control ranging from 105 to 400 degrees Fahrenheit. With the lower temperature option and a multi-layer removable rack, it doubles as a dehydrator. The parts are dishwasher safe which is also great.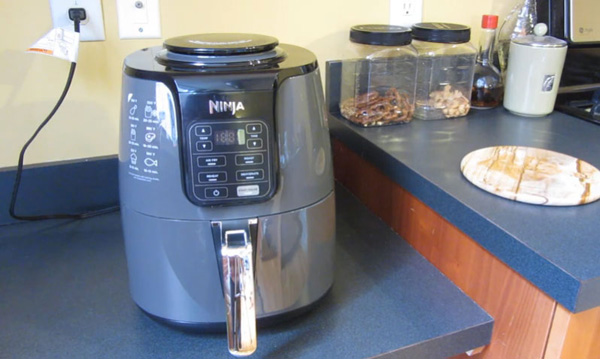 For more reviews on the air fryers, visit: allcookwarefind.com