Why is a love of reading so important?
We all want to raise readers. Reading helps build vocabulary, develops empathy, and is a form of entertainment and stress relief.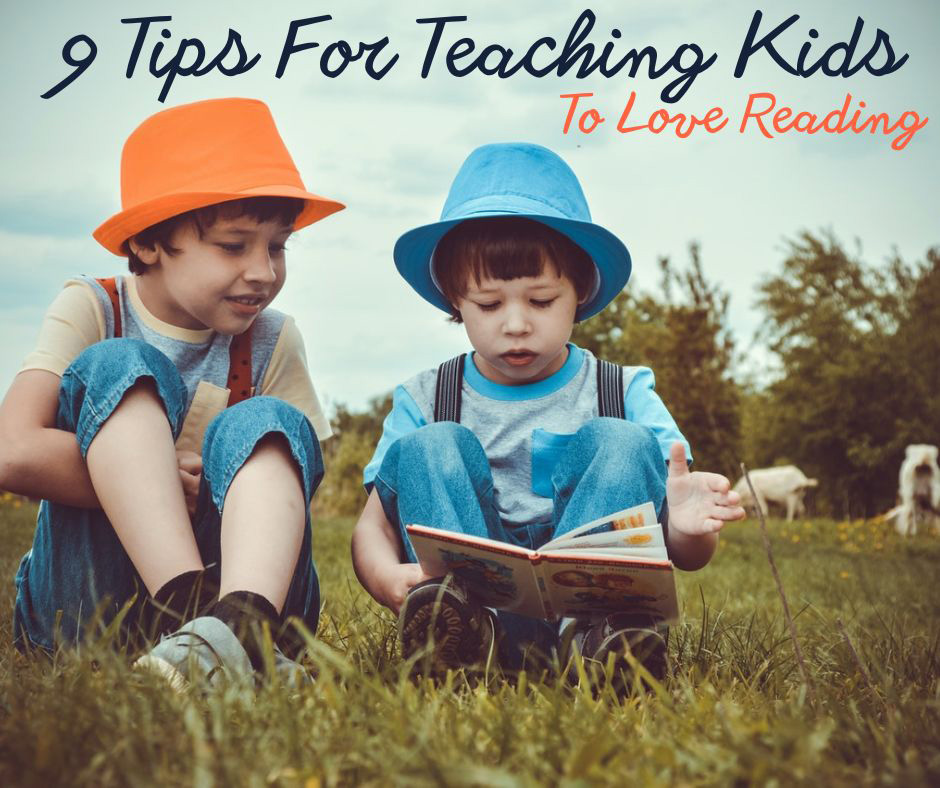 Reading is a skill that is essential for both academic and life success. Developing reading proficiency takes lots of practice. Stated another way, the more kids read, the better they will be at reading.
If kids don't care much about books, they aren't going to spend much time reading. This can lead to a lower reading proficiency or struggles with reading, which often makes kids like reading even less. 
So how do we get kids to read? Help them to love books from a young age! When kids love books, they will love to read and be more willing to work at it. Humans are naturally drawn to things that feel good and shy away from things that feel bad. It's that simple!
Top 9 Tips for Raising Kids Who Love to Read
1. Start Young
The American Academy of Pediatrics recommends reading to kids from the time they're born. Take time each day to read to infants. It's a lovely way to spend time with your baby and builds reading into your daily routine. They will associate books and reading with closeness and good feelings. These positive associations help kids when they take on the task of learning to read.
When you read with young kids, they begin to develop many preliteracy skills like following the words from left to right, holding a book right side up, and understanding that text has meaning, vocabulary, and a knowledge of letters and sounds. Did you know an enjoyment of books is also considered a pre-literacy skill?
Tips for reading with babies:
start with sturdy board books.

These books are meant for small hands and hold up much longer than traditional picture books.

talk about and label the pictures

. Take time to talk with your baby about what you are reading. Point to the pictures and label the things that you see. As babies get older, ask them to point to things with you.

read books again and again

. Babies love repetition because this is how they learn and retain new information. Don't stop reading their favorite book many times for fear that they aren't being exposed to enough new information.

follow the lead of your baby.

Your goal might be to make it all the way through a book, but your baby might have other ideas, and that's okay. It's just fine to stay on a single page for as long as your baby is interested. Let them touch the books and turn all the pages. Gradually increase the number of pages that you read in a sitting as your baby develops focus.

have babies help turn the pages.

As your baby grows, invite them to turn the pages as an additional way of involving them.
2. Visit the Library
The library gives kids access to hundreds of books, providing endless print material. Libraries also have great resources for finding books for kids of all ages. Make sure to utilize the book suggestion lists and the librarians when looking for new books.
Let kids get their own library card and help them to learn to be responsible for the books they check out. A library bag can be great for transporting books to and from the library and keeping track of books while at home.
If you're worried about your kids keeping track of their own books, set a limit for the number of books they can check out at once. For a three-year-old, that might be three books. When you head back to the library, you can say, "We are about to get in the car. Do you have your three books?" Or have kids prepare their library bag the night before if you know it might take a while to find all the books that need to be returned.
3. Allow Kids to Pick What They Want
When surveyed for the 7th Edition of the Kids and Family Reading Report, 89% of kids agreed with the statement "My favorite books are ones that I have picked out myself" and that they're more likely to finish books they pick.
It's essential for kids to feel that they have a choice in what they read and be allowed to pick things that interest them. Obviously, limits are set on what is age-appropriate. Ask a library or read books yourself when you're unsure.
Reading material for kids can include books, magazines, comic books, and graphic novels. I know several preschoolers who have enjoyed the Bird and Squirrel series of graphic novels.
4. Listen to Audio Books
Audiobooks can be a great way to get kids excited about stories. Growing up, my family would check out books on tape from the library anytime we would go on a long road trip.
It's now easier than ever to check out audiobooks for free from your local public library. You can use the Libby App and your existing library card to check out library books on your phone.
Studies show that audiobooks can also be an excellent tool for struggling readers. Kids can follow along with the text while listening to the book. Audiobooks can also help increase comprehension levels when kids' focus is shifted away from decoding each word and back to the story.
5. Model Reading
Your own actions have a significant impact on your kids. Take time every day to read. And make sure that it's at a time when your kids can see you. This way, you can model your love of books and that you enjoy reading. This can be a big ask for already busy parents, but even a few minutes can be effective.
6. Read Books Aloud
Reading aloud to kids starts when kids are babies but should continue even when kids have learned to read. This allows them to experience books that are at their comprehension level but beyond their reading level. Elephant and Piggie can get old pretty fast when kids are learning to read.
Reading books aloud as a family expands kids' vocabulary and understanding of the world and is an enjoyable way for everyone to spend time together.
Reading aloud to your kids can also play a part in their own reading ability. In 1985 the Commission on Reading reported, "The single most important activity for building knowledge for their eventual success in reading is reading aloud to children."
Tips for reading aloud with kids:
build a routine

. Plan set times throughout the week to read aloud with your kids. This will help you to stay consistent. You can read as often as every day or only a few times a week, but ensure your reading time is often enough to keep kids engaged in a book.

allow kids to help pick books

. Let kids share their interests and favorite genres by selecting books for the family to enjoy together.

have older kids read to younger kids

. This can be a great way to keep kids involved as they get older and to build their own reading skills.

talk about the books.

This allows kids to share their thoughts and feelings, keeps them engaged, and can teach them empathy as they reflect on the lives of the characters.
7. Create a Cozy Reading Nook
Give kids a comfy place to read books by creating a cozy reading nook. This should include good lighting, comfortable seating, and a place to store books. Based on the age of your kids, it can be fun to have them help to set up the space.
8. Ask for Books as Gifts
Kids love to have books of their own. Before birthdays and Christmas, have your kids help list a few books they would like. These can be great requests from extended family.
9. Join a Book Subscription Program
A book subscription program will send a curated box of books at various intervals. Kids love to open the boxes and explore what new things have been sent. The "surprise" of a subscription box can be a great way to get kids to read.
There are many different book subscription programs for kids of all ages. VeryWell Family has compiled a helpful list of book subscriptions you can choose from.
How will you help your family build a love of reading?
Bio: Laurel is an early childhood educator, parenting coach, and lover of the outdoors. She shares her knowledge and experience by writing for Kids Who Play.