If your child is like most kids their age, they've probably been anticipating their birthday since last year, which means there's a lot of pressure to plan the perfect party. Thus, choosing a theme can be rather difficult.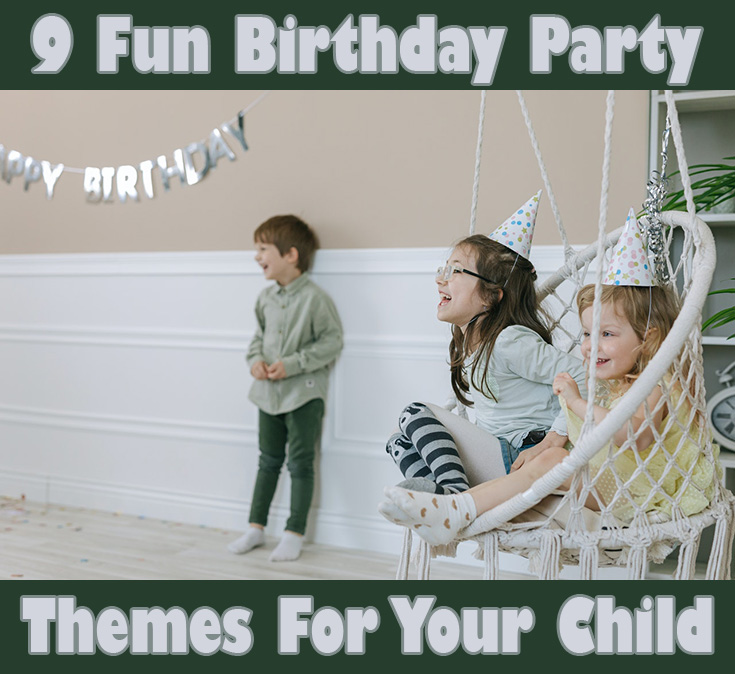 Luckily, there are plenty of novel ideas to make this year's bash the best one yet. 
1. Woodland Wonderland 
Whether your child loves fairies, insects or owls, a woodland-themed birthday party is an excellent choice. This idea is rather versatile because you can tailor the decorations and food to suit your little one's interests. If they're into creepy crawlies, make ladybug cupcakes and real insect party favors. Got an avid birder on your hands? Fill the day with bird calls, feathers and interesting factoids about all kinds of fowl. 
2. Bake Shop
Nothing says birthday party like cupcakes, cookies and cake. In most cases, you'll have prepared these items before the celebrations commence. However, if your child happens to be an aspiring baker, you might want to save the baking for the party. Choose a simple recipe and assemble the ingredients in the kitchen. Then, let the kids get their hands dirty as they mix, melt and sprinkle their way to making a delicious dessert.  
3. Baseball Bonanza
Sporty kids will love a baseball bonanza party. This theme is easy to implement, whether you have a daughter in softball or a boy interested in baseball. All you have to do is switch out the white frosting for neon yellow and — ta-da! — you have a softball cake just like that. Consider taking the kids to a game or hosting your own tournament in the backyard with all the kiddos.
4. Treasure Hunt 
If your child is the adventurous type, plan a treasure hunt for their birthday bash. Use riddles and other clues to lead them around the backyard or the entire neighborhood. Hide the final treasure in a discreet location and encourage everyone to work together to find it. Whether the kids choose to be pirates or wilderness explorers, they're sure to have a blast locating the loot. 
5. Paris Glam
Is your little girl — or boy — an absolute diva? Maybe they're fashion-forward or already have expensive taste in food and entertainment. Regardless, they'd probably enjoy a Paris glam birthday party. This theme idea is simple yet elegant and incorporates all the best of life in the big city. Serve authentic French cuisine like macaroons and croissants and use Eiffel tower plates, napkins and décor to tie everything together.  
6. Tea Party 
Of course, some kids might be too young to even know what the Eiffel tower is. In this case, a simple tea party may suffice. Draw inspiration from dainty teacups when choosing a color scheme. When in doubt, swathe the room in light pastels and gold or silver accents. Then, brew a variety of teas and prepare pastries or tea sandwiches for the kids to munch on whenever they get hungry.
7. Pancakes and Pajamas 
Ready to host the best sleepover ever? Turn your kid's birthday bash into a pajama party and serve breakfast for dinner. Whip up a giant batch of pancakes — with or without the kids' help — and top with whipped cream, bananas, chocolate sauce, maple syrup or even peanut butter. You might also set the food up like you would a sundae bar so everyone can choose their favorite toppings. 
8. Mad Scientist
What better way to learn about science than with a mad scientist-themed birthday party? Turn your home or backyard into a lab with smoke machines, stuffed animal rats and treats that look like everything from brains to frogs. Decorate with beakers, test tubes and petri dishes and provide lab coats and goggles for guests. Then, conduct an actual science experiment with mentos and coke, invisible ink or alum crystals to truly impress and empower your little scientists. 
9. Summer Camp 
If summer camp was out of the question this year, consider hosting your own day-long camp in place of a birthday party. Of course, you can still celebrate your little one with cake and other festivities. However, relay races, kickball tournaments and other team competitions will likely take center stage, making it a perfect theme for those who'd rather avoid the spotlight, even on their birthday. Plan a few games, sing some traditional campfire songs and top it all off with some s'mores. 
Catering to Your Child's Interests
Of course, even if your kid likes a certain theme, they may have a different vision for their birthday party. Therefore, it's best to play it by ear and use your creativity to cater to your child's unique interests. Let the ideas above inspire you, but take some liberties when choosing food, games and decorations. 
Most importantly, talk to your child to determine what they want at their birthday bash. As long as they're happy with the setup, it doesn't matter how strange or silly the theme seems to everyone else. After all, it's their day, so whatever they say goes.