With a degree in education, you can explore several different occupations that span from teaching to administration.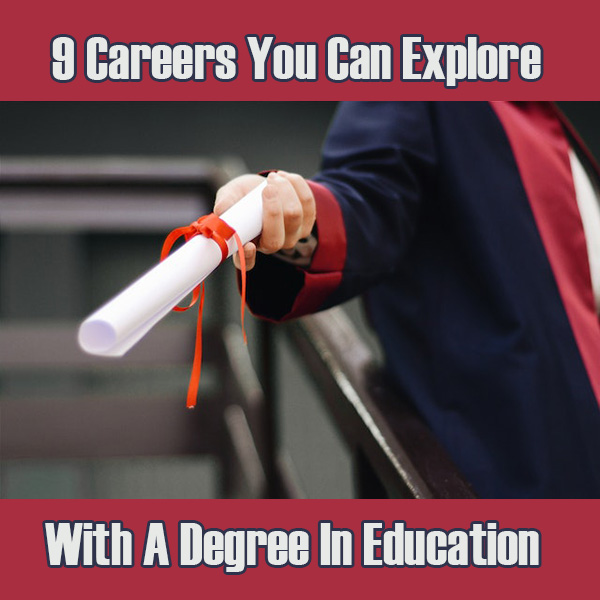 In addition to teaching in a classroom, those with a degree in education can explore careers such as school principal, guidance counselor, curriculum developer, and educational consultant. Besides, did you know that a degree in education can open up career opportunities beyond teaching? If you're considering a degree in the field, here are nine potential careers you could pursue. 
Teacher
Of course, a degree in education qualifies you to teach at the elementary, middle school, high school, or college level. Depending on the subject and grade you teach, you'll be responsible for developing lesson plans, preparing students for exams, grading papers, and more. You'll also be required to attend meetings, conferences, and workshops related to education. As a teacher, you must also plan other activities, such as field trips, special projects, and extracurricular activities. In addition, you'll need patience and excellent communication skills. Moreover, you can explore education degree programs to stay abreast of new trends and methods in the field. 
Educational Administrator
Take an administrative role, and you'll be responsible for various tasks such as analyzing budgets, hiring personnel, curriculum development, etc. Educational administrators oversee educational institutions' policies, procedures, and programs, from school district superintendents to the college dean. Furthermore, you'll be in charge of allocating resources and ensuring student success. However, you must learn the ropes of human resources management and keep up with the latest educational regulations. You can also enroll in higher education masters programs online to acquire the necessary skills. Other than that, a few years of teaching experience is ideal for this role. 
Education consultant
Education consultants specialize in educational development and reform. Schools, non-profits, and businesses hire them to assess education in a specific area and develop improvement plans. As an education consultant, you'll be responsible for researching educational trends, reviewing policies and procedures, and analyzing data to identify areas for improvement. You'll also develop strategies and plans for implementation and make recommendations on how to achieve the desired educational goals. You'll need to possess outstanding interpersonal and research skills. 
Curriculum Developer
Curriculum developers help schools and educational institutions design and develop their educational programs. You'll be responsible for researching, designing, and writing curriculum materials tailored to a specific subject or age group. From developing lesson plans to creating assessment tools, you'll have plenty of opportunities to impact the education system. As a curriculum developer, you must be able to identify educational needs and design materials that meet those needs. Acclaimed and innovative skills and knowledge of instructional design will serve you well in this role. However, it would be best if you stayed up to date with the latest trends in education and technology. 
Instructional Coordinator
Instructional coordinators assess the quality of teaching programs and ensure that educational materials meet the standards set by the government or educational institutions. You'll evaluate instruction methods and develop strategies to improve instruction. You should also be able to train teachers on the latest teaching techniques and ensure that they understand curriculum goals. Additionally, you'll be responsible for writing and reviewing instructional materials, such as textbooks and educational media. To become an effective instructional coordinator, you must have an in-depth knowledge of learning theories, instructional design, and curriculum development. You must also be able to stay current with the latest educational trends and technologies. 
Education Researcher
Education researchers are professionals who study the effectiveness of education programs, policies, and practices. You'll be responsible for collecting, analyzing, and interpreting data to determine the impact of educational programs on student outcomes. As an education researcher, you'll need to be adept at designing research studies, collecting data through surveys and interviews, and analyzing quantitative and qualitative data. You'll also need strong communication and writing skills to convey your findings to stakeholders. Additionally, you should be passionate about education and understand educational theories and methods. 
Education Advocate
Education advocates work to promote and protect access to quality education. They often work with organizations such as government agencies, non-profits, and private foundations to advocate for educational reforms. As an education advocate, you'll be responsible for developing strategies to bring awareness to academic issues, identifying gaps in education policy, and implementing solutions to ensure equitable access to quality education. To be an effective advocate, you must be passionate about promoting education and have a strong knowledge of public policy and the political process. You should also be an effective communicator and be able to build relationships with key stakeholders. 
Education Program Manager
Education program managers are responsible for developing, executing, and evaluating education programs. You'll be in charge of creating and implementing plans for program activities, setting goals, and tracking progress. You should also be able to assess the effectiveness of educational programs and make recommendations on how to improve them. As an education program manager, you must have a strong understanding of educational theories and methods and the ability to create, implement, and evaluate educational programs. Additionally, you must be able to work with stakeholders to ensure that programs meet their needs. 
Higher Education Administrator
Higher education administrators oversee the day-to-day operations of colleges and universities. You'll be responsible for developing and implementing policies, managing staff, and overseeing budgets. You should also be able to create curricula and oversee the admissions process. You must know educational theories and administration principles to become a successful higher education administrator. You should also have excellent communication and problem-solving skills. 
Summary
The education sector offers many career opportunities for those passionate about promoting and protecting access to quality education. Education professionals such as instructional coordinators, education researchers, education advocates, education program managers, and higher education administrators are all vital in ensuring students receive the best educational experience possible. To be successful in any of these roles, you should have strong interpersonal and communication skills, a comprehensive understanding of educational theories and methods, the ability to stay abreast of new trends, and the capacity to make data-driven decisions.