By the time you reach 50, you know all too well that there are days when happiness comes easy — and there are days when you have to fight to achieve anything at all. Sometimes, the bad days turn into bad weeks or bad months. Still, no matter what is getting you down, you can always overcome your negative thoughts and emotions by celebrating life.
Celebrating life is more than simply living — it is appreciating your current place, valuing the people around you, and loving who you are today. You can celebrate life in small ways on even the most mundane days by taking time to mediate on your privileges, but one of the most satisfying ways to celebrate life is to explore the world and bask in places of beauty.
California is one of the most diverse and naturally picturesque states in the U.S., which makes it an excellent place to discover life's loveliness. While you work through your bad times, you should seek out these wonderful places in California to celebrate life.
1. Alamere Falls
Though Alamere Falls isn't as broad as Niagara Falls or as tall as Angel Falls, its placement on the coast makes this "tidefall" a rare and stunning sight. Plus, the coastal waterfall is only reachable from an 8.5-mile round-trip hike on the Coast Trail in Point Reyes, so Alamere Falls is more an enduring experience than a simple vista.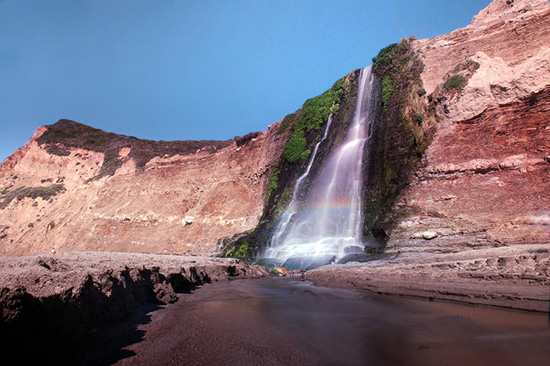 2. Avenue of the Giants
California is known for its big trees, and the stars of Avenue of the Giants in Sequoia National Park are particularly enormous. Unfortunately, due to deforestation and natural disasters, the oldest sequoias are disappearing. As you wander through the ancient forests, you might wonder how change is ever-present, even for centuries-old trees.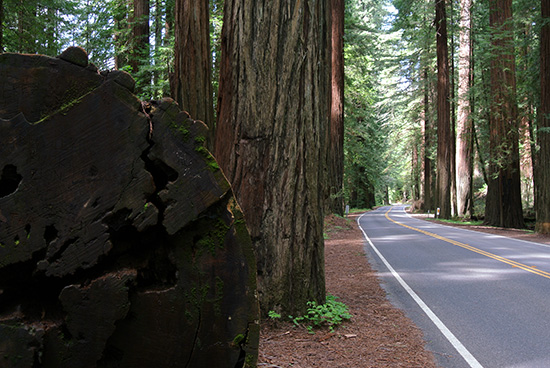 3. La Tour
Many visitors wonder what a medieval castle tower is doing in Laguna Beach when they see the tall spire of La Tour jutting out of the sands of Victoria Beach. Though less than 100 years old, the tower appears beautifully weathered and provides the perfect place to watch the sunrise or sunset and consider life.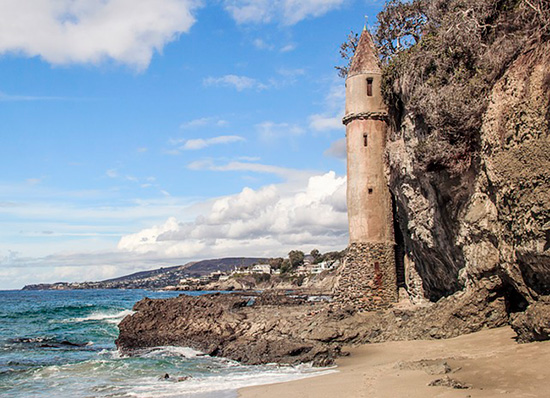 4. Glass Beach
Before the environmental movement came to full swing, dumping trash into the ocean off California's coasts was exceedingly common. Today, all that trash is washing up and ruining much of the coast, but in Fort Bragg, the old waste has created a marvelous beach made of sea glass. Glittering and beautiful, the wave-transformed gems on the beach may incite you to consider how the choices of your past affect you now.
5. Pfeiffer Beach
During the day, Pfeiffer Beach is perhaps like any other stretch of coastline in California: clean, cool, and comely, with a number of funky rock formations to keep your interest. However, as the sun nears the horizon in late afternoon, you will see why this beach in particular makes our list. The sunsets on Pfeiffer Beach are dazzling, with bright yellows, deep purples, and every color in between.
6. Natural Bridges
Refreshingly quick and clear, the waters of Coyote Creek near Vallecito have been working for years to carve out spectacular limestone caverns. An easy two-mile round-trip Natural Bridges trail will take you into the caverns, which you can then explore as freely as you wish. The quiet serenity makes the place excellent for meditation on lost loved ones to scattering cremains for final rest.
7. Enchanted Forest
Northern California is relatively uncharted territory even among West Coasters — so much so that the far north is called the Lost Coast due to its dearth of development seen everywhere else. Near Shady Dell, there is a stretch dubbed the Enchanted Forest. Wandering through the forests here, you can find solitude more bewitching than that of anywhere else.
8. Fern Canyon
Another outstanding work of geology and time, Fern Canyon is a small ravine in Gold Bluffs Beach whose walls are covered head-to-toe in seven types of ferns. Walking through the canyon is like exploring a place from the distant past, which may help you reflect on your personal history.
9. Poppy Reserve
On the protected park land in Antelope Valley, California's state flower, the California poppy, blooms with abandon. Every spring, the fields here spring to life with bright orange flowers as far as your eye can see. Though the poppies aren't big, it is easy to feel small when confronted with their endless number.