Fall is just around the corner, making many parents wonder how they're supposed to navigate the world of child care during the COVID-19 pandemic. Schools are reopening, but you may still have lingering fears regarding your child's safety. The world is still trying to figure out a way to a new normal, but your child's educational and personal development can't wait.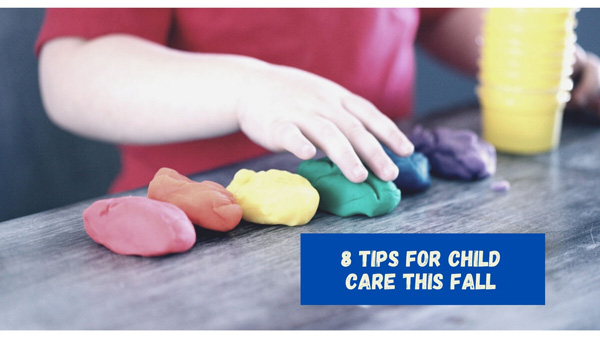 If you're wondering how to get your kids back into a routine without putting them at risk, use these eight tips to find the best child care solutions this fall. With the right planning and thoughtful steps forward, you'll find the best options for your family: 
1. Prioritize Your Child's Needs
Every parent learns that child care is about more than watching small children and making sure they eat healthy meals. It's a critical time during their young lives when they develop social skills, learn about their strengths and connect educational lessons with the real world.
It's also an essential service to kids with special needs because specialized caretakers teach them the fundamental building blocks for communication and personal independence. Think about what your child most needs from their caretaking program and use these things to prioritize which services or approaches will make that happen this fall.
2. Ask Every Question
Sometimes, it can be awkward to ask questions over the phone or in person, especially if you feel like you should already know the answers. You might shy away from making a phone call to a new child care center because your questions address things you're afraid of, but every parent is in the same boat. Now is the time to ask every issue on your mind. You'll learn every aspect of how a potential service or center operates so you can make the best decision for your child.
3. Call Your Pediatrician
Even though calling your family's pediatrician might not have crossed your mind, it can be a major help. Pediatricians are keeping in contact with local child care facilities to see which centers work closely with state health departments to get the best information and safety updates. They'll connect you with management teams that will get your kids the best child care they need based on their medical history.
4. Inquire About Screenings
As you reach out to various child care providers, you can always inquire about screenings that happen every morning at the front door. Ask if they screen both employees and children daily with temperature checks, FDA-approved COVID-19 tests or both. When you get their answer, compare it to CDC guidelines to see how closely each facility is sticking to what medical experts advise.
5. Learn About Contact Policies
Contact policies also play a major role in keeping kids safe. Child care management teams should be able to give you exact plans regarding how they'll enforce social distancing for both their team members and the children at their facility. You could also ask about what happens if someone breaks those rules. How will parents be notified if their kids were close to others that later got positive test results? When would the facility shut down and ask kids to quarantine? 
These are fundamental questions every facility should already have answers for so everyone can stay safe well past the beginning of fall.
6. Consider In-Home Education
If you feel unsure about sending your child to a facility with other kids who come from families that may not view COVID-19 precautions in the same light as you do, you're not alone. Families around the world are starting to consider in-home education plans by hiring private educators, either in person or online. 
This arrangement allows kids to stay safe at home without missing out on their education, but don't forget to look into employment classification, which will determine if the educator works solely for you or if they have to schedule other families into their day as well.
7. Hire a Nanny
Although a nanny may not have the educational background to double as a teacher, some have the training to provide the specialized care your child may need. Look around online to find posts from people looking to nanny and conduct virtual interviews to get to know each candidate. When you've narrowed your list down to two or three options, read about the financial requirements you'll have to provide under the Families First Act. 
You'll need to have the ability to provide 80 hours of sick leave and paid family leave, but you'll also get a tax credit for paying your nanny through those two situations. Once you know what's required by law, you can hire a nanny and make the situation work for everyone.
8. Look for Unemployed Caretakers
Your local child care centers may have laid off workers at the beginning of the pandemic who they can't rehire. Check with people in town to see if any of these experienced workers are looking for a job. They'll bring their expertise to your home so your family can benefit from a facility team member without attending the center in person.
Stay Flexible With Your Plans
After using these tips to find the best child care solution for your family this fall, remember to stay flexible. Future statewide shutdowns and more layoffs are possible, so have a backup plan ready if your child care falls through. As time goes on, you'll guide your loved ones through the pandemic and reach the other side without compromising your child's development or care.