Making upgrades within your home can improve the value, but more importantly, it can improve your comfort. This is especially true in a frequently used area such as a bathroom. If you want to make this room feel more comfortable and luxurious, like you would experience at a spa, there are many upgrades you can choose from. Those listed below are the best to get started with. Although some of these are small, the impact they make on this room will be notable and appreciated.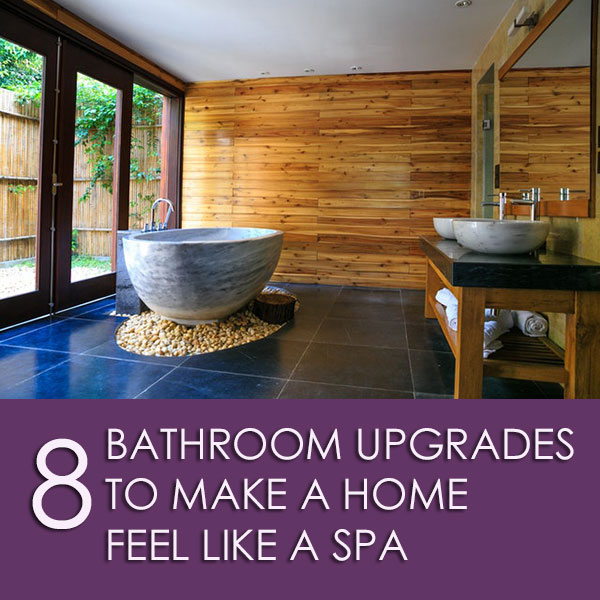 Heated Floors
During the winter, stepping on cold tile floors can be brutal on your feet. One of the best ways to avoid this is by having heated floors installed by a contractor. These will provide unmatched warmth throughout the length of the bathroom so your feet are never cold again.
Walk-in Shower
Walk-in showers are modern, functional, and aesthetically pleasing inside of any size bathroom. With one of these, you'll have more floor space to shower without having to step into a tub. With this space, you can install a rainfall showerhead or even multiple shower heads to create a more relaxing experience.
Treated Water
Hard water is common inside of most homes today. Unfortunately, this can have a negative impact on your skin and even hair by causing breakouts and discoloration. By having a whole house water softener system installed, you can eliminate these and many other problems related to hard water. That's because these systems filter out the minerals inside of water to provide you with "soft" water. As a result, you'll have water that's much easier on your hair, skin, and home.
Jetted Tub
Nothing is as relaxing as getting into a jet-equipped bathtub at the end of a long day. With the ability to adjust the jets, you can put pressure along your back that helps loosen tension so you can get your body to relax. The deeper the tub, the better you'll be able to fit, especially if you have a pull bar to help you get in and out.
Lighted Mirror
A lighted mirror is an excellent investment if you want better lighting when you're refreshing your skin. The most luxurious mirrors even allow you to adjust the brightness so you're able to control the amount of light that you're working with.
Steam Generator
If you like using steam to open up your pores and relax, then having a steam generator installed in your bathroom is worth the investment. Most of these work with the touch of the button to generate the amount of steam that you would like. This can normally be installed in your shower as long as you have a glass door enclosure.
Marble Countertops
Marble is one high-end material that will easily make your bathroom look reminiscent of a spa. Combine with new sinks and faucets to complete the look and make the space as beautiful as possible.
Shower Bench or Chair
Give yourself the time and space to relax with a built-in bench or shower chair installed. Even if you're only using the steam, you can enjoy sitting or lying down and relaxing instead of standing up. It's an investment you'll appreciate each time you use it.
A Bathroom You'll Love Spending Time In
When your shower is designed to have the best features of a spa, it will be a room you genuinely look forward to spending time in. From taking a steam shower to putting on a face mask with your lighted mirror, every detail will help to create the perfect space.