If you're a parent then there is no doubt you've argued with your child at least once about brushing their teeth. Kids are notorious for being distracted and "forgetting" about simple daily chores like brushing their teeth, flossing, and using mouthwash. Unfortunately, oral health isn't something you can ignore, as poor oral hygiene can lead to a whole host of health issues. So what's a parent to do?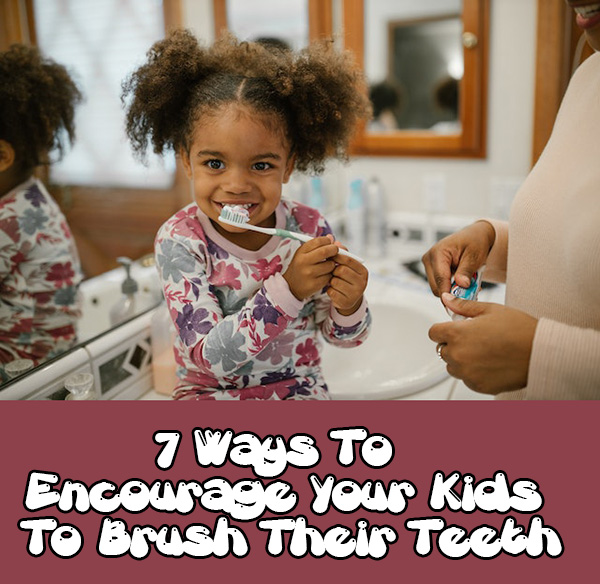 We've got some great tips and information on how you can encourage your kids to brush their teeth and take their oral hygiene seriously. This is a great life lesson that will stick with them into their adult years.
Make Brushing Their Teeth Fun
If you have a young child, one of the best ways to encourage them to brush their teeth is to make it fun. This means choosing a cute toothbrush, maybe with a favorite character on it, kid-friendly toothpaste, mouthwash with a flavor they like, and even using an app that helps them keep track of how long they should brush.
Don't forget to also introduce flossing from a young age. It may be difficult for your child if they are young, so look at the kid-friendly flossing picks instead. They can be a little easier to use.
Invest in an Electric Toothbrush 
And speaking of making it fun, an electric toothbrush specifically for children can make it feel more like a game each morning. You can even find electric toothbrushes with companion apps that feature challenges, games, prizes, awards, and more, all meant to encourage daily brushing. These apps often have built-in timers, so you know kids are brushing long enough.
Another great feature about electric toothbrushes is you can purchase one that vibrates or alerts them with a sound that it's time to move on to the next section of their mouth. This ensures even brushing, with no spots missed.
Include It in Their Schedule
Many parents like to type or write out a daily/weekly/monthly schedule for kids so they have something to refer to. If that sounds familiar, then you can add teeth brushing to their daily routine. It can be part of the morning and bedtime routine that they follow along with.
Read Them Books or Stories About Oral Hygiene
Why not take advantage of daily story time to also teach them about brushing their teeth? Parents of toddlers who are used to reading to their kids daily can look for books that discuss all things teeth related – going to the dentist, what a cavity is, why teeth brushing is important, how to brush your teeth, and so on. Your dentist may even have some age-appropriate book recommendations you can use.
Visit the Dentist Regularly 
And speaking of the dentist, you'll want to visit regularly as they can also discuss the importance of teeth brushing with your child. The dentist can congratulate them on doing a good job and looking after their teeth and offer them some tips.
Oral Hygiene is Even More Important for Those with Aligners
Now perhaps you have a child who is 12 years of age or older who wears an aligner. Aligners just like the ones you'll find available through Aligner32 have become incredibly popular in the last few years. They offer people a way to correct various issues with their teeth such as over or under-bite spacing and crowding, all in a convenient, comfortable, and more flexible way than traditional metal braces.
And while there are plenty of pros to using an aligner, one important aspect is that kids need to stay on top of oral hygiene. Many recommend brushing teeth more often when wearing an aligner, aiming for at least twice a day. Ideally, they brush their teeth after each meal and snack if possible, as they don't want bacteria trapped in the aligner resting against their teeth all day. 
Because they need to be a little older to wear aligners, you can at least discuss why it's so important to stay on top of brushing and let them know that bacteria build-up can lead to tooth decay and cavities.  
Lead by Example – Show Them What You Expect
The final tip can apply to so many lessons you teach your kids. It's important to lead by example and show them how seriously you take your oral health. Make sure you are brushing twice a day, and let them see what you're doing.
It's a Process But It's an Important One
Teaching your kids about the importance of teeth brushing and encouraging them to make it a priority can feel like a real battle, especially with younger children. It's important you stick with it, as this is a life lesson that will benefit their oral and overall health for the rest of their life.