Being a business owner is hard work, but there are tools out there to help business owners manage and run the day to day operations efficiently. If you want your business to grow and be successful, you need to have the right tools. 
Technology continues to change quickly. Businesses need to be up to date on these changes and take advantage of what is offered. Below are seven tools you need to make your business flow seamlessly.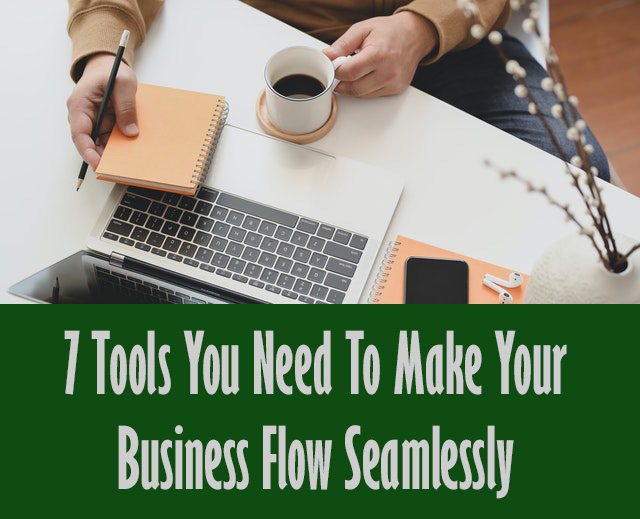 1. Conference Calls
Online web meeting solutions like Vast Conference, help bring people and businesses together to communicate. The conferencing technology makes it easy for you to connect with colleagues, customers, and investors anywhere in the world. Vast Conference delivers high-quality audio to your online meetings and video conferencing services at an affordable price. You can efficiently conduct meeting with remote staff by using video conferencing. 
2. Task Management Tools
Task management tools can help business owners save money and time. These tools track your tasks digitally, and let you know where you can save time. These tools also help you stay on top of your to-do lists, progression of projects, and calendars. You can set automatic reminders and updates through task management tools. 
3. Social Media Scheduling Tools
Social media is essential to small businesses to connect with there customers and potential clients. Managing social media accounts can take up a lot of time. Some tools can help you schedule your social media posts so that you can focus on other jobs. You can schedule your social media posts for a week or month in advance. These tools help with effectively managing your time.
4. Scheduling Meetings
Use tools that help you schedule meetings quickly. Sometimes setting up meetings can mean an abundance of back and forth emails. Using scheduling tools helps automate the process of setting up a meeting. It is as easy as sending the other person your link and pick the available times to meet. 
5. Obtaining E-Signatures
There are tools out there to help to collect e-signatures on contracts. With these tools, you can upload your document, note, or highlight where signatures are needed, add the correct email address, and the system will send it out for you. By using these tools, you no longer need to hassle people for signatures or send items in the mail. 
6. Finding & Retaining Clients
There are tools to help businesses grow their business by gaining and retaining business clients through Customer Relationship Management (CRM) platforms. CRM systems help companies keep track of potential, current, and previous customers from their first interaction on your website. CRM systems also help you nurture relationships and make efficient business decisions based on data that has been collected. By using a CRM platform, you can decide where to spend your marketing dollars and what or who to target. 
7. Document Collaboration
If you have employees working remotely, sharing hard files can be difficult. Some tools help with document collaboration online through file-sharing systems. These tools ensure that all employees are supposed to can access the same version of documents, and it prevents inboxes from being clogged up with emails. You can use this document collaboration in real-time with each other, and it is a useful tool for keeping track of everyone's needs and wants.  
There are many options for tools, technology, systems, and platforms to help your business grow seamlessly.  Once you know what your business needs are and what you want to achieve overall, research the best tools for your business. These tools are here to help free up your time and manage your day to day operations.