Although the warm weather is a couple of months away, it doesn't hurt to think about what shorts to wear this spring and summer. But let's face it; not all shorts are created equal—some are good, some are bad, and some are downright ugly!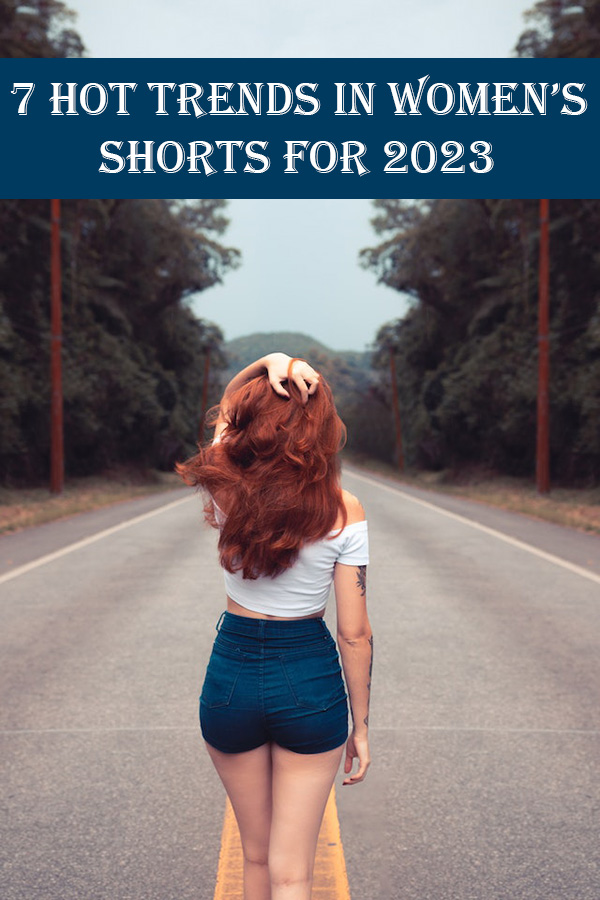 But fear not fashionistas! We've scoured the internet to find the seven most stylish shorts for women that will have you looking like a million bucks without breaking the bank.
From high-waisted wonders to denim delights, these shorts have got you covered. So whether you're hitting the town for a night out, running errands, or lounging in your backyard, you'll be doing it in style. So put down that frumpy pair of cut-offs and step up your shorts game with our top 7 picks.
1- High-Waisted Shorts
Warm-weather fashion is like a cozy, warm hug from an old pal. It's all about breaking out your favorite staples and giving them a fresh new spin. Striped sweaters? Check. White sneakers? Double check. Denim shorts? Triple check.
But, if you're looking to shake thigs up and elevate your spring/summer wardrobe, high-waisted shorts for women are like a cherry on top of a sundae. They're a superb way to upgrade your shorts game and make a splash in 2023.
High-waisted shorts are like a magic wand for your figure, making your legs look miles long and your waist appear slim. Perfect for when you want to show off your curves without showing too much skin. And Olivia Culpo, Kendall Jenner , and more celebs love this style of women's shorts.
How to pair high-waisted shorts for 2023? That's the easiest part, as there are myriad ways to rock them! First, let's talk about the OG of shorts: Jean shorts. These babies are like the Energizer Bunny of fashion; they just keep coming back year after year. So when it comes to styling your trusty high-waisted pair, don't overcomplicate things.
Stick to the tried and true classic color combo of denim shorts & a white top, and voila! You've got a timeless look that'll always stay in style. Whether you're feeling fancy with puff sleeves or keeping it casual with a button-down, this classic pairing is a no-brainer that always looks fresh and clean.
Another 2023-ish way to style these shorts is to wear a matching set. High-waisted shorts and matching sets are the ultimate lazy girl's dream, requiring minimal effort and maximm style. Whether you're feeling elegant and want to dress them up or keep them casual, the options are endless. In fact, if you're feeling extra lazy, why not ditch the shirt altogether and rock a cute bralette or bikini top instead?
Remember to spice things up with footwear. High-waisted shorts traditionally pair well with strappy sandals, sneakers, and heels, but the real game-changer is when they team up with boots. This unexpected combination is a fashion slam dunk and bonus points for keeping your legs warm on those not-so-summery days.
2- Cargo Shorts
Cargo shorts for women are like a portable closet, with pockets for all your essentials and a utilitarian aesthetic that's both practical and stylish. The best part is these hard-working shorts are equally effortless to style and wear.
Keep things austere by pairing cargo shorts with a basic t-shirt and sneakers. Or add a pop of color by your pair with a bright top and statement jewelry like gold earrings, an exquisite handbag, or a fancy watch.
If you want to create a boho-chic look, try pairing your cargo shorts with a flowy top and statement accessories like scarves, hats, and bangles. Of course, you can give your pair a more feminine touch by marrying them with a ruffle top and chic heels.
The good thing about cargo shorts is that you can wear them earlier in the spring season. The trick is to layer a long-sleve shirt underneath a tank top and pair it with cargo shorts for a layered and on-trend look. If that isn't dressy or warm enough, consider styling them with a blazer, a blouse and a pair of ankle boots for a smart casual look.
3- Paper-bag Women's Shorts
Paper-bag shorts are like a hug for your waist, cinching in all the right places and giving you a relaxed and comfortable fit. Perfect for when you want to look put-together without feeling constricted.
Team your paper-bag shorts with a tucked-in blouse and strappy sandal heels for a polished look. This combo is perfect for a summer date or a night out with friends. Choose a blouse in a light and breathable fabric like silk or cotton in a neutral or pastel color.
Tucking in the blouse will emphasize the high waistline of the shorts and create a flattering silhouette. Meanwhile, heels in a neutral color, such as nude or black, will elongate your legs and complement the paper-bag shorts.
You can also dress up a nice pair of paper-bag shorts by styling them with a tailored blazer for a smart casual look. Ensure the blazer is neutral-colored to complement the shorts and give them an edgier, more sophisticated look. The two items are perfect for a summer wedding or a day at the office. Add bold jewelry or a belt to complete the look.
4- Denim Shorts
No warm-weather wardrobe is ever complete without denim shorts. With fashion gurus expecting casual style to remain steadfast in 2023, denim will continue to rule the roost. They're the ultimate summer BFF, always there for you when you need a casual and cool look. Whether it's distressed, frayed, or embroidered, jeans shorts will never let you down.
The secret to rocking these shorts this year is to play with the denim-on-denim trend. For instance, you can layer a denim jacket over a graphic tee (a fun print or message adds some personality to the ensemble) and pair it with your favorite jean shorts for a stylish, laid-back outfit. The denim jacket will add an extra layer of interest to the outfit and make it more stylish. It's an ideal getup for a casual day out or a weekend trip.
If your style leans toward casual, consider wearing the shorts with a simple white tee and your favorite sneakers. Footwear in a neutral color, such as white, black or gray, will balance the ensemble and provide a comfy option to walk around. Rock it for a casual day out with friends or running errands.
Want to dress up your denim shorts? No problem! Style them with a blouse and strappy sandal heels for a sophisticated look. Opt for a top in a light fabric such as silk or a bright color to add a splash of color to the outfit. Heels in black, brown, or any nude color will make your legs seem long and sexy while complementing the denim shorts.
5- Bike Women's Shorts
Bike shorts are the new 'it-thing' in women's sporty fashion and are not just for cycling anymore. Dress them up with a blazer and heels, or dress them down with a t-shirt and sneakers—either way, you'll be making a statement.
For instance, when it comes to effortlessly cool outfits, a yellow sweatshirt and bike shorts are a match made in heaven. Add some white leather high-top sneakers to the mix, and you've got the ultimate laid-back look that will make you the envy of your squad.
Likewise, denim jackets and bike shorts are like two peas in a pod, or better yet, like a blue jean hug for your legs. The combination is a perfect look for those who like to keep it cool and casual. Finish this ensemble with a pair of brightly-colored earrings and a white canvas tote bag.
6- Lace Shorts
Lace shorts are the real deal for the feminine fashionista. They are often seen in their classic white form but can also come in different colors. You can choose from a subtle lace detail on the pockets or go all out with an entirely lace short.
The best part? Lace shorts pair perfectly with delicate lace tops, and the shoe options are endless, from ballet flats to sneakers. Pick your favorite top, whether a t-shirt, tank, or blouse; just make sure it's in a coordinating color and material. The result will be a delicately dressed goddess.
7- Printed Shorts for Women
Printed shorts are like a party for your thighs, with bold prints and gorgeous patterns poised to add a fun and playful touch to any outfit.
This summer, create a monochromatic look by pairing printed shorts with a top in a similar print, pattern, or color. The combination will give you a cohesive and stylish look. Opt for a top in a similar shade as the dominant color of the print on the shorts. Even better, wear a pair of sneakers in the same color for a more monochromatic look.
When you're in a rush but don't want to look like a hot mess, a bright-colored short sleeve blouse and neutral-colored printed shorts are a no-brainer combo. It's like a peanut butter and jelly sandwich of outfits – classic and dependable. But if you're feeling fancy and want to add some pizzazz, switch up this ensemble by slipping into some pink suede flats.
Wrapping it up…
There are many stylish shorts trends for 2023 that will help you to look great, feel comfortable and stylish this spring and summer. From high-waisted shorts that make your legs look miles long to denim beauties, cargo shorts, and paper-bag shorts, these shorts have got you covered. Whether you're hitting the town for a night out, running errands, or lounging in your backyard, you'll be doing it in style. With the right shorts, you'll be able to conquer the warm weather in style!