7 Amazing Recipes You Can Make Using CBD Honey
CBD honey is an excellent alternative to regular honey. It has all the health benefits of the oil and is also delicious. You can use this sweet treat in your morning tea or coffee or cook with it! But since you're not just getting it from the honey itself but also from the other ingredients in your recipe, you ought to be careful about the dosage of Cannabidiol you're putting into each serving.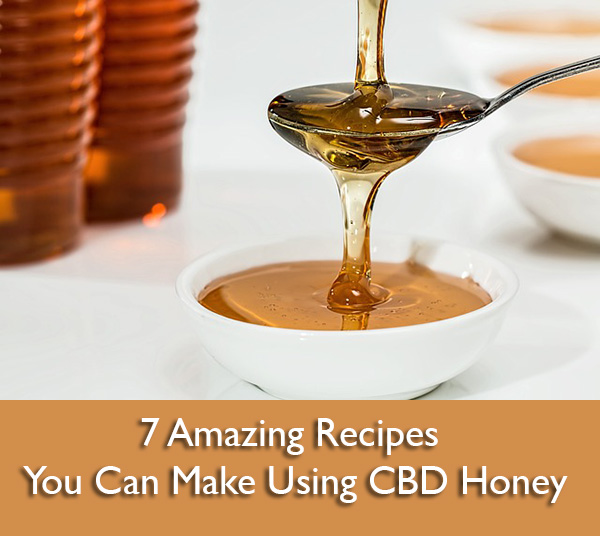 Here Are Some Amazing Recipes You Can Make With CBD Honey
Honey spread is a great way to add CBD to your diet. It's easy to make and delicious, so that you can enjoy it with almost anything! You can also use up leftover honey by making this recipe.
This recipe uses honey in its raw form, which means it will be runny at room temperature and solidified when cooled down in the refrigerator. 
Salted Honey Butterscotch Drops
This recipe is a simple way to add honey to your favorite desserts. It's easy to make and costs less than a dollar per serving, making it an affordable option for those who want to try using CBD in their baking.
Besides the honey, you'll also need some plain yogurt and your choice of fruit. These popsicles are best made in an ice pop mold, but you could also pour them into a small glass and eat them like that if you don't have any molds on hand.
To make this treat, combine all three ingredients in a bowl or blender until they are well combined. Pour into an ice pop mold and freeze until solidified (usually about 4 hours).
Honey And Coconut Energy Balls
Mix all ingredients and roll into balls. Refrigerate for 20 minutes before serving. Serves 12-15 people depending on how large you make the balls. It is kept for approximately five days in an airtight container.
You can make this by combining 1 cup of coffee with 1 tablespoon of  honey in a blender or food processor. Add 8 ounces of milk and blend it all. Then, pour into a tall glass and add ice cubes as desired.
To store the rest of your iced coffee, pour it into an airtight container and keep it in the refrigerator for up to 2 days.
Fruit Salad With Honey Lime Poppy Seed Dressing
The versatility of the fruit salad is a great way to add honey to your diet. Any fruits you like can be used. Raspberries, strawberries, pineapple chunks, and mango slices are all great options for a fruit salad. Choose what you like best, and feel free to mix it up with other fruits!
The dressing is where things get interesting. While there are many different dressings that you could make with CBD honey, we recommend the following:
Honey Lime Poppy Seed Dressing:
2 tablespoons of extra virgin olive oil or avocado oil, 1 tablespoon of lemon juice, ¼ teaspoon salt and ½ teaspoon pepper (or more if desired), ½ teaspoon dried basil leaves (optional), 1 tablespoon poppy seeds
Maple Syrup Vinaigrette Dressing:
3 tablespoons apple cider vinegar or white wine vinegar; ¼ cup maple syrup; ½ teaspoon crushed red pepper flakes; pinch sugar; pinch sea salt.
Chocolate Almond Butter Tarts
There's no need to buy expensive chocolate bars when you can easily make your own. This recipe uses Cannabidiol honey and cannabis-infused coconut oil to make a decadent chocolate ganache. Cannabidiol honey is a naturally occurring compound found in some flowers. 
It's made of an amino acid called L-tryptophan and sugar glucose. These ingredients are combined with the help of bees and bakers' yeast to produce a sweet syrup that tastes great on its own, or you might also use it for cooking purposes such as making tarts or drizzling over pancakes.
Appropriate Dosage Of CBD Honey
The recommended dosage for the honey is two to three teaspoons per day. This amount will work best for most people, but if you're new to CBD or have never used it before, you may want to start with less and then increase the dosage over time. 
The effects of cannabis can be very individualized, so you must monitor your own body and reaction while taking CBD honey. The honey can be used in various recipes and drinks; however, it's best not to mix it into hot beverages or foods because heat destroys some of the beneficial compounds in this product. You should also avoid using too much because doing so may cause unwanted side effects due to overdosing on THC, the psychoactive component.
Is CBD Honey Legal?
CBD honey is legal in most states, but certain restrictions must be followed. For example, some states do not permit the sale of Cannabidiol products. In other cases, states require that hemp extract be labeled as "hemp" or "hemp extract," whereas the honey does not fall into either category.
In general, you should know that it's illegal for federal agencies to prevent cannabis from being grown on your property if you live in a state where marijuana is decriminalized or legalized for recreational purposes. If you're buying it online from an American company, there's no reason to worry about getting arrested for purchasing this product; however, there might be some confusion over whether or not you're allowed to sell it once you have purchased it yourself due to its unique nature.
Things To Keep In Mind While Using CBD Honey
Here are some things you need to ensure while you use CBD honey:
Make sure you are using a reputable brand of CBD honey. If the brand is not established and trusted, then it is likely that they do not have their products tested for quality control. This means they could use chemical pesticides or additives on their bees.

Check the dosage of CBD in your honey. Knowing precisely how much CBD you are ingesting is essential since too much can cause side effects.

Don't go overboard with the dosage! You should never exceed 1 gram of pure CBD per day.
Wrapping Up
CBD honey is just another better alternative to regular honey. You can use it in a wide variety of recipes, and it comes with many benefits. The best thing about this product is that it's legal to purchase, sell and consume and doesn't have any side effects on your health.