Valentine's Day is just around the corner! It's time to start shopping, especially if you're ordering online. Valentine's Day is your opportunity to spoil your loved one with something special. Your gifts can be small or large. They can be simple or extravagant. They can be pricey or affordable.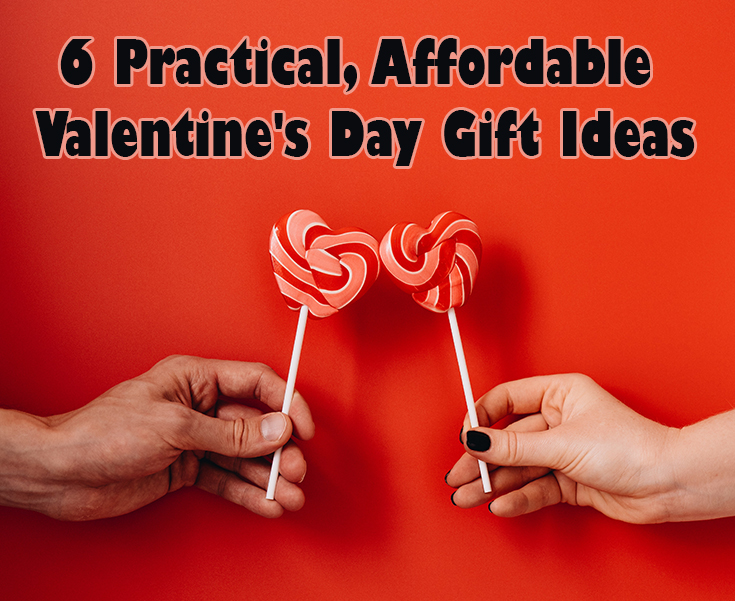 If you're shopping on a budget this year, plenty of practical and affordable gifts are available. These are items that your partner can use or enjoy every day. They're great for new relationships and long-lasting ones, men as well as women. For a great gift under $40, check out these six gift ideas: 
Choose your favorite photo of the two of you together and put it in a nice frame. It's a simple but very effective gift. Every time your loved one looks at the picture, they will be reminded of the fun time you had together.
If you have many photos from which to choose, try to pick a photo from when you were traveling together or doing something unique. With everyone staying home recently, unable to do their favorite things, the photo can be a reminder of a special time.
Framing an everyday photo is still a romantic option. If you don't have concerts or vacations or other special events to choose from, just use a photo of the two of you relaxing together on an especially nice evening. Sometimes the quiet moments are the most important ones.
If you're considering a theme with actual valentine socks, No Cold Feet has a helpful buyer's guide. They offer a two-pack specially designed for the holiday. You can choose which socks come in the pack. Keep it on theme with red and pink socks, or just choose the ones that you think your partner will like best.
You can even choose your own theme packaging. No Cold Feet offers three options: You're My Sole Mate, I Toe-Tally Dig You, and Happy Valentine's Day. You can create custom packaging if you prefer that. 
Valentine's Day socks are a cute and affordable way to celebrate the occasion with a long-time partner or a fresh new romance. You can get silly and creative, or you can choose something a bit more conservative and safe. Options for everyone abound.
Scratch-off posters are a huge trend. You can find them for just about any hobby now, whether it's traveling, reading, watching movies, on and on and on. These scratch-off posters can be a fun challenge for your partner to complete on their own or you can work on it together.
If you are both movie buffs, choose a movie scratch-off poster. They typically include about 100 pop-culture classics. When date night rolls around, choose a movie from the poster and watch it together. Some posters even have a spot for you to give ratings. When the poster is completely scratched off, display the poster and remember the cozy movie nights you shared. 
If you're shopping for a loved one with whom you frequently video chat, a laptop stand is a great gift. According to the New York Times, it is one of the best accessories for a better video chat. Using a laptop for a video call usually means you're looking down at the camera. You get a less-than-flattering angle of yourself, and it's not ergonomic. On a long call, you'll end up with a neck ache.
With a laptop stand, you can adjust both the height and angle of your laptop for the best view and the most comfortable position. Many options are available — some more expensive and some more affordable. If you are shopping on a budget, you can find a decent quality product for under $30.
February is the perfect time to cozy up with a warm blanket. Buy one big enough for both of you to fit under and you can cuddle up for a movie night or a lazy morning watching Netflix.
This gift can cost as much or as little as you want to spend. If you're on a tight budget, shop at your local home goods store for a throw blanket to use on the couch. You can also find some that are themed for your loved one's favorite movies or shows. These are often pretty reasonably priced.
If you want to splurge, shop for something extra cozy. Consider weighted blankets, heated blankets, or handmade items. These tend to be more pricey, so you may have to choose a small lap blanket. But, it will easily become your partner's favorite comfort item.
High-quality skincare products are a good way to treat your loved one if they value a good skincare routine. Of course, some skincare items can be very pricey (into the hundreds). But, some one-time use products or small bottles can still be in your price range. 
If your loved one is like many people, they're buying cheap products from the drug store because spending $15 on one sheet mask just feels like too much of a splurge. However, receiving these products as a gift can be the perfect way to treat them. 
The New York Times put together a great list of products, most of which are under $40. These products include more affordable items like creams and cleansers, as well as more luscious items like under eye gels and toning kits.
Valentine's Day is your chance to treat your loved one. You really can't go wrong as long as you keep them in mind while you shop. The items in our list are some great examples of practical and affordable items that are still fun and romantic. With any of these items, your partner will feel appropriately spoiled without having to break the bank.