Most families live for the week or two they get to head out on a vacation during the summer months when the kids aren't in school and workloads are kinder. Whether your annual trip takes you to the mountains, the beach, your relatives' home, or a major amusement park, it's amazing how much time, energy, and money are set aside — over $1,000 per person on average in the U.S.
That amount seems especially exorbitant when you stop to consider the fact that the bulk of your family's summer isn't going to be spent on vacation; most of your time is going to be spent just hanging out at home. Doesn't it make sense to commit some time, energy, and money there so you can be sure to make the most of it? Here are five ways to enjoy the summer while you and your children have the run of your house and yard.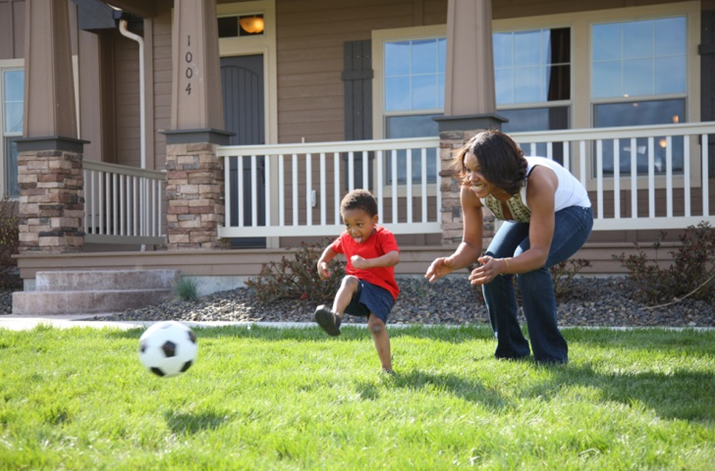 1. Get Your Yard in Shape
Whether you have an acre out in the country or 500 square feet in the city, making sure your yard is ready for action will go a long way in getting you and your children ready to enjoy the summer. Improve spotty patches of grass by planting seed and stay ahead of yard pests by hiring lawn pest control services. If your yard is in great shape for fun, your kids won't object to being told to get outside and play in it.
2. Pick Summer-Long Projects
Far too often, summer plans are shorter than summer itself. While it's fun to have daily or weekly projects you and your kids can work on together, see about tackling something that will take you all the entirety of the summer to complete. Whether you design, plan, and execute a family mural on the side of the garage, write a play together that you then perform with the neighborhood kids, or join forces to train the family dog for an obedience competition, get ambitious.
Summer-long projects can teach your children about sticking to goals through thick and thin, and because there's no state testing to worry about, they can be completely dictated by the whim and creativity of you and your children, which is bound to guarantee they're a blast to pull off.
3. Summer Reading Lists
If your children already love to read, there's a good chance they've already started dreaming about which books or series of books they're looking to read during their summer break. For children who struggle a bit in the reading department, summer can provide plenty of time to get better at reading, and uncover the magic that a great book holds.
Pick age-appropriate books for your kids to read, and sit down to read along with them. For children with some skepticism about finding reading pleasurable, look into graphic novels or comic books. From "The Adventure of Wonder Woman" to "Korgi," there are scores of great opportunities for even your reading-averse children to get lost in a world of reading.
4. Relax the Rules
No one wants all order to go out the window during summer break, but relaxing the rules a bit can help everyone have a better time. Since the days are longer, consider letting your kids stay up later than normal to read, watch, movies, play board games, or play outside, and while you don't want them to sleep their vacation away, letting them sleep in some help keep them in better spirits while they're at home.
Surprise them with occasional random days where you and your partner do their chores for them. When you relax the rules and regulations, it can really help your brood feel like they're getting a true summer vacation.
5. Do a Lemonade Stand
Summertime provides plenty of opportunities for kids to learn a little about business, whether they set up and run a lemonade stand on the Fourth of July weekend or they go blackberry picking and sell to your friends and neighbors.
Besides giving them practical ways to exercise math and reasoning skills, kid-friendly businesses can also give your children a taste for what working for money is like — something that may help them make better decisions down the road when they're considering where to go to college or trade school and what career they'd like to pursue.
Make the most out of your summer with these five tips, and the time you and your children spend at home will be fun, relaxing, and fulfilling.